Cameron Mackintosh's production of Andrew Lloyd Webber's The Phantom of the Opera brings the classic back to the Princess of Wales Theatre this year, undoubtedly becoming the most memorable, and darkest, performance of the season.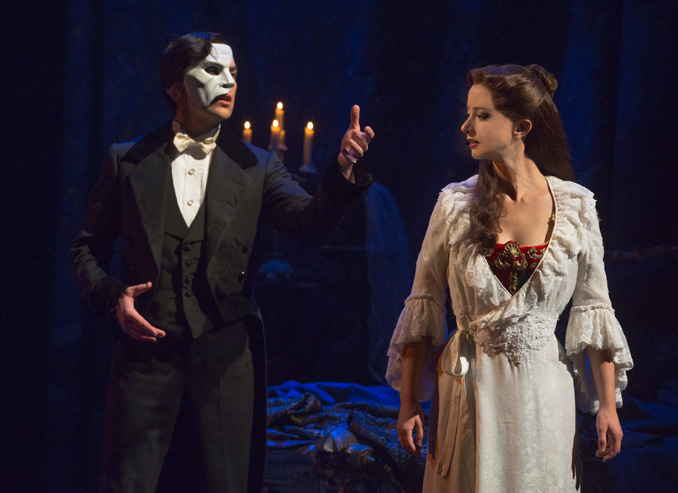 As the curtain draws, the notorious 19th century Paris Opera House is revealed. Discussion commences and an auction of stage props from performances past begins. The most anticipated object of the night is placed out for auction, the infamous Chandelier. It's revealed, lights up and all at once collapses at a velocity fast enough to illicit a wave of unsuspecting gasps. With this, the dramatic mood is set and the classic gothic tale can commence.
The musical stayed true to the timeless tale of the brooding tortured Phantom, performed exceptionally by Chris Mann, who dwells in the darkness of the theatre, terrorizing the production house while secretly dreaming of beauty, acceptance and the love from the innocent and enchanting Christine, played by Katie Travis. Everything from the magnificent costumes, the dynamic set design and the spectacular vocal performances were captivating. With every beautiful hymn, we were lured deeper and deeper into the Phantom's dark and supernatural world, the music of the night.
Although the chemistry between the Phantom and Christine was hypnotizing, unfortunately the connection between Raoul (Storm Lineberger) and Christine was a little lacklustre for my taste and a bit hard to swallow. One almost wanted her to run off with the Phantom simply for his bravado and sensitive delivery of passion and intensity in the pursuit of love. Yet, c'est la vie.
However, what truly stole the show was the last and final act, the ménage a trois spectacle down deep in the Phantoms gothic chamber. As the battle between the lovers ensued and the half-hearted Raoul wins Christine's devotion, the Phantom recites one last heart-aching performance of "All I ask of you" and then is left to his torturous solitude. The exceptional high point came between Christine's harsh yet anticipated rejection of the Phantom and the Phantom's ability to provoke such emotion of utter heartbreak from this and then accept his inevitable solitude. The raw emotion personally moved me to the brink of tears. (Note: this has never, ever happened)
Overall, a solid return of the classic horror whose curtain last fell in Toronto in 1999. As broadway's longest running show, The Phantom of the Opera without a doubt still has it, and lets hope for another haunting, twenty years to come.
Playing at the Princess of Wales Theatre from December 8- January 23rd.
For more info, visit their website.