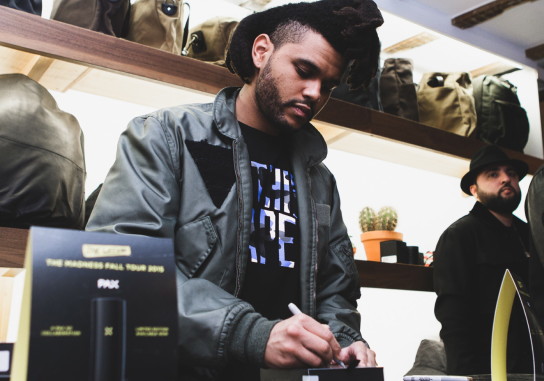 Our hometown sensational singer The Weeknd officially kicked off 'The Madness' Tour in Toronto this week with two sold-out shows at the Air Canada Centre. While we were there in the stadium packed arena it was pretty amazing to think that it was not too long ago that he was playing more intimate venues in the city like The Mod Club.
With his mainstream smash hits like Can't Feel My Face, The Hills and Earned It, it's no surprise that he landed a recent Saturday Night Live performance and then just last weekend he was profiled in the Globe & Mail newspaper. It seems like The Weeknd (aka Abel Tesfaye) has catapulted his career overnight and we're rooting for him. He is the "it guy" in the music scene and we're pretty sure brands want to get cozy and collaborate with him.
Wedged in between the two concerts in Toronto, we were invited to an intimate media and industry party at NOMAD on Queen Street West for the launch of his collaboration with PAX, a vaporization company. The sleek, custom black shell designed limited-edition PAX 2 vaporizer with his signature 'xo' branding will be sold during his North American Madness Tour at the concerts and online. Okay, it's not cheap — online price $419.99 at the time we checked. By the way, it also powers on to the tune of The Hills.
So, how did it all come up? We were curious!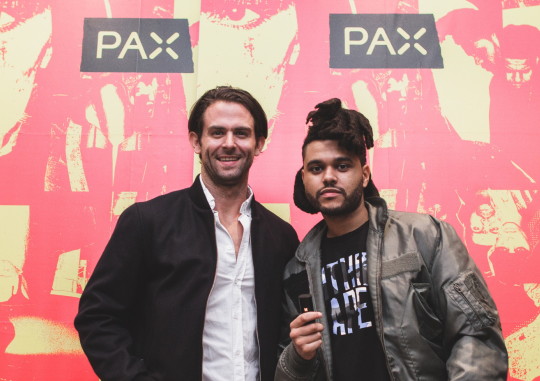 "Pax has been around for three years and we've been spending a lot of time researching consumers and supporting artists at music festivals and concert tours," said Richard Mumby, Chief Marketing Officer, PAX Labs. " Over the past six to nine months we spent a lot of time also developing a deeper relationship with the fashion industry in New York, LA, and Chicago with fashion shows. Not surprising with The Weeknd, and his team, we feel that they are the perfect intersection of music and fashion. We provide a platform for people who want to participate in what's happening from a cultural standpoint in a premium fashion and Abel has this distinct and compelling aesthetic. He has a clear vision so it was fun to see how he would handle our brand."
Do they feel like they've hit the jackpot on this collab? "Yeah, of course! He's the biggest artist in the world right now and he has a mature perspective." says Mumby. "He's mainstream without being too mainstream. And he has an easy disposition but he also talks about real things that people talk about. So, our brand is premium but it's also in a category that real people engage in."