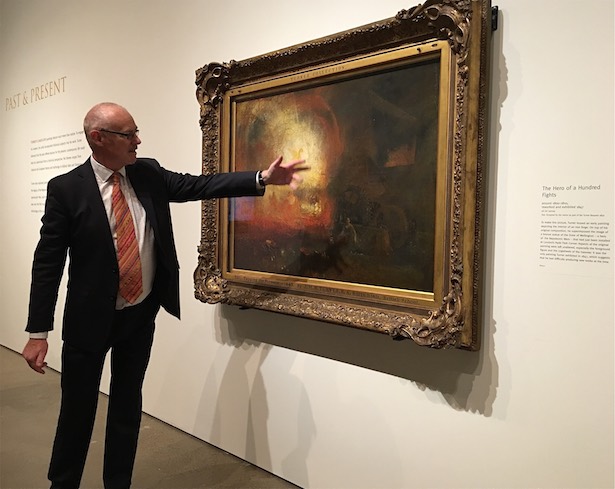 There's something captivating about J.M.W. Turner's work. His paintings move me with emotion and provides an escape that I sometimes feel the need for in this hurried life we all seem to lead. When I had received an invitation for an intimate media tour with the curators of the newest exhibition, J.M.W. Turner: Painting Set Free at the Art Gallery of Ontario (AGO), I quickly accepted.  Curator David Blayney Brown from the Tate Britain was also going to be in attendance to walk us through this incredible exhibit that focuses on Turner's later works. By the way, if you ever have the opportunity to attend talks, lectures I strongly encourage it. Not only do you learn about the pieces but also more about the artist as a person and what drove them to their art.
Turner himself was widely known as an eccentric man with a powerful imagination. He was likeable in all counts. He was regarded as Britain's most original artist and the greatest watercolourist of all time. Turner began painting at the age of 12 until he was 76 at almost the end of his life. He produced more than 30,000 sketches, drawings and watercolours. He was known to experiment constantly with new techniques, colours and even subjects. The recent film 'Mr. Turner' (you can find it on Netflix now) showed him spitting on works to blend in moisture to his paintings. He even learned how to grind his own pigments and prepared his own canvases. Yellow was his favourite colour and he used it liberally in both his oil and watercolour paintings.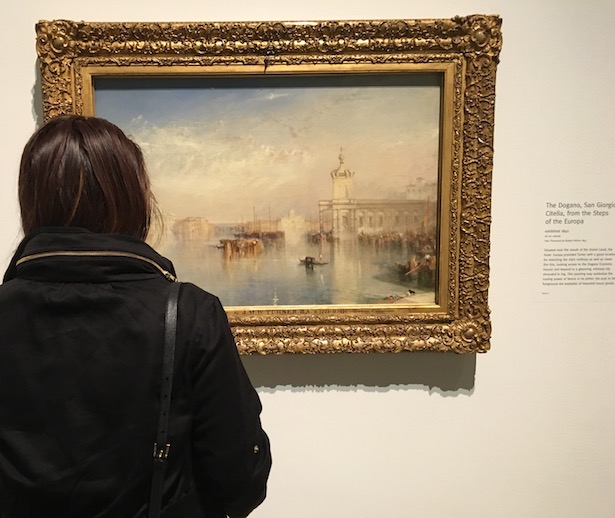 Most people are familiar with Turner's works that were inspired by travels, nature and extreme weather.  It was fascinating for me to learn that although most artists of the time painted 'postcard' like images, however, he preferred to capture a moment in time. The exhibition includes works from his famous Venice collection where lighting, time and space are clearly giving a feeling of never wanting to let go of a moment. He really want us to see what he saw and this is what draws me to his work. His desire to share an experience. "His brushstrokes just sweeps you along," said David Blayney Brown, curator at Tate Britain, was a perfect summary of Turner's work.
Highlights of the exhibition include the large historical works Ancient Rome: Agrippina Landing with the Ashes of Germanicus; the iconic Angel standing in the Sun; Snow Storm – Steam Boat off a Harbour's Mouth; as well as numerous watercolours, including The Blue Rigi, Sunrise and the haunting Fire at the grand StoreHouse of the Tower of London. 
A few things to look for in this exhibition: if you take a closer look at his work, you may notice ducks incorporated into some of the paintings. During the tour of his work, it was mentioned that Turner's middle name was  Mallord…so, perhaps a fun play on mallards? Also, interesting to note that Turner often worked in light into the background of his paintings making more powerful imagery. Most artists work with the sun behind them as they painted.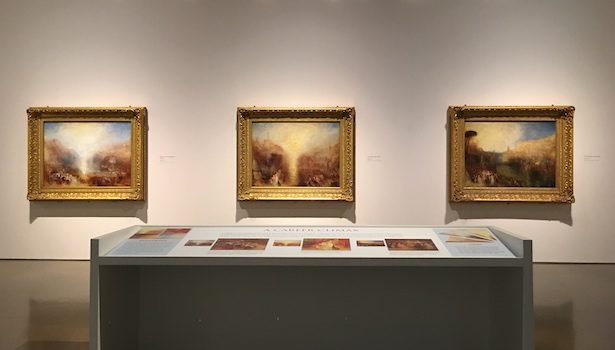 Turner was, and continues to be, one of the most successful artists in history not only in style of paintings but also financially. It was during this walk through that I had learned about Turner's unique, and maybe eccentric at the time, of how he could capitalize on his own work….something that artists even to this day have a hard time doing. He was probably the first to question whether selling copyrights would be a good idea.
There's so much more to this exhibition that is worth escaping to including special events, lectures, and screenings. There will also be November Family Sundays with hands-on activities that will celebrate Turner. FRANK restaurant will offer a Turner inspired prix fixe menu. The J.M.W. Turner: Painting Set Free exhibition opens October 31,2015 at the Art Gallery of Ontario. It features more than 50 paintings and works on paper on loan from Tate Britain. For more information on the Turner Exhibit at AGO, visit ago.net.