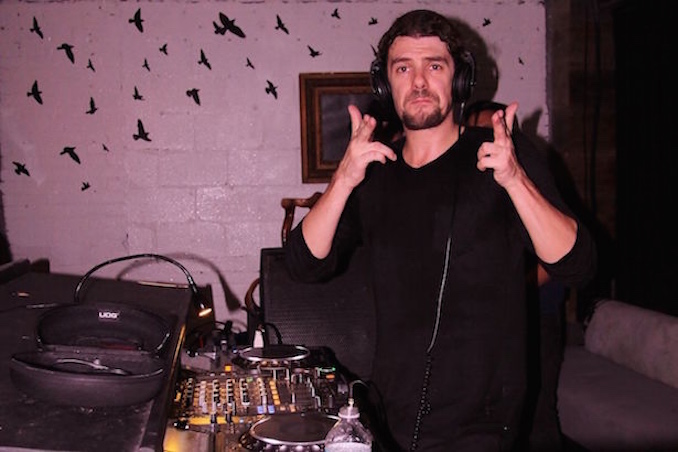 Houseaddict is an accomplished, electronic music event company in the Toronto EDM scene, which celebrated its 12th Anniversary at the Nest last Saturday.
After attending the high-energy celebration, headlined by German-based deep house producers, Tube and Berger; I was able to pick Houseaddict founder, Chris McKean's brain on the evolution of EDM in Toronto- and how he's managed to remain relevant and successful in the scene.
Who are the founders of Houseaddict and what motivated you to start the company?
Houseaddict started in 2003. There were three of us. Two were DJ's, and the other was a website designer. We started a thread forum mainly because we all loved the same style of music (house), and thought it would be fun to try and raise more awareness. Along with the site came podcasts and then events. With time, my partners took the "exit stage left" route- and so I became the sole proprietor. Now I have a resident DJ (Graham Plant) along with some amazing help from friends.
You've been in the EDM business for 12 years now, have you noticed any changes to the scene in Toronto?
I always chuckle to myself when people ask me about changes in the scene. Over a 12-yr span, how could there not be?
Venues for starters – Industry, System Sound Bar, Roxy Blu, and Turbo were some amazing hot spots for people to hit in the early 2000's. Not to mention amazing warehouse jams that were hosted in various spaces across the City. As all of these places had their time, newer venues started to emerge, while these historic ones would close their doors. Most notable to many, was the emergence of Footwork. A small 250 cap venue that opened up at Richmond & Brant. The owners (Joel & Steph) had been throwing jams at 99 Sudbury for a few years, and decided to take a real crack at owning a venue. This place was known for showcasing both home-grown talent, as well as bringing in amazing international bookings. It went 8.5 years, and evolved into CODA now. And now the warehouse scene is back! We're seeing more promoters use these spaces again, which is amazing. Houseaddict is particularly proud of being able to work at the historic Sunnyside Pavilion as well. Summer 2015 was our inaugural season- with many more to come.
Genres – it's been really interesting to listen to electronic music evolve over the years. Toronto has always had a love for house and techno, and so it's been interesting to see how people classify their tastes into these genres. Old-school house-heads would consider only artists like Kerri Chandler to be true to the deep house genre, but you'll notice over the past 5 years, that genre's sound is evolving. Artists with very unique visions are carving paths into this genre and helping it to evolve. Tracks created by the likes of performers like &Me, Adam Port, Tube & Berger, Jonas Rathsman and many more are redefining genres like deep house. Its amazing really.
Technology – I've really lost track of all the technology that performers use these days. There was a time when it was only vinyl, but that changed very quickly. Artists use technology these days as an amazing tool to assist in their creativity of either making a track, performing as a live act or even altering the way a track plays out in the club. I love it really….. but of course, nothing feels quite the same as vinyl. It's undeniable, and as such, has made a huge comeback with performers all over the world. So happy about that to be honest.
Looking back, what were the most memorable shows you've organized?
Looking back at all the shows I've done, it's easy to tell you which were the most memorable: any jam I did with Jimpster. He owns Freerange Records, a deep house label out of England, and we've been bringing him here since 2009. To say that he's a class act would be such an understatement. His shows have been phenomenal for the past 6 years. That said, I will have to say that THE most memorable Jimpster show was the 2015 Summer Season opener at Sunnyside Pavilion. It was the same weekend as Digital Dreams and Pride. The weather was insane that night: 90 km per hour winds with torrential rain. While all other outdoor events were cancelled for that evening (including DD), we made our show work. Over 800 people going off to him just letting the tunes rip. My partners were amazing on that night, particularly Richard Brooks of Captive Audience, whose been hosting shows at Sunnyside for over 15 years. We're happy to have Jimpster back in town late November as well.
Twelve years in this scene is quite an achievement, what is the driving force that has made Houseaddict a success?
Twelve years young and still going strong. Our vision has always been to unite people on dance floors who share similar tastes in music. With that as a foundation, we get a very wide variety of people at our parties. We love it. Relationships are a very important factor to our success. Maintaining that connection with our fans and colleagues is critical to the longevity of our company.
What are House Addict's future plans?
Future plans eh…. to be honest, we're super stoked to be moving into some new venues later this year, and in 2016. Our fans love experiencing venues they've never been to. A perfect example is this Halloween. We've teamed up with Simon Jain and Secret Society to host this amazing jam inside the Portland Room of the Spoke Club at King & Portland. We're transforming a polished venue into a dark lair, and are super excited for our friends to see the place.
For information about the Halloween Event click here, The Night Breed .