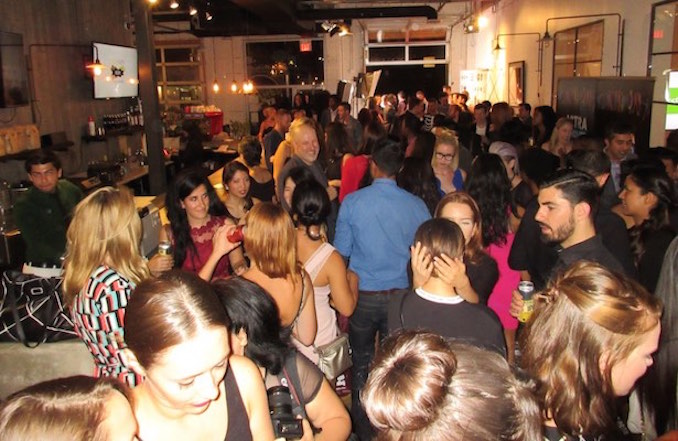 On Tuesday September 15th 2015, HangLoose Media joined with ACTRA Toronto to host a spectacular TIFF party at their unique studio space at 28 Logan Ave. It was a warm summer evening and the stars were out at #ACTRAGetsLoose. At 8:15 pm the line-up for the red carpet went all the way down Logan and turned around on itself a safe distance from the cop cars parked at the end of the street. The wait wasn't staged; the admission staff had a difficult time with the guest lists as every event planner, party promoter and influencer connected to the affair must have submitted a separate list and it made a very long compilation. The door staff dressed in tuxedos and were very firm with anyone who tried to skirt the line.
TIFF parties are seasonal occasions, and unique in so many other ways. For the beautiful people there's the always the chance of meeting someone in the film industry and changing their lives overnight. But most folks just show up hoping to catch a glimpse of celebrities. Jen McNeely of She Does The City published a brief account of ACTRA TIFF Party and a comprehensive array of photos of the attendees – below are the Beeba Boys, Thanks Jen.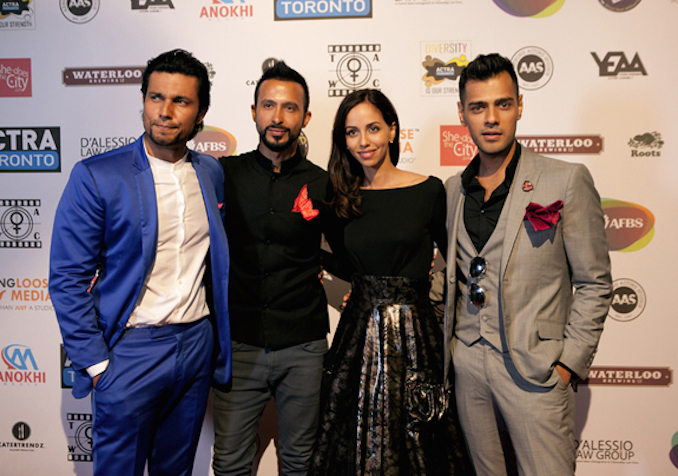 The evening's parade on the red carpet starting with the cast of Fire Song and Beeba Boys.
In Fire Song, First Nations director Adam Garnet Jones told the story of a young man growing up on a Native Canadian 'reserve', questioning his people's history, unsure which path to choose for his future. Deepa Mehta's Beeba Boys explores Vancouver's Sikh mob turf wars. Both films tell here-and-now stories that help show off Canada's rich cultural diversity.
Lauren White, aka Raymi the Minx got cheers of encouragement from several of the waiting photographers when she stepped onto the red carpet at the party.  A prolific social media personality she wasted no time tweeting her TIFF adventure and pimping her Facebook status, showing off her spray tan from Urbansun on the red carpet to her Instagram followers.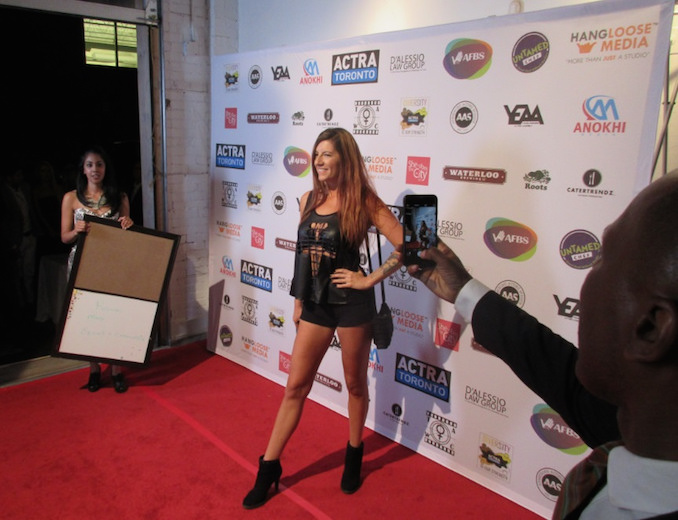 Joris Jarsky a local Toronto actor, dressed up for the event and looked terrific.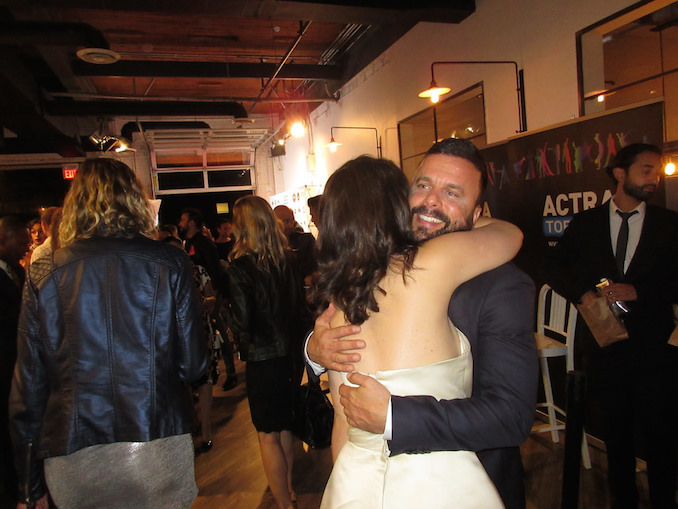 Rob Ponce is a Twitter maven and social media marketing solutions manager at B-Hive.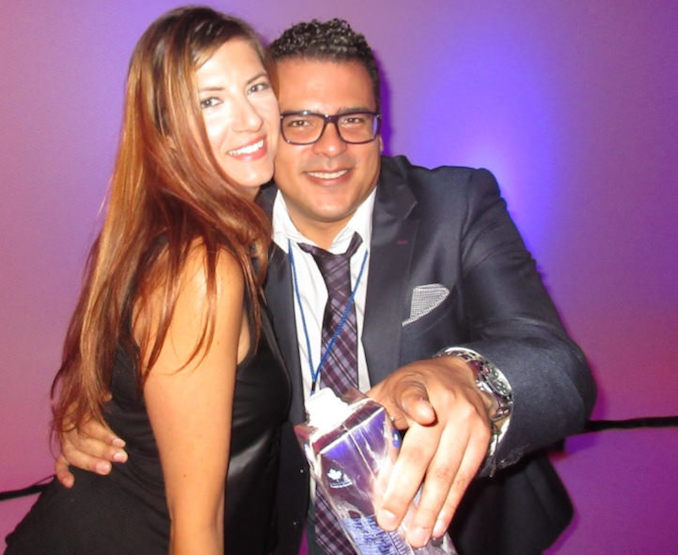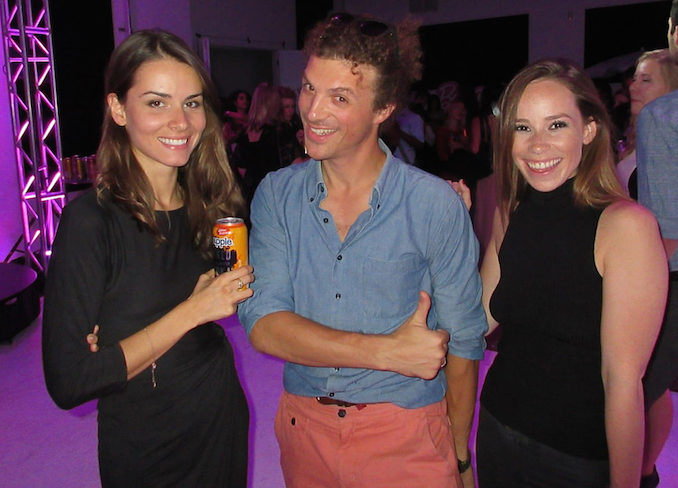 Jessie Ship met some of the beautiful people mentioned earlier.
The party had multiple rooms. HangLoose Media has three film studios under its roof, the largest is 4300 sq feet, another is1500 square ft, and the smallest is 1000 square ft. These studio spaces each opened up and occupied by some attraction or another. There was popcorn and movies in the cinema space, makeup artists and masseuses, a candy bar, and a skilled trapeze artist pouring champagne in the smallest of the Hangloose studio spaces. The biggest studio was transformed into an aqua blue dance palace dominated by a skilled drummer DJ.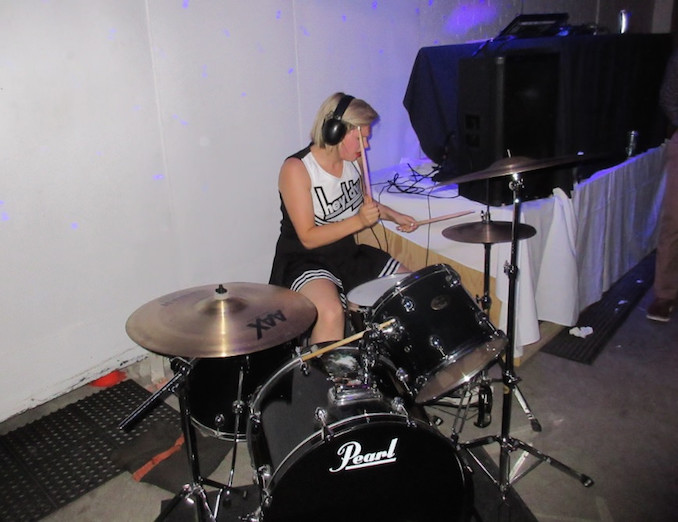 The Film District of Toronto
HangLoose Media is a full-service production facility and event space at 28 Logan in the middle of Toronto's Film Studio District, which is six-block region of the city that most frequently hosts A list Hollywood productions.. The film district in Toronto is comprised of seven big facilities and another eight or more smaller photography studios in the south eastern quadrant of the city. There are at least nine large 'stages' at 629 Eastern Ave, and three more across the highway at Harbourside on Lakeshore Blvd (only accessible to eastbound traffic), and at least two large studios at Cinevillage at 65 Heward. There are A List spaces at Cinespace Studios at 30 Booth St, and of course Pinewood Studios at 225 Commissioners Street, which is Toronto's newest and largest production facility. All of these are A-List production venues, and their continued existence is hard proof of Toronto's thriving major motion picture arts industry. The deluge of cars in their parking lots, and trailers in their busy loading docks is another indication of their positive impact on the local economy.
HangLoose Media is Toronto Based Production Partner
HangLoose Media's mission as proclaimed on their website is to offer filmmakers and photographers a comfortable, creatively charged environment and the unique opportunity to seamlessly integrate every element vital to their production. This confluence of energy catalyses networking opportunities and facilitates meaningful working relationships within an established community of industry professionals. HangLoose Media incorporates a wide spectrum of artists within its creative ecosystem; from seasoned editors, skilled directors of photography and expert gaffers to hair and makeup artists and caterers. This collective lends all the support you need to enhance your creative vision. Follow HangLoose media on Facebook and Instagram and Twitter and Youtube and Vimeo.