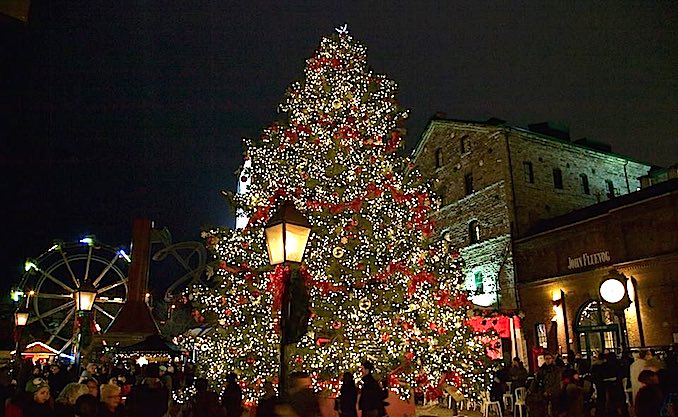 It's that time of year when many of us are gearing up for the holiday crush. If you're on a mission to find that special gift, then the Christmas Markets are designed for you. By shopping at the markets you'll more than likely be supporting artisans and buying local in a heartfelt shopping experience that will surely get you into the festive spirit. I can see that twinkle in your eye already!  Here are a few of the Christmas Markets to check out…
Toronto Art Crawl Christmas Market: The Great Hall 1087 Queen St West. November 22  Admission $5. Free for kids under the age of 10.
65 Artists with live DJ, cash bar, food vendors and Santa. Hand crafted gifts by local artisans and designers. Bring the family because there will be activities to keep the kids busy. Presented by Toruk by Cirque du Soleil so you know they'll also be giving away tickets.
Swedish Christmas Festival: Harbourfront Centre, 235 Queens Quay West. November 21 & 22. Free admission.
Features all things Swedish, a celebration of Pippi Longstokcing and a traditional Lucia Pageant. Look for handmade crafts, decor, clogs, textiles and treats. Check site for free Pippi Longstocking Readings by well known Toronto authors Kenneth Oppel and Hugh Brewster. Kids can come and make and take home Swedish inspired Christmas decorations.
Toronto Christmas Market: Distillery Historic District (outdoors). November 20 to December 20. Free Admission Tuesdays to Fridays/ $5 per person on Saturdays and Sundays. Free admission to kids under age 12 before 2 pm on November 21 &22.
A beautiful outdoor market in a historical setting that draws the crowds with the many vendors and twinkling decor. Plenty of food options to keep you warm as you check out the vendors and shops. Look for hand made gift items, ornaments, wood carvings, and candles. Grab your hot chocolate and bundle up at night because it's worth it.
Leslieville Flea Holiday Market: SH Armstrong Community Centre, 56 Woodfield Road. November 29.
Shopping with local artisans and vintage vendors at this market that is known for it's treasures and finds. Handcrafted goods as well as food and drinks.
The Best Elfin Christmas Market: Daniels Spectrum, 585 Dundas St. East. December 13. Free admission
A curated event that features 40+ artisans and entrepreneurs from across the provicne. Features food, fashion, crafts, jewellery and more. A fully licensed bar and music on site. Confirmed vendors include No. 7 Mexican Hot Sauce Inc., Puffinhats, Bug + Bear Clothing Company and more.
Santa and Winter Market in the Junction: spans Dundas St. West fro Indian Grove to Quebec Ave.  December 5
Santa and his elves will be visiting the outdoor street wide market organized by Arts Market and hosted by the Junction BIA. Poke into the local businesses for neat finds. Other activities include performances by Creative Children's Dance Centre in the windows of participating businesses, live holiday music and workshops. Warm up with fresh made treats and hot chocolates offered by local cafes and restaurants. Lots of fun and activities at the train platform.
Foodie Holiday Pop Up: Artscape Sandbox, 301 Adelaide St. West. December 12.
Over 30 vendors who are fueling the small batch food scene will please any food lover on your holiday list. Local artisans feature Canadian made housewares, kitchen and pantry essentials. Includes The Crazy Plate Lady, The Rolling Pin, Provisions Food Company, Lee's Gee, Manning Canning, David H. Chow Confections and more.
Christmas Marketplace (Toronto Etsy): Church of St. Stephens-in-the-Fields, 103 Bellevue Ave. (Kensington Market). December 12.
An intimate show featuring Etsy artisans of handmade and vintage goods.
Christmas Gladstone Flea: Gladstone Hotel, 1214 Queen St. West. December 12. Free admission.
A curated marketplace for those who love vintage scores, unique gems, fashion finds and market must haves. Includes artist goods, reclaimed vintage, craft, design, jewellery, food purveyors, clothing and more.
One Of  A Kind Show: Enercare Centre, Exhibition Place, 100 Princes' Blvd. November 26 to December 6. Admission $15 adults, seniors/youth $7.50, and free admission for children (12 & under).
By far the largest and most anticipated show running in this city. This year's show will feature over 800 artisans from across Canada. Shop for handcrafted items from the country's best in this juried show in a variety of categories including home decor, fashion, toys, jewellery, and artisanal food items. Don't miss the Rising Stars zone.
Frolic + Artisan Marketplace: 401 Richmond at 401 Richmond Street West. December 3 to 6. Free Admission
This great holiday sale hosts an inspiring community of local makers offering artistically crafted gifts for the holiday season. Meet the artisans in a festive and intimate atmosphere and visit their studios to get a behind-the-scenes look . Great finds include a unique selection of contemporary art and gifts from the galleries, shops and artists that use this space.
Union Station Holiday Market: 65 Front Street West. November 30 to December 20 runs weekdays from 7 am to 7pm and weekends 10 am to 6pm. Showcases festival gift ideas from local artisans, food vendors and seasonal vendors. Located outdoor in enclosed temporary tents. Perfect place to grab a gift for that Secret Santa party you forgot about as you're en route to work. Free admission.
The Evergreen Winter Village: Evergreen Brick Works. Enjoy delicious food, holiday drinks, live music, family activities and a great selection of handmade gifts in the Local Maker Market throughout December. You an also skate, hike and enjoy nature right in the city. Check out the live theatre with Tails from the City, and join in DIY workshops for all ages. The Holiday Farmers Market also on every Sunday in December up until Christmas. See website for dates and times.
Heard of any more? Let us know!