CHEEZMADE by Tre Stelle just got hotter and zesty! Canada's fastest man, Andre De Grasse has launched a first-of-its-kind food innovation.  Fresh from his spearheading victory at the World Championships where he earned gold, Andre De Grasse and famed dietician Abbey Sharp introduced the world's first and only, chicken-less "chicken" burgers and nuggets. CHEEZMADE is the pioneering meat alternative made from 100% Canadian Cheese. The healthy and nutritious meal pledges to transform today's marketplace.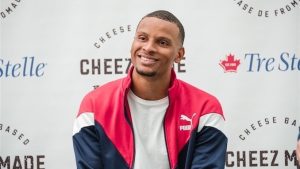 For those looking to munch on healthy foods, especially during this pandemic, CHEEZMADE promises to offer foodies health-giving content that looks, smells and tastes just like chicken. According to award-winning author and registered dietician Abbey Sharp, "CHEEZMADE is going to change the meal time game." The exclusive dairy meat substitute stands out for several reasons.
It is high in protein, calcium, halal, and has no unnatural flavours, colours, or preservatives.
1 in 2 Canadians identify as flexitarian, 53 percent are seeking out meat alternatives, and 83 percent use cheese as a high protein meat alternative.
The price of meat today is an impediment to eating it regularly.
Again, CHEEZMADE is made from cheese, so choosy eaters who don't like meat will eat cheese as Sharp says, "Cheese is life!"
Ideal for busy families like Canada's most decorated male Olympian, Andre De Grasse, the on-the-go snack option will crush sturdy cravings and jazz up one's day. If you are wondering what meal can keep your appetite at bay, or allow you fixate on your daily bustles. Andre De Grasse and his partner who is also an Olympic champion Nia Ali often rely on CHEEZMADE given their hectic schedules.
The ease and quickness of the yummy morsel help them focus on needful tasks that occupy their lives.  De Grasse illuminates further about the delicious, flexitarian snack. "CHEEZMADE is fast, easy, and nutritious, so as an athlete, I can feel good about putting it into my body, and as a Dad, I feel good about feeding it to my children," said De Grasse. It takes just 20 minutes in the oven, and my kids are eating better-for-you nuggets that they love." What an excellent way to kickstart healthful eating and relish in a mostly plant-based onward diet plan.
It gets better! The President and CEO of Arla Canada (Tre Stelle) Eric Elmhirst, also says it best. "CHEEZMADE is truly a first-of-its-kind and we are really excited to share it with Canadians. "We developed CHEEZMADE for the flexitarian community using paneer cheese, and after many tweaks and tests to perfect the recipe, we believe we've created the most nutritious and delicious solution, "says Elmhirst. Made with high-quality ingredients, CHEEZMADE is now popularly available at grocery stores across Canada from Sobeys to Metro, Food Basics and FreshCo, Walmart and many more, with Loblaws to come next in September. Additionally, the price ranges from $11.49 – $11.99 for the nuggets to $12.49 – $12.99 for the burgers.
I must add it was great sampling CHEEZMADE in a variety of delicious recipes during this exclusive launch. This is one nutrient-rich food product you don't want to fling off.