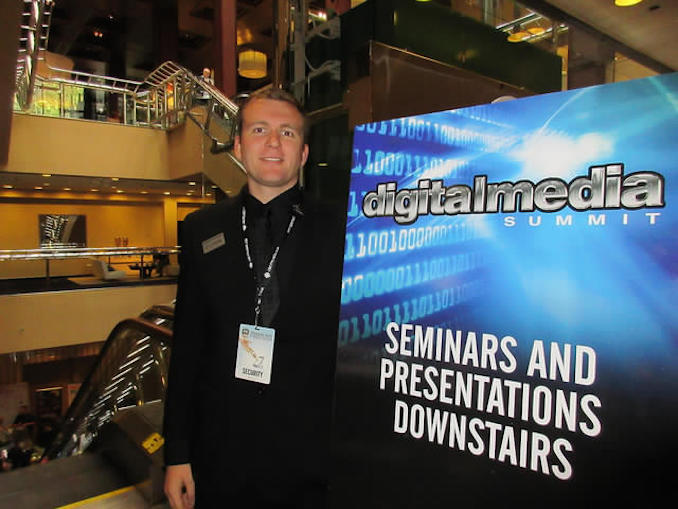 Canada's most tech savvy musicians went networking during Canadian Music Week at the 2015 Digital Media Summit on Thursday May 7th 2015 at the Sheraton Centre in Toronto.
Although the event is an open forum to discuss all forms of digital media, because so many musicians and band managers are in town for shows related to Canadian Music Week, the trade show floor really focuses on music industry technology, and all the celebrity speakers at some point reference the state of the music industry in their talks. Unlike other tech conferences, DMS is jam full of leather clad rock & rollers.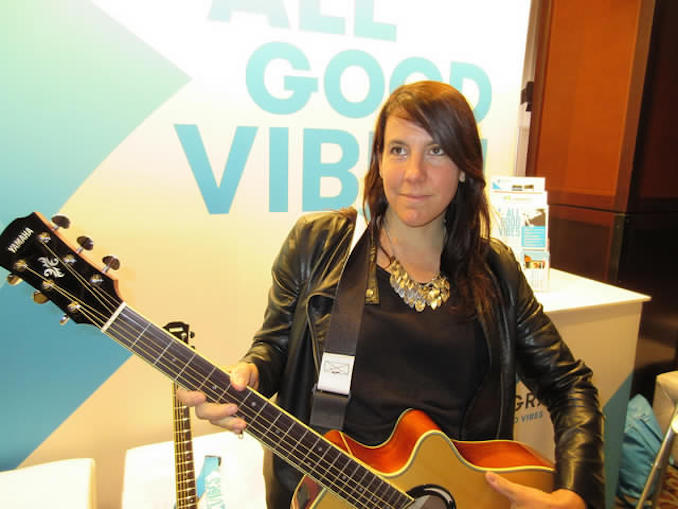 Stingray Music ALL GOOD VIBES is a leading provider of music products and services available on TV, Web, mobile and commercial settings, and they were set up at the bottom or the stairs making music for the show. Their sign says they offer the best music experiences for every moment and mood in your life, and indeed everyone seemed pretty content with their groovy beats.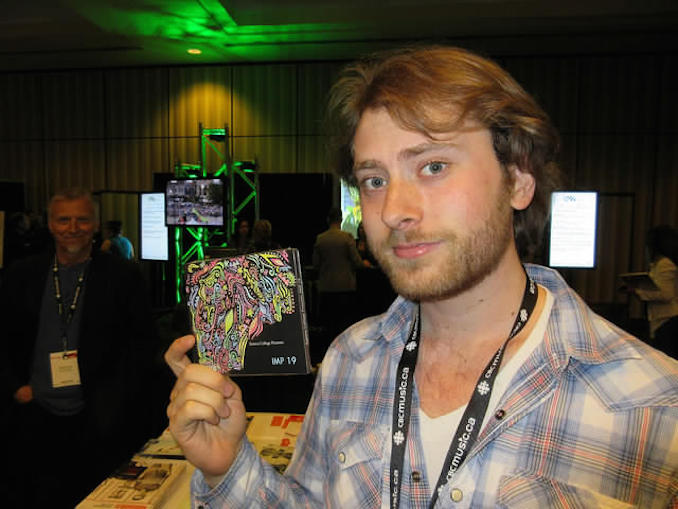 Seneca College was well represented with faculty and students distributing (which means giving away free) compact discs showcasing their student's best recordings. Here's Dylan Hennessy holding IMP 19, a compilation to which he contributed a track called Bevdale Road.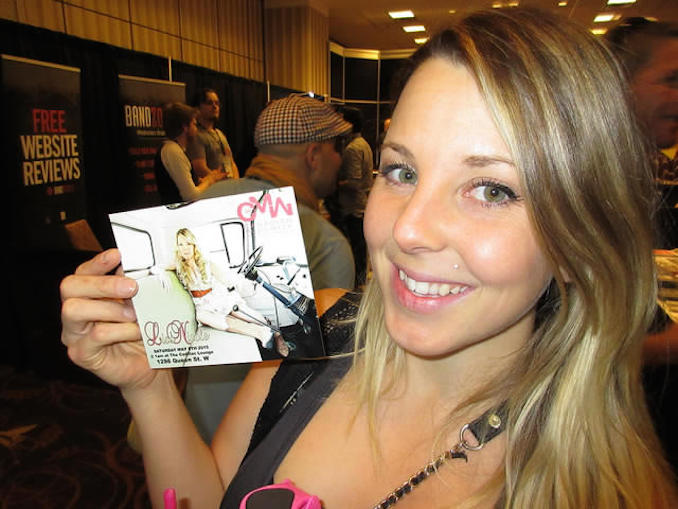 Lisa Nicole the country music pop star was at the show, and will be performing Saturday May 9th at a sold out show at the Cadillac Lounge on Queen St West.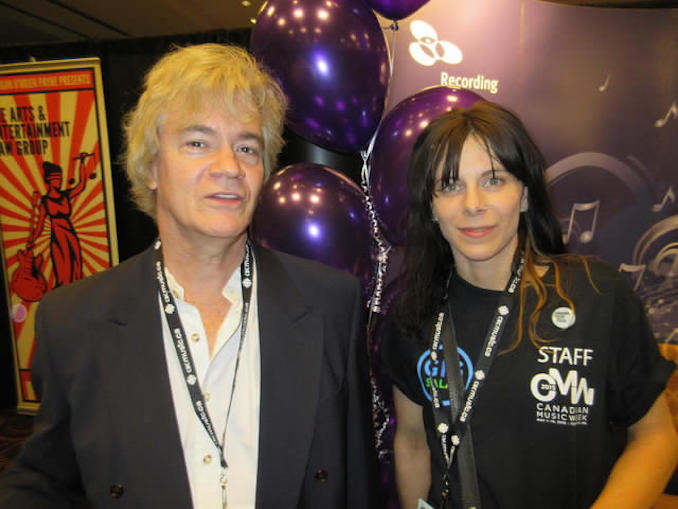 Robert Hutton the Executive Director of the CMPA, the Canadian Music Publishers Association alongside Norelle French of The Starved.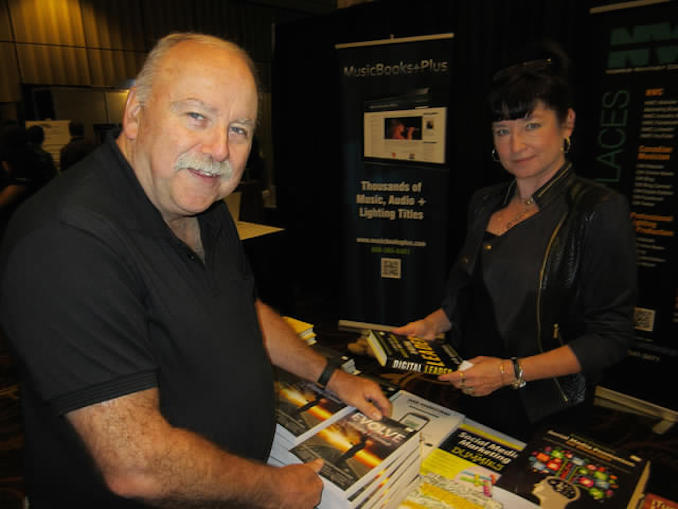 Here are some leading Canadian music industry publishers vending their print products. The leather clad lady in the back is Maureen Jack, the Consumer Services Director of Norris Whitney Communications which publishes Canadian Musician Magazine and other popular books and magazines.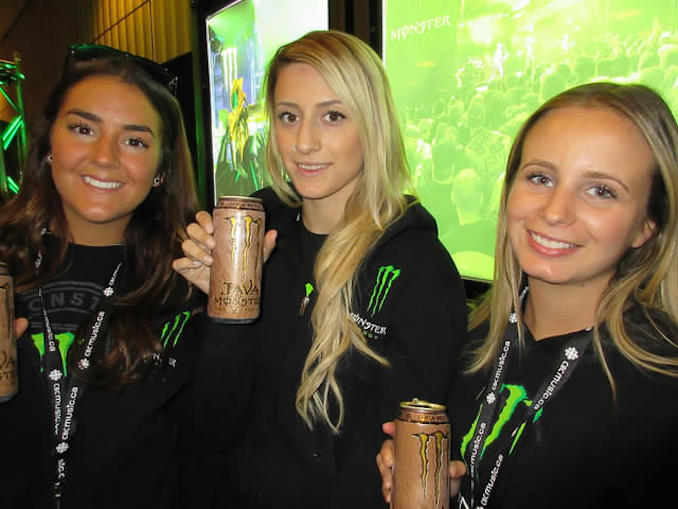 And the Monster Girls were there dispensing their 'Java' flavoured energy drinks to any attendees who happened to look their way…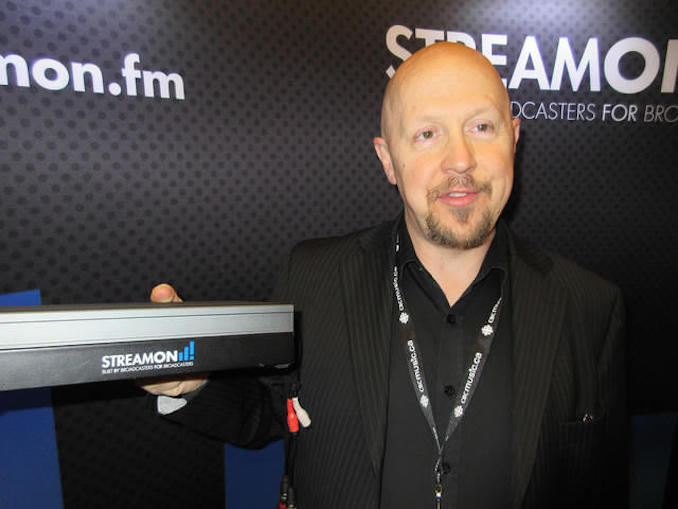 High tech vendors include Jamie Moffat the Director of Business Development at Streamon.fm which is technology that enables broadcasters to make the most of their on-air content with revolutionary streaming technology (HTTP live streaming) which is easy-to-use and allows instant podcasting and social media sharing. The company offers an array of reliable, low-maintenance live streaming products on their website.
And some low tech product vendors made it out too. Legacy products like Zippo lighters are part of Canadian music industry history. Founded in 1933, the company is eighty two years old, and in June 2012 they manufactured their 500,000,000th Zippo lighter.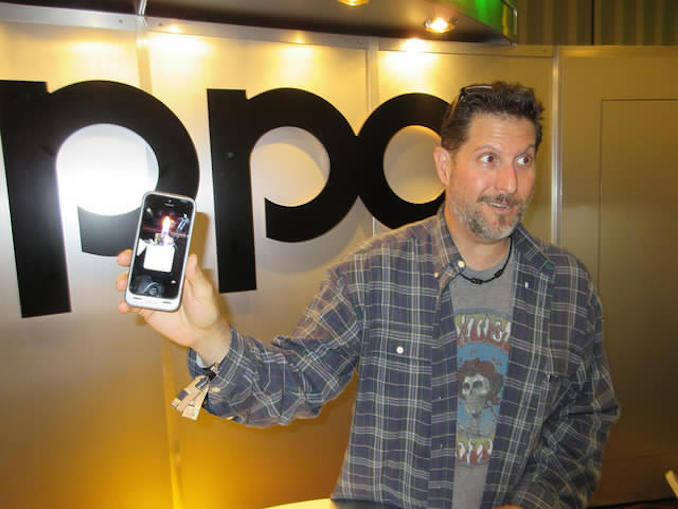 Zippo is for collectors – one in five customers is a collector. Above is their phone app which is an image of a Zippo lighter on screen, so even if you don't have the iconic butane lighter you can still hold one up at rock concerts during Canadian Music Week – brilliant.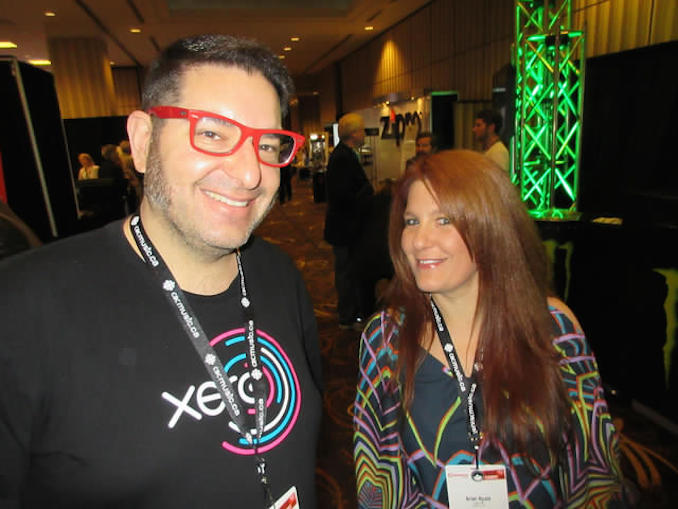 DMS recruited an impressive array of speakers, panelists and interactive workshops to provide unique insights and lots of real value for visitors. Here's Saul Colt. a Word of Mouth marketing expert, with his office manager before speaking on a panel about WoM for musicians.
Brian Solis the Principal Analyst at Alimeter Group, and author of What's the Future of Business?came on stage with Ted Cohen early in the morning to discuss how 'Its Time to Move on to Social Media 2.0'. That title attracted lots of people in the music industry who are always seeking the next big platform to dominate and 'growth hack'. These talks are filled with anecdotes of success and failure.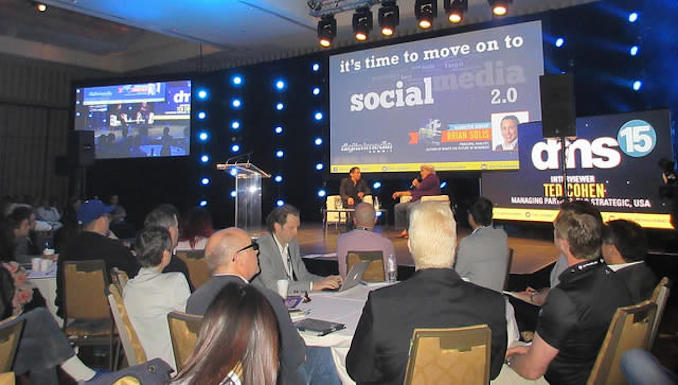 Ted Cohen was keen to get the audience involved, and offered the mic up to anyone who wanted to ask a question. At one point the discussion focused on the social media tactics employed by ISIS, and one audience member raised his hand to ask how bands could employ the same tactics? and the question made Ted Cohen smile and everyone in the audience laughed, but it made Brain Solis sweat a bit as he struggled to answer…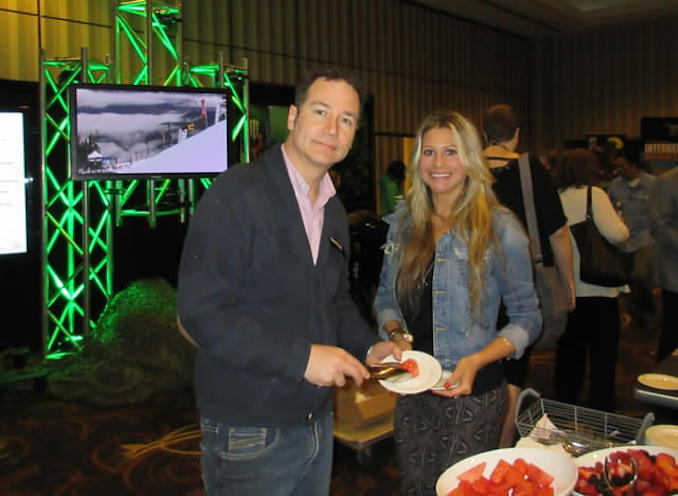 Here's Rob Campbell the Smojoe (and author of this article) in the breakfast line with Rock & Roll Singer Songwriter Jennifer Levy watch her videos on YouTube/JenniferLevyMusic
Here's a glimpse behind the scenes at Canada Music Week, in the basement of the Sheraton Centre behind the registration desk at the Digital Media Summit there's a base camp filled with staff struggling to keep straight a couple thousand little details. Around the corner are more PR companies including Infinity Communications Oakville PR and other agencies and marketing types making sure their people get the best representation at the events.
Join the conversation and stay up-to-date with the latest news about the Digital Media Summit on Facebook, and tweet to them @DMS_Summit. The hashtag is #DMS2015.