Last week, Fashion Art Toronto 2015 brought together thousands of guests who all came to celebrate the creativity of Canadian emerging fashion talents through five spectacular nights. For those who did not have the chance to attend it, we got it covered for you!
Fashion Art Toronto (better known as FAT) is an annual arts and fashion week that offers an alternative platform for up-and-coming Canadian fashion designers. This year, the festival celebrated its 10th anniversary, paying tribute to "Made in Canada" and what it means to be Canadian.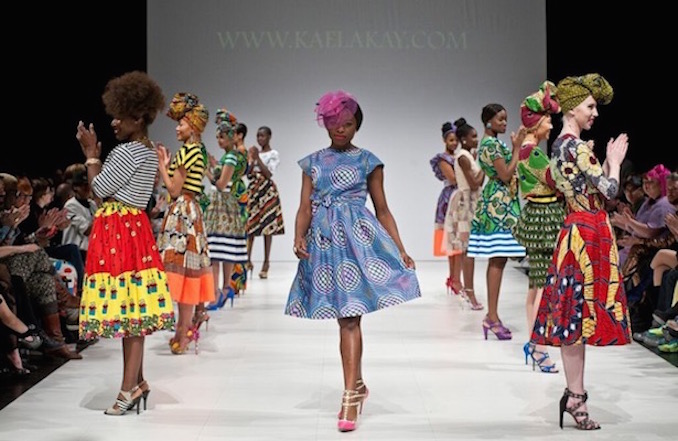 Every night, the collections presented on the runway responded to a different theme related to Canadian art, design, history, technology, nature, and landscapes such as "Great Wild", "Cold North" and "Global Village". It resulted in a mind blowing showcase of creativity, diversity, and innovation that well illustrated what emerging Canadian fashion design is today.
FAT is renown for the importance it has been giving to diversity, and this year's edition was no exception. The variety of fashion shows included ready-to-wear, haute couture, afro-street style, street-wear, futuristic, minimalist and more. The exhibition in itself was a piece of art, like a mosaic, made up of many different aesthetics, which ended up creating a harmonious whole.
Let's take a look at some of the most memorable aesthetics seen on the FAT runway last week.
Bold African prints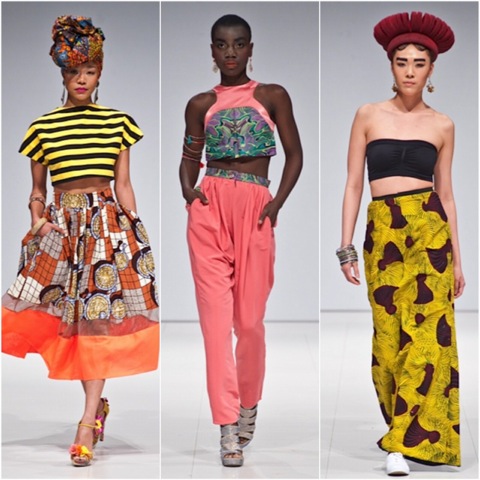 Keala Kay, TFL Couture and VKEITA were all about bold prints, vibrant colors and enhancing women's femininity. Keala Kay's "Glamorously Chic – Bold and Striped" collection mixed bold patterns and vivid colours together to create glamorous diva silhouettes like this tangerine signature full skirt paired with a black and yellow striped cropped top. In the same spirit, VKEITA's S/S 2015 Collection celebrated women's beauty and confidence with ultra feminine pieces and colourful patterns. As for TFL Couture, its "Afro-street style" collection was made for the woman who wants to look chic and feel comfortable during the hot summer days. The collection was made up of bright coloured cropped tops, pants, skirts and dresses with vibrant African prints.
Theatrical Gowns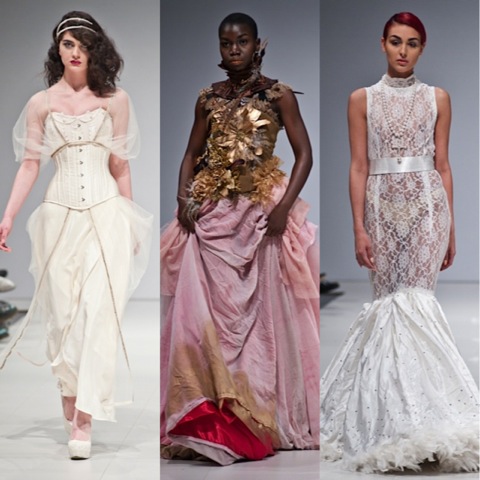 Starkers Corsetry and Gavarcia's collections were both inspired by classic eras of European fashion. Starkers Corsetry's line was all about crafted corsets reminiscent of the Edwardian era fashion, but with a modern twist. Diana DiNoble wanted to pay tribute to a time when Canadian fashion was locally made with the attention to shape and detail. Gavarcia's debut Haute Couture collection at FAT was made up of magnificent gowns that revealed the designer's unique take on couture women's wear.
Futuristic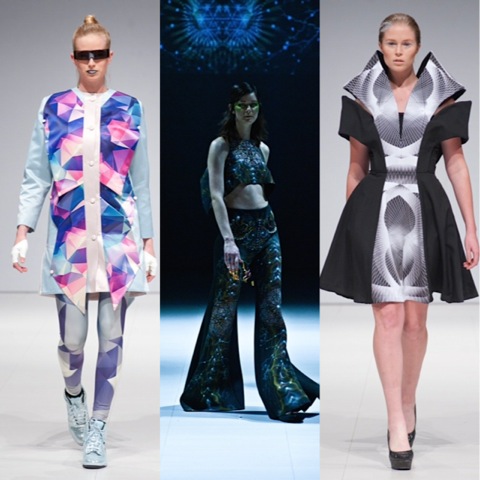 Vandal, Evan Biddell and Sandra all showcased remarkable futuristic fashion collections. Vandal allowed us a glimpse into the future with his Evangelion line showcasing powerful robotic silhouettes and various shades of digital prints as seen on the photo. Canadian Project Runway winner, Evan Biddell showed More Than Human, an awe-inspiring line of invisible UV inked clothes, creating the appearance of glow in the dark alien-like skin. Sandra Al-Dabbagh presented Artematics, a collection that fuses art, science and mathematics. The designer used various technologies such as laser-cutting neoprene, and computer software in order to create and print her futuristic fabrics.
Monochromatic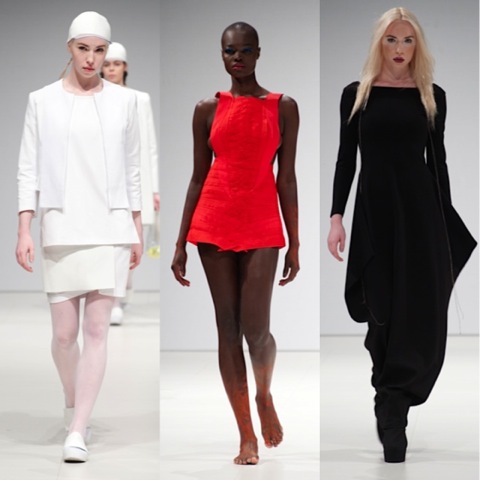 The use of monochromatic colors in Bianca Charneau, Andrea Montle and Elisa C Rossow's collections brought the shape of their designs into focus. Bianca Charneau reinvested her knowledge in visual art to create Blanc Sur Blanc, an all white collection of radical geometric forms and juxtaposed materials inspired by K. Malévitch's White on White. Andrea Montle's desire to enhance women's strength and femininity was expressed through a collection of what seemed like pieces of wrapped clothes, in either black or red, creating Superhero –like silhouettes. With Elisa Rossow, it was all about the structure of the clothes. The absence of color in her minimal all-black collection allowed the eye to focus primarily on the way the garments moved and framed the models.
Gender-fluid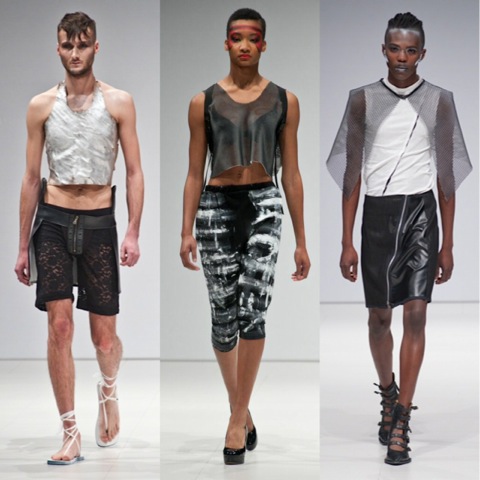 Some of the outfits showed at FAT were purposely gender-fluid, allowing men and women to dress however they want and be who ever they like. In MacCalden's Pandora's Box inspired show, male models seemed to come from an upside down world, strutting the runway in black laced bermuda shorts, furred crop tops and fierce eye make up. Masha's Unhuman collection also played with ambiguity by mixing gender representations and interchanging male and female identities in a flip of an outfit. In her Atlantis collection, Wendy NG presented clothes worn by advanced creatures from the sea that are rid of gender representations. Male models wore short leather black skirts and fitted white tank tops while female models looked like aquatic creatures with no particular gender.
It is obviously challenging to perfectly sum up the diversity, creativity and boldness, which characterized the creations of the designers at FAT in just one article. I would just recommend to anyone interested in arts, fashion, design and anything innovative, to go see their visionary works next year. At a time when most fashion brands are moving their production to low-wage countries, it is important to support and encourage the designers who make their products here in Canada. Thank you to the amazing team at FAT for doing just that.
Fashion Art Toronto and its amazing cohort of emerging designers will be back next year with more boundary pushing designs. Don't miss it!
Pictures by Jonathan Hooper
Montages by me.