The Lakeshorts International Short Film Festival is now entering its third year and it's making quite a scene. The film fest spans over two days, May 3rd and May 4th. The first day, Loved and Local, features films from Toronto as well as all over Canada with a few of the award winners being screened too. The second day is the big night that hosts a gala and screenings as well as an after party.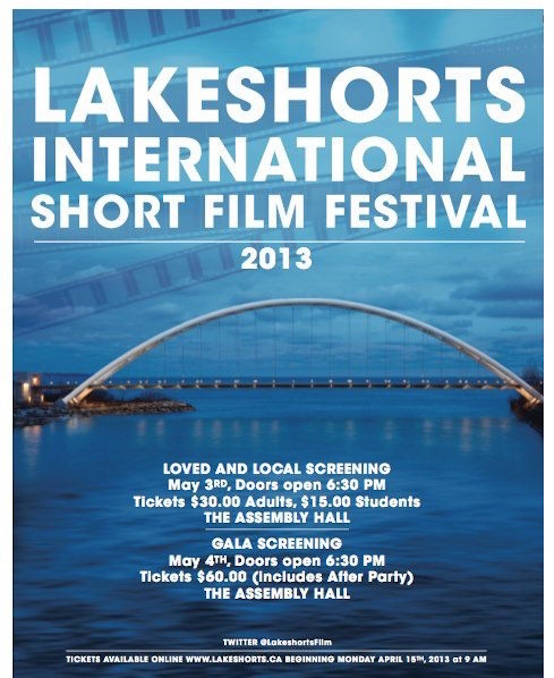 I spoke to Michelle Nolden, Lakeshorts' Artistic Director, and she's excited about the whole event. So why a short film fest? "I think short films offer something really unique. A really good short film is a great story on its own. In a night of short films, you're going to find one film that you love and one that you don't. Because it's set in the gala, people get to talk about the films so it really provokes conversation. We really try to bring in the community." Of course, the after party has a way of bringing people together too.
Michelle and her partner, Chris Szarka, play an active role in Lakeshore Arts, a not-for-profit local arts service organization located in Mimico. A few years ago, Michelle was inspired to gather filmmakers in the community and it eventually turned into the Lakeshorts Film Festival. It received support through sponsors that Chris rounded up through what Michelle refers to as his "infectious enthusiasm."
What's particularly great about this film fest is the encouragement to involve local filmmakers. Both nights open with Flaked, a five minute short made by the Students of Lakeshorts Future Filmmakers. Several high school students in the community apply to this program and six applicants are chosen. Over the course of two weekends, they have to write a screenplay together, direct, light, shoot and edit. Each of these steps is led by a professional screenwriter, lighting technician, makeup artist, editor and Michelle directs it while the students take turns co-directing. The result is a short film and the chance for these students to see their work on the big screen.
Of the Festival, Michelle says that "it really seems to have found its niche." And it certainly has. The gala night tickets were sold out within the first two days. Tickets are still available however, for Friday night's Local and Loved. You can get them online here. If tickets aren't completely sold out by Friday, then they will be sold at the door. Doors open at 6:30, screenings begin at 7pm.