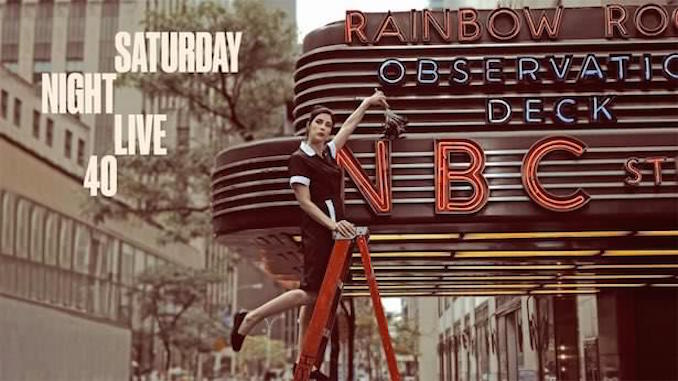 "Live from New York – its SATURDAY NIGHT!
That's a line that my generation grew up with. After 40 years, its the slogan of one of television's most coveted comedy institutions. Right alongside the Tonight Show and… well actually, those two kind of stand the test of time all their own. Those are maybe the two highest pedestals in TV comedy. If only by virtue of age.
Carson and Belushi are long gone.
It all kicked off in 1975 with a George Carlin monologue and the "Not Ready for Primetime Players". A wild young cast of network rebels in the sex, drugs & rock 'n roll age – helmed by an unassuming kid from Toronto named Lorne Michaels.
We've seen 40 years of casts come and go. SNL has ushered in the rise (and occasional fall) of massive stars for every generation since. Some burnt out way too soon. Some lived fast, died young. Some simply aged into obscurity. We've watched those original primetime players quietly go from cocaine and casual sex to Paul Simon and social security
Saturday Night Live has been the proving ground for some of Hollywood's biggest comedy stars (love 'em or loathe 'em). In my generation, I've watched Mike Myers, Chris Farley, Adam Sandler, Chris Rock, Will Ferrell all move from being "Live from New York" to 'reviewed on the big screen'
Eddie Murphy started on SNL. Sure, he might have Nutty Professor'd his way into an early retirement – but for a time, he was one of the biggest stars in the world and maybe the most prolific example of a career that started on SNL. In his prime, he was one of the funniest people on the planet.
Chevy Chase is a grumpy old man, and you're not. He also made the Weekend Update desk an institution within itself. A chair that's been occupied by some of the best (Norm MacDonald, how ya doin'. Fey and Poehler, yes please!) and some of the worst (don't get me started on the new kids)
SNL has played a vitol (sometimes vitriolic) role in parodying pop culture. Although these days, in the PC-overkill overcompensating society of 2015, the punches are usually pulled
There's been countless infamous moments we'll never forget. Like when the original cast voted Andy Kauffman off the show. Or when Sinead O'Connor tore up a picture of the Pope live on-stage. Or post-9/11 when Rudy Giuliani gave Lorne Michaels and company his blessing to carry on with the laughter, and Paul Simon launched into a tear-inducing version of "The Boxer", the universal anthem for the city that never sleeps.
Chris Farley repeated the tragic side of the show's history, and followed his own hero John Belushi from the SNL stage to a much too early grave at 33.
Some cast members made careers of SNL – a cherry gig that doesn't always pave the path to the big screen. Tim Meadows enjoyed a 10-year tenure on the show. An elder statesmen who showed the ropes to cast after cast, arcing his way through the superstardom moments and the peaks & valleys of the 90s.
So did Darrell Hammond, an impressionist of Rich Little proportions (go ahead and Google). Hammond stayed with the show for 14 years, and even filled the role of announcer Don Pardo (R.I.P) on occasion. No one at home was the wiser
Over the years I remained a staunch SNL supporter. It was often a benchmark of my Saturday nights. I would incorporate forced viewings into family get togethers, and foist it on involuntary partygoers. "Live from New York" was where I had to be, all other plans be damned.
Through high highs and low lows (there have been a lot of dud moments in this last decade) I defended SNL. "It ALWAYS gets good again, they just need new writers… this cast is a bit weak, but they'll change it up". I've fought the fight for SNL, shouted to its virtue across bar tables and in packed restaurants. Debated it with friends and my fellow citizens of the comedy world.
I was always a born & bred brand loyalist when it came to SNL. Maybe its a Canadian thing? Even if you didn't factor in our city's own Lorne Michaels, SNL has always had a Canadian pedigree. From the original cast, to some of the brightest minds in comedy who have graced that stage for 4 decades. Canada is a country that breeds comedy. "There wouldn't be a Second City or a Saturday Night Live without Canadian comics" is one of my oldest and most well-worn tropes. I'm a cynical, skeptical and occasionally bitter agnostic – but when it comes to Canadian comedy, I'm an unwavering believer.
One thing that comes up any time I'm on the air plugging or promoting, one thing I'm generically asked the most – "how did you get into comedy?" I always cart out the same two memories. The first time my parents kept me up to watch David Letterman ("your auntie Tina beat Paul Shaffer in a piano recital!") and my first Saturday Night Live. Cliche? Sure. But influential in my formative years? I have notebooks full of jokes and a packed show calendar that would support that theory.
I'm not sure what year it was, early 90s. The first thing I remember was a commercial for the 'Love Toilet'. Kevin Nealon and a pre-Tea Party Victoria Jackson (before she became the mayor of Crazytown USA) sharing a romantic couples' poop. That's my first SNL memory.
Let's not forget about those parody commercials. Swill. Mom Jeans. Colon Blow. Oops I Crapped My Pants. Wayne Blasingame (Will Ferrell's hateful anti-canine attorney and his not-quite-right brother Doug) this list could go on… for about 40 years
There were spinoffs and movies, some successful (Coneheads, Wayne's World 1, anyone?) and some… um… not such a good idea. Its Pat got a movie deal? How did that happen again? And not much love for the Brothers Butabi.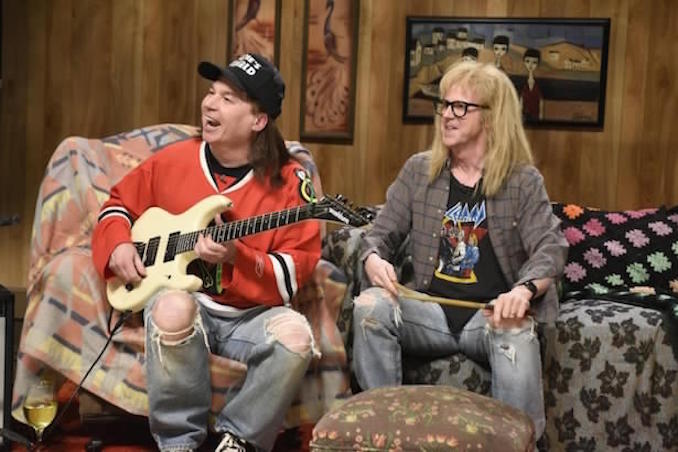 And those weirdo cult classics that have since become a part of the popular lexicon. Let's all raise a glass "TO BILL BRASKY!"
"TOONCES, NO!!"
There could be an entire hall of fame for underused, under-appreciated cast members. For my money, Chris Parnell par example was one of the funniest SNL alums of the 90s.
And who can ever forget those killer G.E Smith solos?
Oh, and that Ghostbusters remake that was sparking online gender debates (uck, come on people) and igniting and uniting the Geekdom across the globe? The original cast AND the upcoming cast is and was almost entirely populated by Primetime Players past and present.
I could eat up this whole magazine with stats, thoughts, facts, recollections and memories nostalgic, hazy and unclear. But that's the beauty of SNL – we ALL have our own opinion on it, our own take on it. As a tradition, as a show. For most of us reading this, its been as constant (certainly not as consistent) in our lifetime as Coca Cola or the Rolling Stones. There's just always been a Saturday Night Live.
How long can it go on? 10 years from now, will we be hashtagging #SNL50? Or have we jumped the shark?
I'm forced to admit now that (over the last couple of years) I've slowly been caught up in my own career. I haven't had the time (and lately, I painfully admit, the interest) in being "Live from New York" EVERY single Saturday night. I'm usually Live from Toronto, on-stage at some bar, some pub, some comedy club.
But every now and then if I'm at home or I'm entertaining friends – its there. Maybe more background now than focal point, but its there. It always has been. Its 40 years old now. Its a little grey, its much less electric. It might have run out of new ground to break, new walls to tear down. I'm not sure. But I don't want to take it for granted while its here.
I'm not caught up on the current cast as much. I'm not keeping updated on Update. And I'm not fighting that fight as often anymore. But I'm hard pressed to imagine a time in my life where its just not there. I guess I'll just figure it out when that time comes, and give love and credit where love and credit is due. There's never been another show like it.