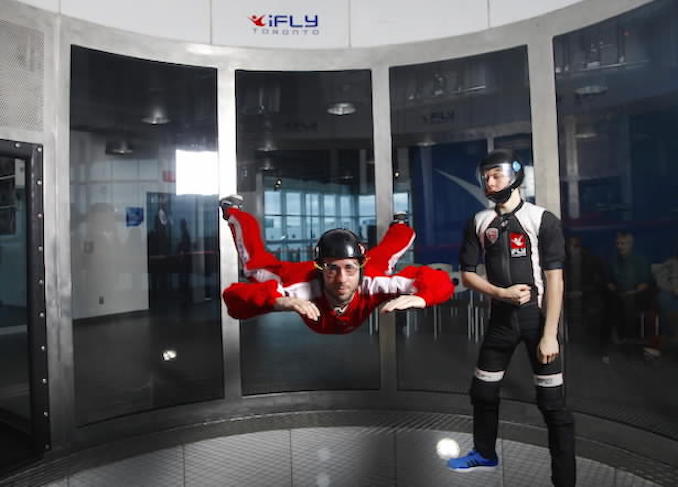 You have got to love Toronto's variety of attractions. New businesses with new ideas are opening every year. I recently got to try one of these attractions at the iFly Toronto indoor skydiving facility in Oakville just 20 minutes drive from downtown Toronto.
iFly Toronto holds a recirculating indoor free-fall simulator, with a 14-foot diameter cylindrical flight chamber that skydivers can use to train all year round. Not a skydiver? That's ok! The facility is available for use by anyone, as long as you don't have certain health issues. The facility can be used by flyers ages 4 and up. Their oldest guest was a 93 year old woman who became Canada's oldest flyer to date.
The company staffs some really cool folks as well who will train you, take you through your first few flights, and who will give you quite the show of their acrobatics and skill in the chamber after. Staff do not need to be skydivers, but iFly Toronto's entire staff is. I can imagine it being a great job when you are not able to do the real thing.
The facility is also used so military can train with their own equipment, recreating the unique reality of military parachutists.
The chamber is equipped with video and photography equipment allowing for a great souvenir of you trip. The picture above is of my first flight in the chamber.
When you arrive at the facility you will be directed to sign-in on their digital touch screens with your information. After that is complete, you will be taken upstairs where you can watch other guests take their flights while you wait for your instructor. The instructor will then bring your group of around six people into a training room where you will learn hand signals and body positioning. The final step before flight is getting geared up. iFly Toronto will provide your goggles, your onesie suit and earplugs (it gets loud!). Once you are prepared, you step into the pre-flight chamber and the doors seal behind you to maintain preassure. Once everyone is in the pre-flight chamber, the flights begin one at a time as the instructor brings you into the flight chamber. The instructor will keep you balanced while providing signals to improve your body positioning.
Each flight is 60 seconds, and you have the option of doing 2 flights or 4 flights as a first time flyer. When you do the 4 flight package, you do your first flight, and then your second flight and then you do your last 2 flights together. This gives you a chance to really perfect your flying abilities!
Photos and video are taken of everyone and then displayed on screens where you get your equipment. You can watch video highlights from your flight as well as watch the slideshow of images from your group before purchasing them from the front desk where you came in.
The whole experience takes about an hour and a half from when you arrive until when you leave.
Prices run from around $80-$120 including taxes.
Now that indoor skydiving is an official sport, the iFly Toronto facility will be used to host the World Championships that take place March 21-22, 2015.
For more information, visit the iFly Toronto website.