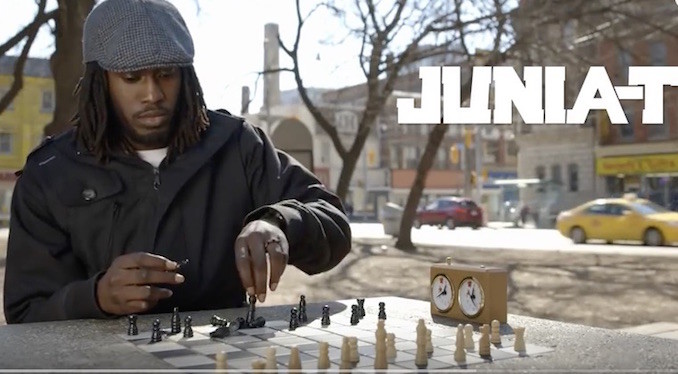 Before I say goodbye for 2014, I want to show love to a brother, his name is Junia-T, and he just dropped a new album I'd love for you to listen to. It's amazing. He had his album release party last night at the Drake Underground, and we would like to congradulate him on all his hard work, as well as just getting back from rocking overseas in England! Mindbender Loves Junia-T and hopes you do too! Please enjoy this music, and this video one love to you all!
Junia-T
Eye See You
"Possessions make you rich? I don't have that type of richness. My richness is LIFE." says the wise Yardie on the intro. Yah-yeh! Let's take a look at "Eye See You".
After dropping "Think It's A Game?" with Smash Brovas, Junia-T brings his new album, and if you love hip hop music with 90's magic updated for the new school, you will LOVE this, as it creates something sweet that should catch every ear that hears it.
"Too Smoove" shows how fully formed and fleshed out freshness with his funky ass beats and fresh ass lyrics. Storytelling and jewel dropping doesn't come more honest and dope as Junia. This brother is ten million percent Toronto and a Sauga King like few other T-Dot representers, and his tutelage under the wise guides of production in this city has allowed Junia to become a super producer in his own right, now that his time has come and his creative harvest is ripe.
"Time is an amazing thing/ you can build or destroy with every second you get…" Holy shit is the beat for "How Can I" something magnetically magical, taking a classic Mary J Blige sample and taking it to places that nobody has done. Lots of heartfelt honesty in the song about multiple relationships happening simultaneously, and trying to keep romance together.
Christ almighty, Junia got the goods in his fingertips! The sequences and slices of the dusty drum roll alone… DAMN, bruh. It's generous of Junia to bring a couple guests to the proceedings as well, and the way Little Sims featuring Emerson Brooks rides the dopeness of "Sleep Paralysis" will smack fools awake. The bubbling bassline in that banger isn't the only thing that keeps fools from snoozing on the truth. And if anyone else ever needed to see the next wave of PERFECTLY PREPARED talent, look not an inch further than pHoenix Pagliacci, the triple-threat superstar singer/rapper/artist who blesses 'Everyday' with a sultry sweet voice that carves out a special space for LordQuest to sneak in a little sixteen.
"LEGOLEGO" finds Junia on a double-time tempo that is sprinkled with a lovely flute and Yancy Deron and Tassnata, brothers who came to murk the jumping jam with some more motivational messages to get up! Good times. Kemikal, you fucking destroyed your jam. "My flow Zab Judah him… Conan sword make two of them!" And I wish Curtis Mayfield could enjoy how fucking funnnnnky funkadelic the jam "Swisher Sweet" is. They don't make rap songs like that too much no more. And that's before you hear "Wasting Time". Thank you, fellas.
Next summer, jams like these are getting dusted off, and rinsed. Honestly… the whole damn album is fresh. I could talk about every song, but I'm not gonna ruin any more surprises for you. It's far past obvious that Junia T knows how to do everything it takes: make banging beats, write sick rhymes, sequence original sonic journeys, and sculpt impressive sounds overall. "All that's left to do is grow up." You know what has to be said? Junia-T's production prowess shows that the brother is highly adept at making all kinds of genres of music: hip hop, R&B, soul, funk, jazz, reggae, techno and pop, and still keep the integrity of the vibes intact. He stretches his sound across the entire album, but there isn't a single song that I personally thought was beyond his creative capabilities. So dope is his shit.
The album ends on the proper note, with a feature from his long time bredren Crooklin from Smash Brovaz. It's so amazing to intake, the album closer "Henny Sippaz". "We're burning ganja/ honoring our native spirits/ guiding along in this world that has to rape and pillage/ anti-mile high: I don't give a flying fuck/ you can gobbler a diz-nick, eat 'em with a side of nuts!" Hell yeah, Junia! This whole verse captures the multi-talented man bouncing and bobbing and weaving through the sweet vocals of the sample and sway of the sonic styling. There's so much variety and differences between the chunes and jams pon this album, I proudly proclaim it shall certainly last the test of time and be enjoyed by heads around the world for years to come, as they discover this Mississauga King, Junia-T. Eye See You, hear you, and salute you highly, big brother!
Keep up to date with his website.