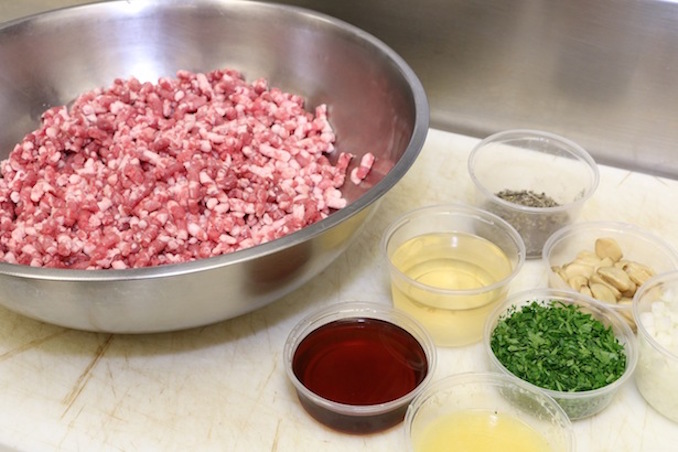 The Healthy Butcher's Black Oak Beer, Jalapeños & Cheddar Sausage Recipe
INGREDIENTS:
–      3 lb Organic beef, medium ground
–      2 lb Organic pork, medium ground
–      1 tbsp salt
–      0.5 tbsp pepper
–       1 tbsp ground mustard seed
–      1 tbsp chili powder
–      200 grams of grated cheddar
–      2-3 chopped jalapenos
–      0.25 cup of chopped parsley
–      0.25 cup of garlic
–      1 bottle of Black Oak Nut Brown Ale
–      1/4 cup honey
–      1 pork casing
* The key is to select quality, fresh ingredients.  Great ingredients = great sausages!
STEPS:
1. Your pork casing will likely have been sold to you packed in salt.  Rinse off all the salt, and put the casing in a bowl of luke warm water for a few minutes while you do the rest of the prep.
2. Mix together all of the ingredients in a large bowl.  Your goal is to ensure all ingredients are thoroughly mixed together.  The last thing you want to do is bite into a pocket of black pepper for example.  Make a little patty with the mixture, and cook it up in a frying pan.  How is the flavour?  If it needs a bit more of some ingredient, salt for example, now is the time to add it and mix again.
3. Fill your sausage stuffer, and then punch down the meat to eliminate any air pockets.  Sausage stuffers range in size and quality.  The Healthy Butcher sells a decent quality 5lb sausage stuffer for $150, and also rents out sausage stuffers for very little cost for people wanting to host their own "sausage party."
4. Lubricate the horn of your sausage stuffer with a bit of vegetable oil, then apply the pork casing.
5. Fill your casings by applying a bit of pressure at the end of the horn with one or two fingers.  Your goal is to nicely fill your sausages; but be careful, if you fill them too much they will burst!
6. Link your sausages by pinching the sausage at the desired length, then twirling the sausage 3 or 4 times in a forward direction.  Move along the casing the same distance, pinch the sausage, then twirl it in a backward direction.  Continue twirling forward, then backward, then forward, etc. until all of your sausages are done.
7. Leave the long length of sausages uncut and refrigerated for 12-24 hours before you cut individual sausages.  This will give the sausages time to hold their shape and ensure that when you cut individual links, the casing won't unwind.
8.  Voila… cook your sausages by pan frying, roasting, or grilling!  Enjoy.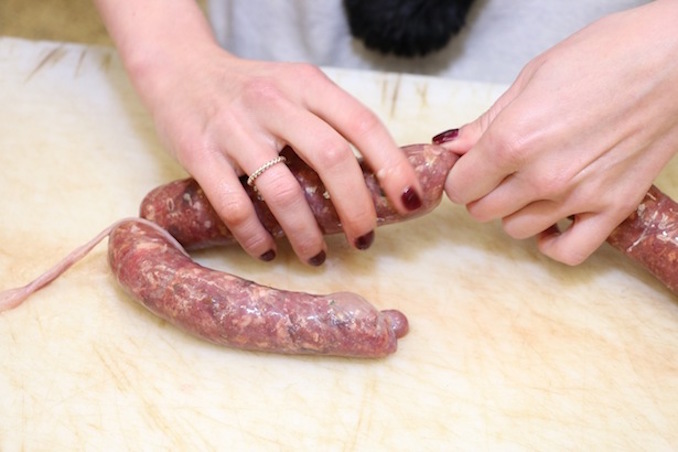 The Healthy Butcher offers a sausage making class as well as other food seminars. (For the upcoming class schedule, click here.)