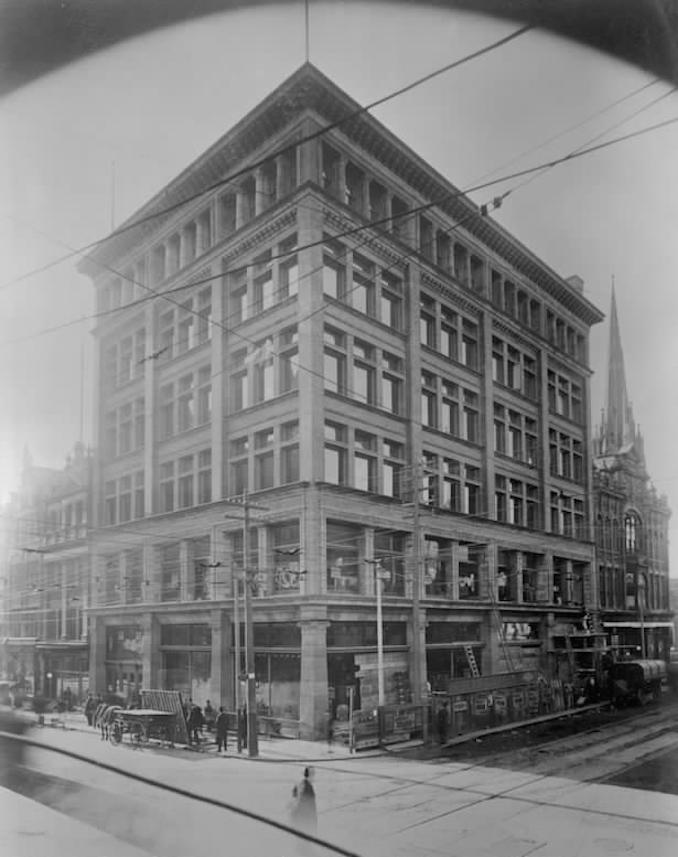 By Courtney Boost
On the corner of Queen Street West and Yonge Street in the heart of downtown Toronto sits the former flagship store of Robert Simpson Company Limited, otherwise known as Simpson's. Now resting in the shade of soaring skyscrapers, it was an influential force in the department store industry, and shaped the shopping experience we know and love today.
Forged from humble beginnings, Simpson's was the brainchild of Robert Simpson. In 1855, the enthusiastic 21 year old Scottish immigrant from Inverness settled in the budding town of Newmarket, Ontario. Son of a general store owner, Simpson was raised in the dry goods business and eventually opened his own shop in 1872 on Yonge Street, north of Queen Street. Nine years later, he relocated to the southwest corner of Yonge and Queen streets. Not only was he then situated amongst at least 13 other such stores, he was also directly across from his primary competitor, Eaton Company Limited. Simpson's gradually consumed adjoining property as it expanded several times, and quickly became a prominent shopping attraction in the downtown core.
With a wholesaler attitude, money back guarantee, wide selection, and low prices, Simpson's generally coped well with competition during times of economic uncertainty. When times did get tough, Simpson's could be innovative. At one point during the Great Depression, the bodies of three lifeless beluga whales were transported from Hudson's Bay to be placed on display to attract shoppers. For fairly obvious reasons, that advertising technique did not last long, but others did. "Dodgers", known as flyers today, were favoured over newspaper advertisements and were distributed regularly to inform Toronto's booming population of competitive prices. Bargain prices, in fact, were what made Simpson's competitive with Eaton's, just across Queen Street to the north. Timothy Eaton and Robert Simpson watched each other's every move, and both understood that a slight price change could send hoards of customs scurrying across the crosswalk, nicknamed "the cattle crossing," to their rival.
By 1890, Simpson's had evolved from a dry goods retailer into a modern department store, and aimed at capturing the loyalty of not just the growing population of Toronto (which had quadrupled between 1871 and 1896), but that of Canada. Selling everything from expensive furs to furniture and groceries to patented medicines, Simpson's constantly added to its selection of merchandise. They also expanded their staff from a few individuals in its early days to more than 200 employees in 1890. In 1893 Simpson's released their first mail-order catalogue, nine years after Eaton's, and offered their wares across Canada, drastically expanding their customer base.
Also in 1893, Robert Simpson commissioned noted Canadian architect Edmund Burke to construct a six-storey department store on the existing site at Queen and Yonge streets. The grand architectural design was inspired by trendy, open concept American retailers, such as Marshall Field's & Co. Opening in December 1894, the department store was the first commercial steel structure in Canada.
Then disaster struck. Only three months after opening, the store erupted in flames and burned to the ground. The sound from the collapsing walls was heard as far north as College Street. A nearby security guard reported hearing shattering glass around the time of the blaze, triggering suspicions of foul play, and fire officials came to assume that arson was the cause of the fire. The individual or group responsible was never found.
Tenacious and determined, Robert Simpson re-opened shop in local rental locations while the ruins were cleared and a new colossal six-storey, Chicago-style department store, designed by the architectural firm of Burke and Horwood, was constructed on the site. Only ten months later Simpsons returned to its new and improved structure which was the first 'fire-proofed' store in Canada. It had a steel frame and rolled steel girders encased in concrete and columns spaced at greater intervals.
In 1897, at the age of 63, Robert Simpson suddenly passed away. Without a Simpson heir, and given fears of an American takeover, a group of Canadian businessmen purchased the Simpson's inventory and chattels for $135,000 in 1898. Under new management, Simpson's opened a mail order building on Front Street in 1905 to manage orders and outbound parcels, expanded nationally to locations in Halifax and Regina in 1924, and survived the Great Depression. By 1951, Simpson's joined ventures with Sears, an American retailer, and became Simpson-Sears.
Between 1900 and 1969, the Simpson's store and Queen and Yonge expanded to cover the entire city block between Queen Street West, Bay Street, Richmond Street West, and Yonge Street. Notably, the Art Deco inspired 1929 nine-storey expansion featured the Arcadian Court, a renowned 1,000-seat restaurant known to host the Toronto Symphony Orchestra, Sotheby's auctions, and pianist Liberace. Making Simpson's an even more visible downtown attraction, the 33-storey Simpson Tower on the corner of Queen and Bay streets was completed in 1968 and became a key part of the rapidly developing cityscape.
Simpson's, apart from Sears, was acquired by Canada's oldest corporation, The Hudson's Bay Company, in 1978. However, it wasn't until 1991 that the landmark location at Queen and Yonge streets officially became The Bay. The building remains one of Toronto's, and Canada's, greatest retail landmarks.
To the relief of its many admirers, the building has been long treated with the care it deserves. Company officials instituted a restoration and conservation program in 1977, and won an Award of Merit from the Toronto Historical Board (now Heritage Toronto) for their efforts.