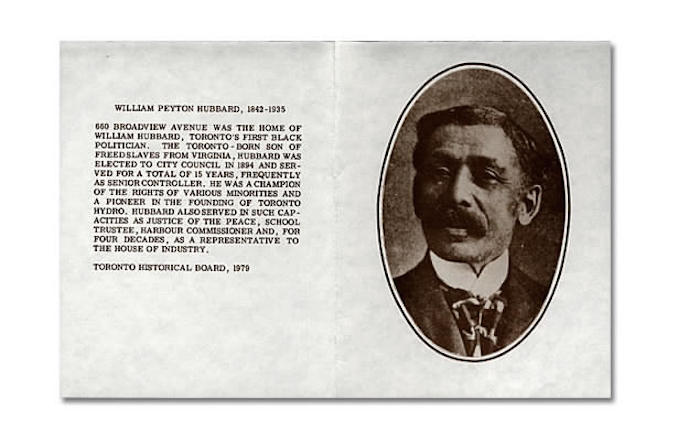 In celebration of Black History Month, we'd like to take the time to showcase the life and achievements of William Peyton Hubbard, an enterprising and dedicated Torontonian who served as our city's first Black elected politician as early as 1894.  Elected as an alderman (a term once used for City councillors), he served as a frank, outspoken force for responsible municipal spending and against corruption and misconduct in business and politics at the turn of the century.  In service of all Torontonians, he helped to build what would become our modern city, through major acts like the acquisition of the Toronto Islands and legislation toward the public ownership of hydroelectric power.
William Peyton Hubbard was born in 1842 to parents who had emigrated from Virginia.  His father, who had been freed from slavery before coming to Canada, imparted a philosophy of self-improvement, and he worked to provide his son with opportunities not available to all  – namely with tuition to Toronto's Model School.  William worked afternoons and evenings as well to contribute to the expensive cost of his education.
Through early networking at school and at St. George's Anglican Church, he became adept at building connections and interacting within the spheres of the city's elite.  In the years after his graduation, Hubbard worked as a cake baker and then as a horse-drawn cab driver, which led to a chance encounter in the 1870s with none other than George Brown.  Hubbard stopped his cab from plunging into the Don River.  The event apparently sparked a friendship, in which the Globe publisher encouraged him to run for public office.
In 1893, Hubbard ran unsuccessfully to represent a City ward on Toronto City Council. He succeeded, however, in promoting his name as an honest, dedicated worker for the public interest.  The term of municipal politicians was then one year, and Hubbard returned to the hustings to be elected in 1894. He would go on to win thirteen consecutive yearly races, leaving a lasting impact on the city.
Early in his time as an alderman, Hubbard would be nicknamed "the Cicero of the Council", an apt reference to the legendary Roman orator, as he would speak out passionately and eloquently on issues that concerned him.  Hubbard would frequently address instances of corruption in fiery fashion, both with respect to private companies and to his own colleagues on City Council, and he refused to let slide misuses of public money.
In 1898, he was appointed to the Board of Control, a four-member executive committee to help advise the mayor and monitor municipal spending.  He subsequently fought to democratize the Board, arguing that those in control of financial allocations should be chosen by the public, and not according to the political preferences of those on Council.  The democratization of the Board of Control would be considered a major early achievement, and Hubbard himself would continue to be elected as a Board member for the remainder of his stretch as an alderman.  As a senior Controller, he would also occasionally serve as Acting Mayor throughout his time on Council.
Throughout his life in public service, Hubbard maintained a strong dedication to hard work in the service of Torontonians.  He focused, in particular, on the public control of city services.  In 1902, he opposed the provincial government when it granted private railway companies the right to extend their lines into the city without municipal involvement.  Hubbard was also an instrumental force in the battle to bring publicly owned hydroelectric power to Toronto.  He served on the province's Hydro-Electric Power Commission, and in that capacity worked tirelessly alongside M.P.P. Adam Beck to promote the benefits of public control over this newly developed resource. In 1911, the city officially took control of the administration of hydroelectric power to its citizens, largely due to the unwavering efforts of William Peyton Hubbard.
After losing re-election in 1908, Hubbard would return to Council once more for a year in 1913.  He would leave behind a lasting legacy in the city's political sphere, and would be remembered as a passionate and outspoken public servant who aimed to represent his constituents honestly and fairly.
He would also blaze a trail as the first elected Black politician in Toronto. He did not frequently discuss his race and the impact his position might have for the Black community, nor did he claim that community as his base.  Historians have noted that the Black community in Toronto at the time was too small to be considered a political force or to merit specific representation. As an alderman, in fact, Hubbard represented a predominantly white community in Ward 4, and was not elected to represent Ward 3, which then had a larger Black community.  Intriguingly, Hubbard was elected to senior positions in municipal government in a Toronto where very few Blacks were able to rise to professional, middle-class positions – even the most educated of those who immigrated north to Toronto after World War One.  It was a city where prominent hotels and restaurants did not serve Black residents, even as Hubbard was serving as Acting Mayor.
Hubbard forged on to build a career that has since been hailed as a source of pride for Toronto's Black community. Renowned Black historian Daniel Grafton Hill called Hubbard's determination, pride and selfless contribution "qualities… which young Blacks, and indeed people of every ethnic group, can aspire to today."
Along with this recognition of William Peyton Hubbard, we at Heritage Toronto are continuing to celebrate Black history through the rest of February.  We've unveiled a plaque recognizing the life and home of Frederick Langdon Hubbard, William Peyton Hubbard's son who would eventually become TTC Commissioner.  We are also hosting, on February 20th at St. Lawrence Hall, a conversation with and performances by four outstanding musicians: Archie Alleyne, Brooke Blackburn, Ada Lee and Saidah Baba Talibah, with accompaniment by pianist Michael Shand.  The conversation will be moderated by the CBC's music columnist, Errol Nazareth.  If you'd like to spend an evening with these amazing performers at St. Lawrence Hall, simply register here – it's free, but space is limited!  Many thanks to Citizenship and Immigration Canada for making this event possible.
Between our celebrations of Black History Month at Heritage Toronto and the wide variety of events throughout Toronto this month, be sure to set aside time to enjoy the ways Toronto's Black community has made, and continues to make, Toronto so awesome
Article By: Emma Abramowicz