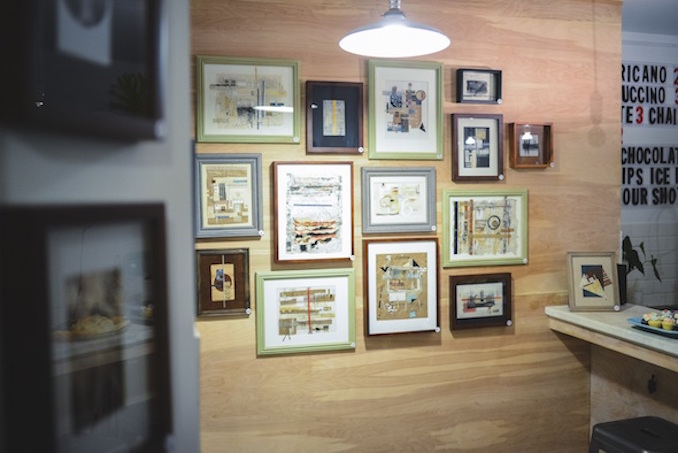 Two and a half months after its grand opening, Easy Tiger Goods hosted its first art exhibit last Thursday night called "Koleksiyon" that featured the work of Turkish multi-media artist Sena Gonulkirmaz.
The small shop that lies just west of Gladstone Avenue on Dundas Street specializes in handcrafted, well-made, and locally designed and packaged products. The store, which also contains a café, carries a wide range of goods that have a unique and minimalistic appeal. "Sena's art goes really well with the store's aesthetic," said Easy Tiger Good's owner Zai Rajkotwala.
With a background in interior design, Sena Gonulkirmaz focuses on geometric lines and shapes within her work. She creates a mixed mood within each piece by contrasting harsh angles with soft colours.
"I see how she works, I see the entire process," said her husband Emrah. "She basically puts everything that she has together and then she gradually takes away pieces of the work. She minimizes until it fits together."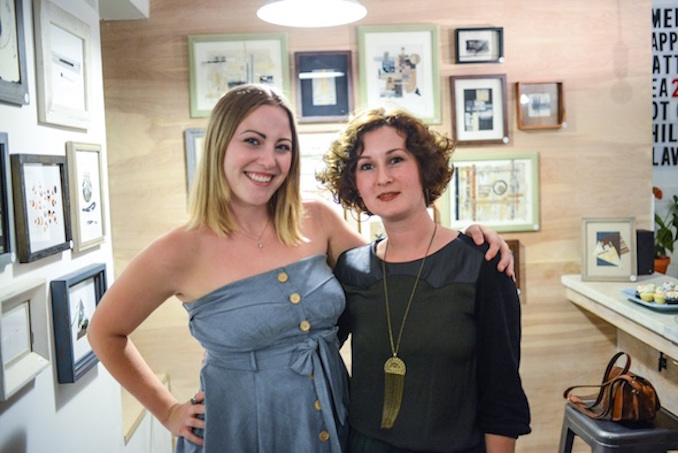 Along with being one of her biggest supporters, Emrah also translates for his wife who speaks very little English. Gonulkirmaz moved to Toronto three years ago from Istanbul, Turkey, and immediately immersed herself in our city's pulsing art scene.  "Toronto's art scene is very different from the art scene back home," she said through the translation of her husband. "Here, art is very centralized and easy to access in the downtown core, whereas in Turkey, it was very spread out and more difficult to find.
"Koleksiyon" is Gonulkirmaz's third exhibit here in Toronto. The collection showcases her exploration into various artistic mediums, such as digital printing and collage art. "Collage art is the most appealing to me," Gonulkirmaz said through her husband. "Each collage is unique. You can print thousands of digital prints, but you can never really duplicate a collage."
Gonulkirmaz's work will be featured again in November at Time of the Month, a nomadic art party that is curated by Tiffany Alice. As for Easy Tiger Goods, Rajkotwala says that she hopes to host art exhibits every few months. "I'd love to support local artists here in Toronto," she said. "I really stand behind everything that I sell and everything that's in my store. Every item here is unique in a way; every piece has a story."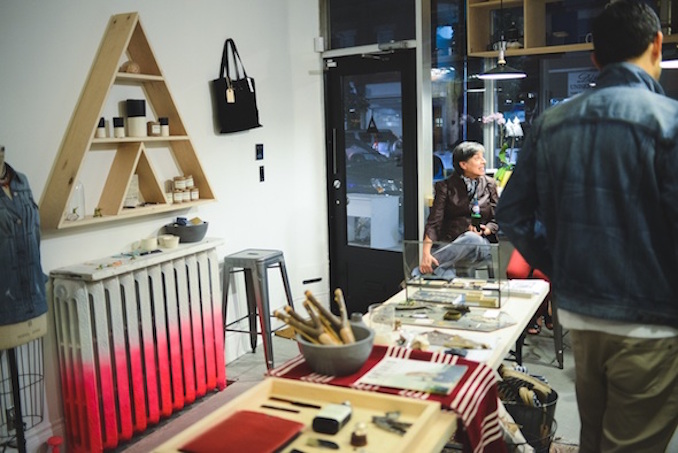 To learn more about Easy Tiger Goods, or to shop at their online store, check out www.easytigergoods.com.
You can browse through Sena Gonulkirmaz's portfolio at www.senagonulkirmaz.com.