When you think of basketball, do you also think of…plants? Well, if you've had the absolute pleasure of visiting The Local Gallery located at 621 College Street in the last two weeks, it will be impossible not to. The Give and Grow, which specializes in basketball planters, has collaborated with ten different local female artists who were given the chance to customize the iconic Nike Skills Mini Basketball in their own personal style. They're displayed at The Local Gallery for the remainder of the month under the title "The Alley Oop Project 2022". Olivia Ho, the creator of The Give and Grow, hand-selected these ten talented artists not only for their incredible skill but because they too are passionate about basketball and giving back to the community. Each piece is beautiful and unique, much like the women behind them.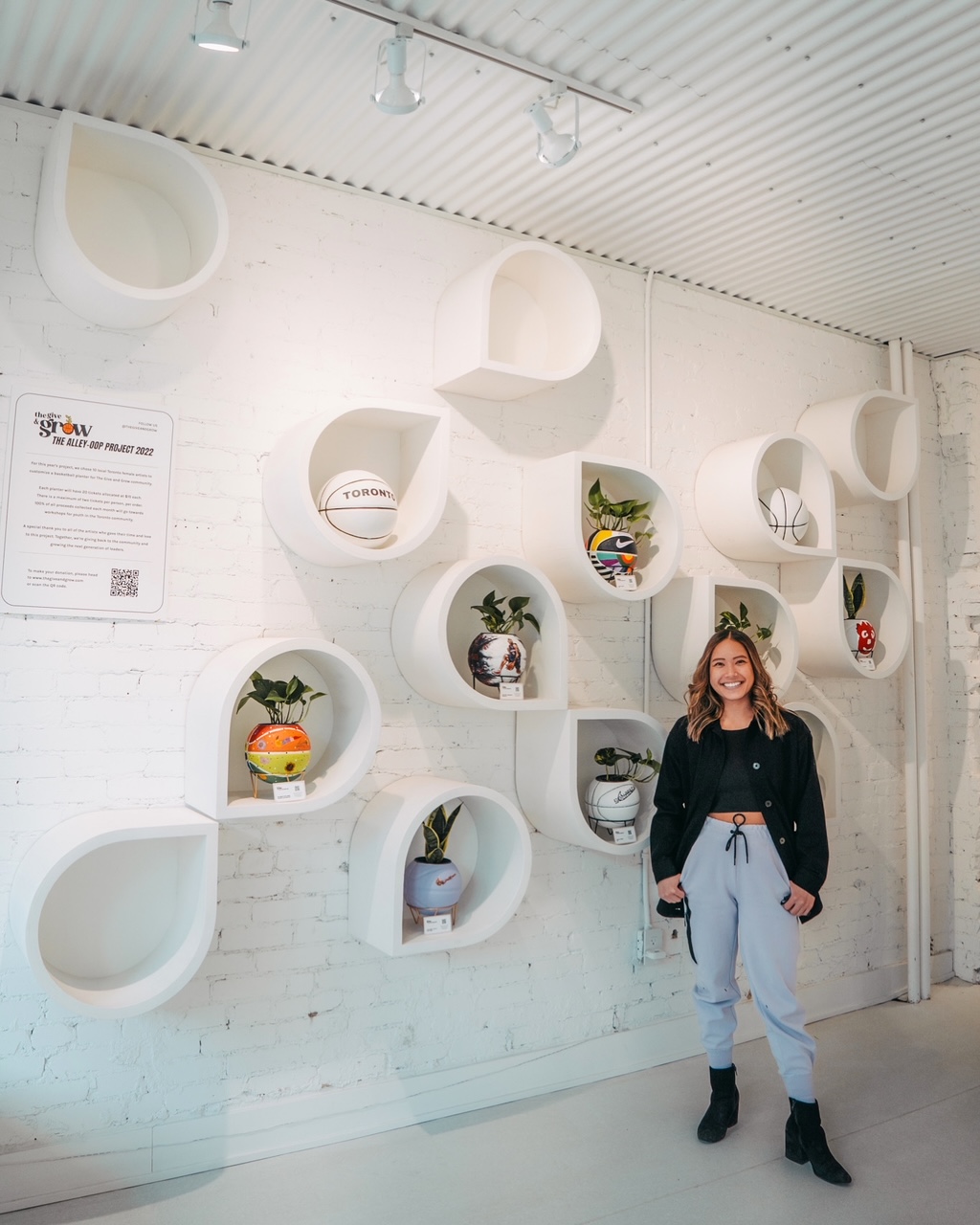 Each of the ten stunning planters can receive a donation, and 100% of those proceeds will go towards The Give and Grow's community workshops, which have positively impacted over 200 local youth and given them a safe space to create and express themselves. Donations also go towards a raffle where the ten featured planters will go to some lucky donators who supported the cause. Olivia makes it her mission to assist in the growth and empowerment of young women in both the sports and art world through these workshops within the community, and by bringing to life ideas like The Alley Oop Project 2022. You can find out more about the artists, this project, and how to support it, here:
https://www.thegiveandgrow.com/collections/the-alley-oop-project
In the quite literal sense, with the art being centered around plants, The Give and Grow seems like a clever name for Olivia's brand, but it is so much more than that. With her focus on growth, inside the community and specifically the young women within it, she uses her platform and passion for the arts and sports to encourage the women who attend her workshops to be creative, powerful, and inspiring. Beyond the workshops themselves, hearing of Olivia's pandemic passion project turned successful business is, in itself, hugely inspiring as well. Having caring and generous people like Olivia to help guide our female youth and show them anything is possible is just one of the many perks of living in a city like Toronto – full of opportunity, talent, and a sense of community. She was even so kind as to chat with me regarding The Alley Oop Project 2022 as well as The Give and Grow and its future, and it was nothing less than a treat.
What inspired you to start this project?
The Alley-Oop Project 2022 is a collaboration between Toronto artists and The Give and Grow. The main purpose of this project was to highlight the amazing local talent in the Toronto artist community each month of the year. I wanted to put a spotlight on some incredible artists doing amazing work and in addition, tie in the community giveback portion. All donations are put towards a raffle, where there is a chance to win the planter. 100% of the proceeds go towards youth workshops in the community, planting the seeds for the next generation. This year, we decided to choose 10 local female artists to be featured in an in-person gallery event. The Alley-Oop Project 2022 was a part of a larger basketball-themed art exhibit called "In the Paint", hosted by The Local Gallery.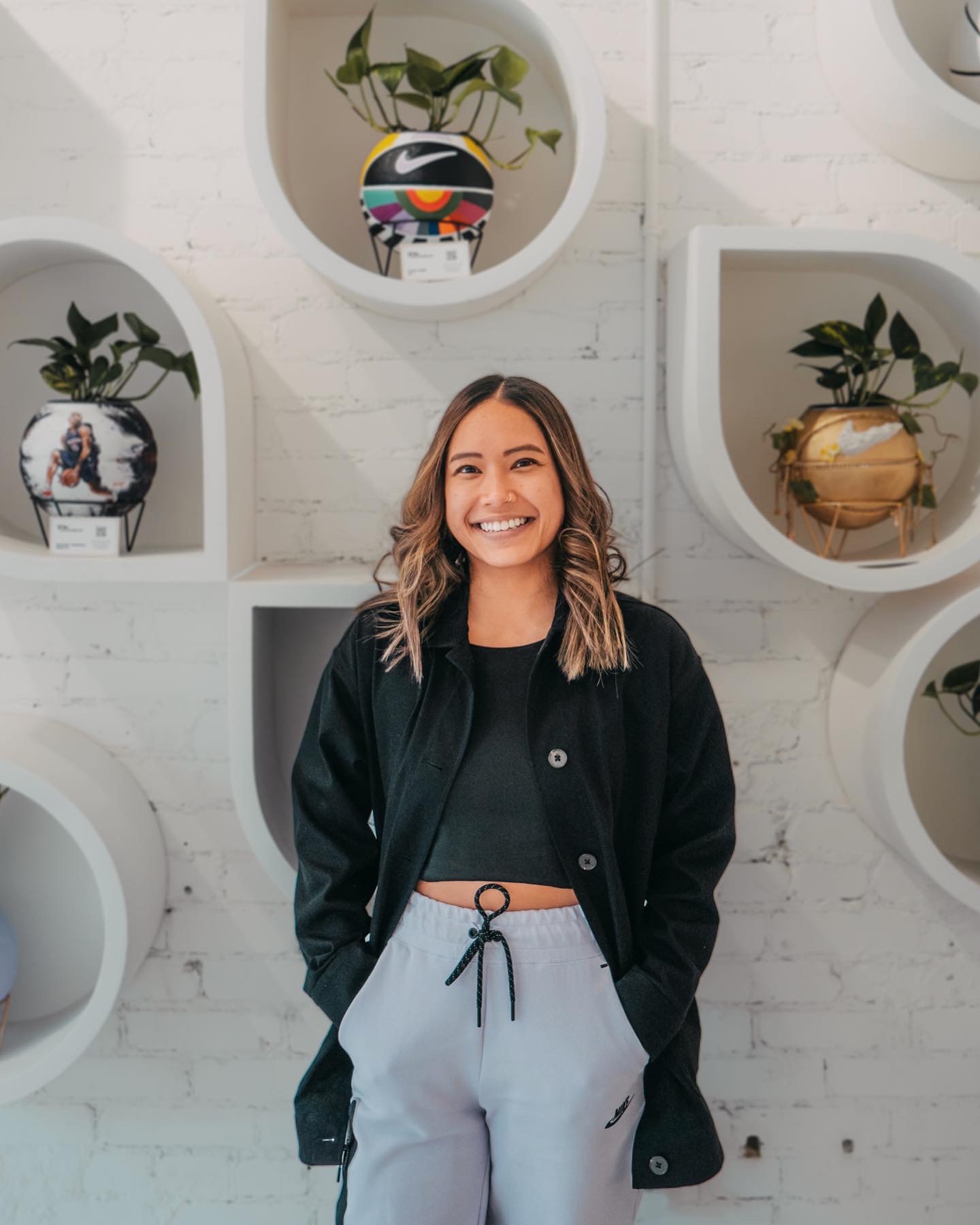 What does being an artist mean to you?
I've never considered myself an artist – growing up, I was an athlete and studied Kinesiology at McMaster University, eventually working in health care. I've worked in the hospital setting for the last 7 years and have recently quit to pursue The Give and Grow full-time. Being an "artist" really just means living out your life authentically and unapologetically. Surrounding yourself with people that embrace who you are and what you have to offer, and being intentional about how you spend your time and who you want to impact. To me, The Give and Grow is about creating a community that continues to inspire with the intention of always giving back to others and growing the next generation of youth.
As a woman in sports and art, do you have any inspiring words for fellow women in these careers to keep them motivated?
As long as you stay true to your passion and have good intentions behind it, good things will come. As women, we have the ability to be multifaceted and multi-talented, so don't put yourself in a box. Your hobby does not always have to be your source of income. Continue to do things that make YOU happy, and you will attract the things that are meant for you.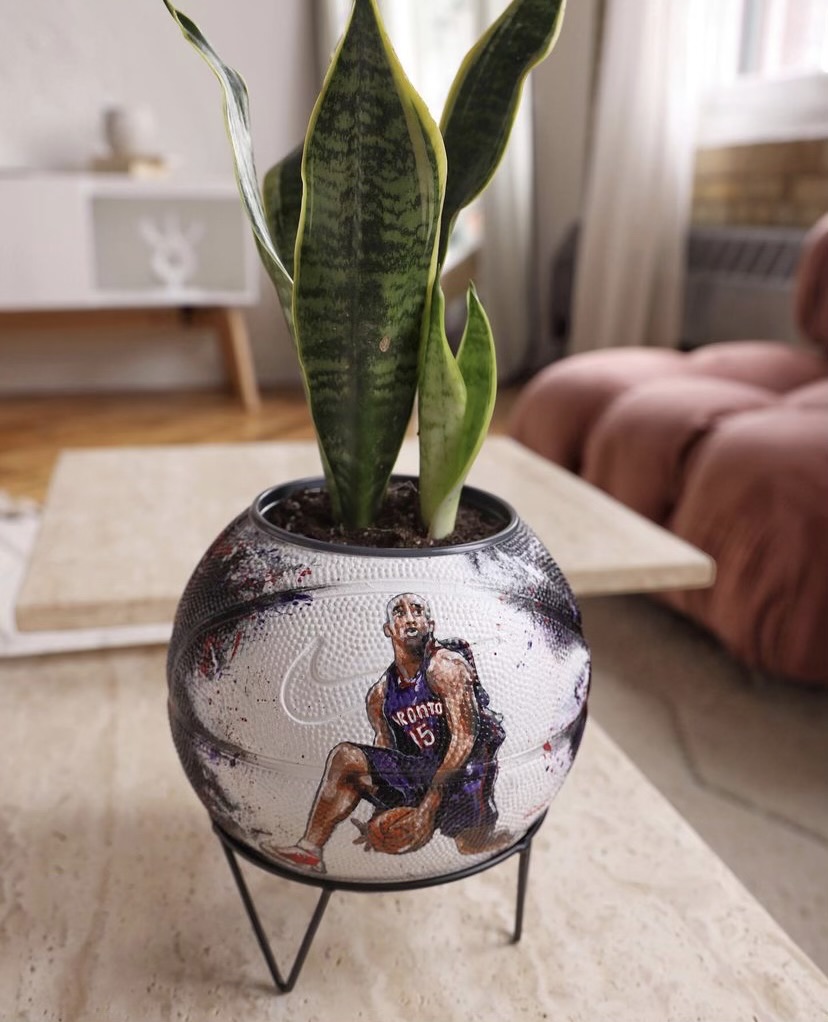 What's next for The Give and Grow? Any future projects in development like The Alley Oop Project 2022?
We will continue to host workshops for youth and try to impact as many young women and teens as possible. Keep an eye out on our website and sign up for our mailing list! There are lots of exciting things on the horizon that I can't share just yet.
***
Photography courtesy of Maliha Khalid. Instagram.
Vince Carter Planter created by Abriella Sammy. Instagram.