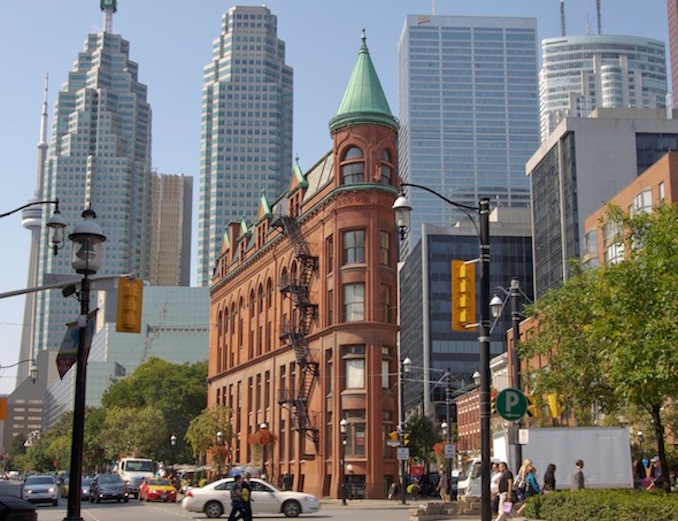 Toronto's Flatiron building was constructed in the late 1800s (10 years before the more publicized NYC Flatiron) for the Gooderham and Worts distillery company that we mentioned in a previous article. The building, located at the intersections of Front St, Wellington St, and Church St., was built for $18,000 by family architect David Roberts and makes use of both gothic and romanesque architectural features. The building is 5 stories tall with 12-foot ceilings and makes use of red brick with a copper cone roof as one of its signatures.
The build included a walk-in vault for the family riches and a tunnel that led to the bank across the street which the Gooderhams also owned. This made it easy for them to transfer money safely from the building to the bank. The Gooderham family owned the building until 1957 when it was sold for the first time. In 1975 the building became a National Historic site and was sold for its last time less than a year ago for 15.2 million bucks, an increase from the 2005 sale for 10 million.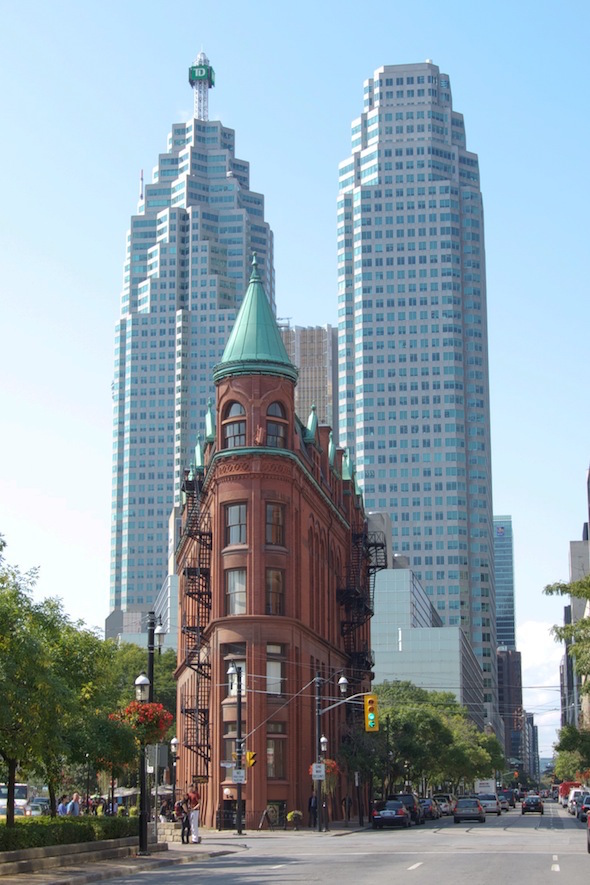 Today the site is used for offices and is considered one of the most expensive office spaces in the city. The building is also home to the Firkin chain of pubs The Flatiron & Firkin who has a contract in place until the year 2015.
The back of the building has this mural on it done by Canadian artist Derek Besant. The image is of the Perkins building across the street and is done in the style of Trompe L'Oeil (trick the eye) or an optical illusion. The illusion makes it seem like their are more windows than there actually are, as well as making it look layered as opposed to flat.