MS Canada is a non-profit organization which aims to provide information, support and advocacy for people living with multiple sclerosis. They offer a variety of programs and services as well as connect the MS community with valuable research findings. We spoke with MS Ambassador Karen Jacoby to learn more about what they do.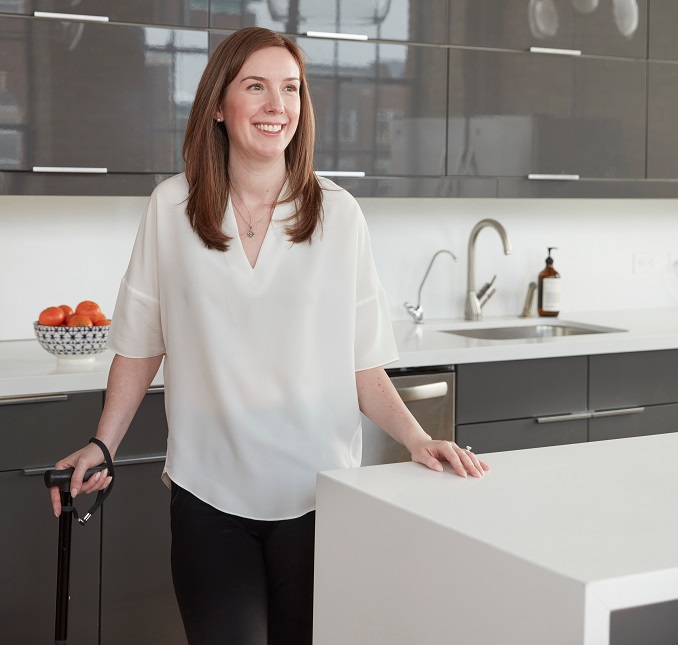 Describe your charity/non-profit/volunteer work in a few sentences.
MS Canada is truly a community-first organization looking to provide information, support and advocacy for people living with multiple sclerosis. They offer a variety of programs and services as well as connect the MS community with valuable research findings.
In my role as a volunteer MS Ambassador for Ontario, I help engage our MS community and raise awareness to support people affected by MS. I often act as an impact/keynote speaker, sharing my story at events such as our annual advocacy event, Day on the Hill. This year, my husband and I played a special role in contributing to the rebranding of MS Canada.
What problem does it aim to solve?
MS Canada's vision is a world free of MS, and we believe it's achievable. Together, we look to connect the MS community with each other and beyond. We are continually building upon the existing MS knowledgebase and learning more about causes, treatments and potential cures for MS.
When did you start/join?
I began my volunteer work with MS Canada shortly after my diagnosis in January 2020, just weeks before the world was introduced to COVID-19.
What made you want to get involved?
I wanted to make a meaningful difference in my life and the lives of the over 90,000 Canadians living with MS. A lot of people don't know that Canada actually has one of the highest rates of MS in the world. On average, 12 Canadians are diagnosed with MS every day.
Volunteering has had a huge impact on my life. It reminds me that my contributions, however big or small, do make a difference. I can't control my disease, but I can control the effort I make to fundraise, educate, and contribute. I want to do as much as I can, in the ways that I can, for as long as I can!
I am now known as the woman who is "addicted to HOPE" and I share my message with others wherever I go. Most recently, I quoted my hope mantra to federal MPs and Prime Minister Trudeau when we advocated in Ottawa for MS research funding and the legislation of The Canada Disability Benefit Act (Bill C-22).
What was the situation like when you started?
During the pandemic, all of our in-person efforts were put on hold and fundraising was critical. Limited to online connection we found new, creative ways to raise awareness, funds, and solicit support. Personally, I reached out to my local MP., reconnected with former business colleagues and strengthened my relationships with my community. Together, our combined efforts made an impact!
How has it changed?
Happily, we have returned to our in-person events and community outreach. After the lonely, isolating days of the pandemic, our walks, runs, bikes, and other fundraising events are being attended with renewed enthusiasm. It has made a tremendous difference to our MS community and volunteers as we find new, personal ways to make an impact, particularly with our valued donors and elected officials, the decision-makers regarding the Canadian Disability Benefit Act.
What more needs to be done?
From the beginning, MS Canada knew that the key to a cure was knowledge. That pursuit of knowledge has led to major discoveries – things that have given people like me choices and some control over how we live with this disease. It also gives us hope – and where there is hope, there are possibilities.
MS Canada welcomes any support to further invest in research that can create those possibilities. We already have a solid foundation based on 75 years' worth of knowledge. We can't possibly slow down now. Since 1948, our organization has invested over $212 million in MS research, enabling us to fund groundbreaking research; all of which would not be possible without the support of our sponsors, partners and community members. What I'm seeing done in today's research doesn't feel like a pipe dream; it feels real and within reach. Whether it's finding better treatments for MS, gaining a better understanding of how it progresses, or stopping MS from happening in the first place.
How can our readers help?
Readers can help by taking the time to learn more about MS and how our neurological disease affects us and everyone around us. You can also help by participating or volunteering at any of our events, or by donating to fund our community services and research programs. Donations move us closer to a world free of MS. Lastly, when you see a person walking with an unusual gait, with a cane or in a wheelchair, remember there is a story behind that face that deserves your understanding!
Do you have any events coming up?
The annual Burgers to Beat MS Day is on Thursday, August 17! Two dollars from every Teen Burger® sold at A&W restaurants across Canada will be donated to MS Canada. Funds raised in this charitable campaign will go towards supporting people living with multiple sclerosis.
Since its inception, the Burgers to Beat MS campaign has raised more than $19 million dollars to support world-class research programs. This research focuses on advancing treatment and care, enhancing well-being, halting disease progression, and prevention.
There are several ways you can get involved:
– Round up your bill at any A&W restaurant via dine-in, take-out, or drive-thru.
– Donate online at BurgersToBeatMS.ca.
– Spread the word on social media to create awareness about Burgers to Beat MS Day (follow @AWCanada and @MSCanadaOfficial)
On August 17, grab an A&W Teen Burger® and show your support by posting a burger selfie using #BurgersToBeatMS and tag @AWCanada and @MSCanadaOfficial on Instagram and @MSCanOfficial on Twitter. You'll join thousands of other Canadians who are helping to support the MS community.
Where can we follow you?
MS Canada is active on Facebook and Instagram. MS Canada's website is also a great place to learn more about MS, MS research in Canada, events, ways to volunteer, and the programs and services offered. Visit MS Canada's blog for stories from our resilient MS community. Social media is a powerful tool. I use my platform to educate others about MS and tell untold stories. That way, those in the MS community can feel seen and supported. Follow my journey on my Instagram.
PAY IT FORWARD: What is an awesome local charity that you love?
When I speak at MS events, I often mention the importance of not being forgotten. In that spirit, I honour the local charity that I love, Sunnybrook Hospital Operation Raise a Flag. Every year, on the eleventh day of the eleventh month (Remembrance Day), residents of the Sunnybrook Veterans Centre wake up to a patriotic sea of red and white, with more than 30,000 Canadian flags planted on the grounds outside their windows. For seven years I planted them alone. Last year, I planted them with my new husband. In gratitude and appreciation… Lest We Forget!