Based in Toronto, Brendan D'Souza is a comedian and writer who has performed at various festivals, including NXNE, We're Funny That Way, and JFL42, as well as at dive bars across Ontario. In 2019, Brendan received a nomination for Newcomer Comic of the Year at the I Heart Jokes Award. Brendan is also the host and producer of "Shredded: The Post Breakup Podcast," which has been recognized by the Toronto Star as one of the top five comedy podcasts in the city. He just released his album "Brendan D'Souza: Clever, Hip, and Scary", and we got to speak with him to find out more.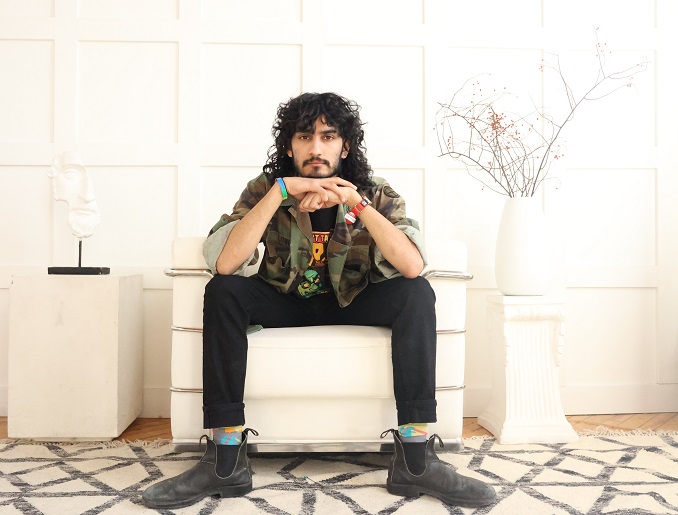 How would you describe your comedy style?
Like a rescue cat with a subscription to Shroom Bros. I'm near constantly vibrating with anxiety, while also being delusionally self-obsessed, and then I take that potent cocktail of mental illness and yell it into a microphone. I'm not smart enough for political humour or interested in things enough to do observational stuff, so I mainly default to talking about myself. Writing jokes about what I'm experiencing in my life helps me understand my life so I start there, and then try to figure out what would make it funny for an audience. I'm like a seventh-grade chemistry project. It's not particularly challenging, but if you pay attention, you might learn something!
Who are some of your influences?
I feel like you can see Taylor Tomlinson's DNA in everything I do. I became a fan of hers after I had figured my style out, but I always return to her work whenever I'm stuck and need to remind myself of what I'm trying to emulate. Katherine Ryan, Vir Das, Mike Birbiglia and Rhys Nicholson are all also pretty big influences. And I get my affinity for run-on sentences and lyrical euphony from Taylor Swift.
Who was your favourite comedian growing up?
I didn't really pay attention to comedians until later in my adolescence, but the first special I saw that got me into comedy was either Cristela Alonzos Lower Classy or Jen Kirkmans I'm Going To Die Alone (And I Feel Fine).
Who is your favourite comedian now?
Me, lol.
Vir Das was the comic who taught me it was possible to tell jokes about being marginalised without making yourself the butt of the joke, I want to be him when I grow up.
What is your pre-show ritual?
Spend all day considering cancelling the show. Then I write my set list in a tiny notebook, and I show it to a stranger and ask them to tell me it's good, then I put it in the back right pocket of my jeans and I don't think about it at all once I'm on stage. And if it's an important show like a taping or a showcase I make sure I'm wearing my Good Luck Comedy Boxers (patent pending).
What is your favourite place you have performed? Why?
Comedy Bar is my happy place. I remember when I first started out thinking I'd never be good enough to perform there, and now it's where I feel most at home on stage. Walking into Comedy Bar and being greeted by peers who you look up to and who also consider you a friend is the most dependable cure for imposter syndrome that I know.
What is your favourite bit you have written and why were you proud of it?
I immediately hate anything I write within 2 weeks of writing it, so my favourite bit at any moment is whatever's newest in my book. Right now it's a bit about how all the characters in the Fast and Furious franchise are asexual.
What is your favourite medium for listening or finding new comics/comedians?
Youtube! So many comics are putting out their specials on youtube, I can spend literal days just letting autoplay and the algorithm melt my brain.
Tell us a joke about your city.
Knock knock.
(Who's there?)
Toronto.
(Toronto who?)
Abolish the police.
Do you have anything to promote right now?
My album! "Brendan D'Souza: Clever, Hip, and Scary" just came out, look for it on the streaming platform of your choosing. I was also featured on Season 3 of The New Wave Of Standup on CBC Gem, which is cool and an honour and is available for viewing wherever CBC Gems are sold.
Where can we follow you? 
PAY IT FORWARD: Who is another local comic/comedian we should know about?
Ben Sosa Wright is the funniest person in Toronto, potentially Canada, and potentially THE WORLD, but you already knew that. Rachel Manson is a comic who I'm in frequent genuine shock that I get to call friend, she's so funny and so smart, and SO fun to watch on stage, her jokes are literal earworms I think about for months at a time, and it's never not a privilege to see her work, GO FOLLOW HER AND GIVE HER MONEY.