The Period Purse is a registered charity that works to reduce the stigma surrounding menstruation. They advocate for a period-positive policy and get menstrual products into the hands of those who need them. We spoke with Tait Gamble, Menstruation Nation Coordinator, to learn more about what they do.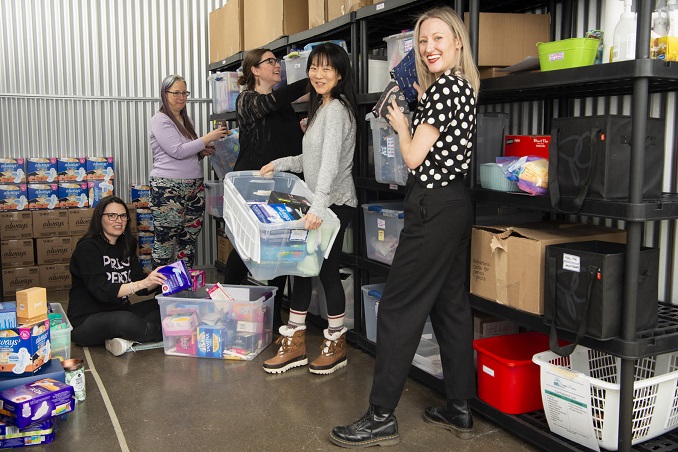 Describe your charity/non-profit/volunteer work in a few sentences.
The Period Purse was the first registered charity in Canada to deal specifically with menstrual equity. Through outreach, education and advocacy, we work to reduce the stigma surrounding menstruation, advocate for period-positive policy and get menstrual products into the hands of those who need them.
What problem does it aim to solve?
Our goal is that everyone who menstruates in Canada can do so with dignity and safety. A 2018 Plan Canada study found that 1 in 3 menstruators under the age of 25 face difficulty affording menstrual products. We're working to get this number to 0.
When did you start/join it?
The Period Purse was founded in February 2017. Our impact has grown from one purse to 4.2 million period products donated, over 3,300 people educated, the creation of M. Nation, a period tracker app for youth (and the only period app that doesn't collect or sell your data!), policy change and countless period positive conversations.
What made you want to get involved?
When I realized that students at my independent high school didn't have access to period products in our washrooms, I wanted to know what menstruators affected by homelessness might do when they have their periods. I had never considered this before, given my privilege growing up, and I wanted to do something about it.
What was the situation like when you started?
When our charity started, we learned that period products are some of the most requested, but least donated, items at shelters. Watch this video to learn from some of the people we support about their lived experiences with period poverty.
How has it changed since?
Our blue sky goal is to walk into any bathroom in Canada and for there to be period products available if you need them. We're a long way from realizing this goal, but because of The Period Purse, many of our partner shelters and 32 schools in Ontario can provide their community members with safe and consistent access to period
products.
What more needs to be done?
Let's keep the conversation about menstrual equity going. We can reduce the stigma surrounding menstruation through conversation and advocacy. Along the way, we need to make sure our advocacy is inclusive of all people who menstruate, particularly those who are adversely affected by period poverty in Canada, such as Indigenous, Black,
queer, gender diverse and trans menstruators.
How can our readers help?
There's room for everyone in the fight for menstrual equity. You can visit our website for ways to take action, from attending one of our events, organizing a mini product drive or challenging the stigma by having more open conversations about menstruation with trusted people in your life.
Do you have any events coming up?
We're looking forward to Menstrual Health Day on May 28th! Keep an eye out on our socials for free events, like our Tea Chats, where we talk about menstrual equity and taking action.
Where can we follow you?
For all things, menstrual equity, education and advocacy, follow us on Twitter, Instagram, TikTok and Facebook. Subscribe to our newsletter to stay in touch!
PAY IT FORWARD: What is an awesome local charity that you love?
The Native Women's Resource Centre is a registered charity with a mission to support Indigenous women and their children in the Greater Toronto Area.