Yes, Toronto has a casino, but it's a seasonal attraction and only available for less than fifty days each summer. It is a part of the Canadian National Exhibition and opens a month earlier than The Ex, on July 20th, and runs to the end of the exhibition on September 7th. There are just under one-hundred games on offer and the maximum bet is $100 while the minimum remains $1 bet.
The facility is easy to access before The Ex opens because it's on Lakeshore Blvd west, a major highway surrounded by empty parking lots. But after August 19th, casino patrons must pay $20 to enter the fairgrounds. At that point, the empty patio space around the Better Living Centre blossoms into a bustling beer garden with live entertainment where patrons can relax and order food such as roast turkey legs, corndogs, and of course the ubiquitous burgers & fries direct from midway vendors. Domestic lager is $10.50 pint and imported beers are $11.50 each.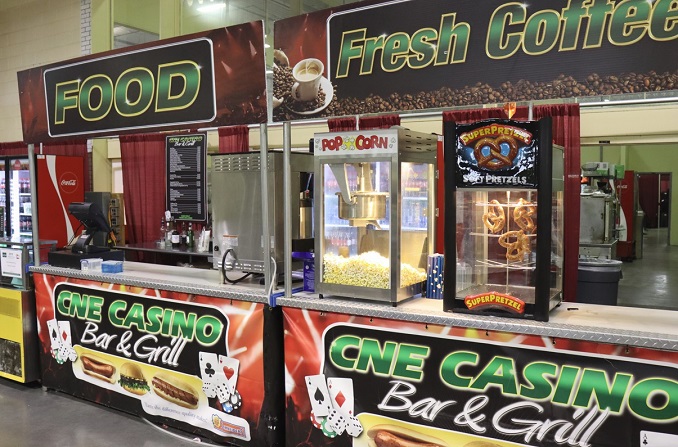 CNE Casino is operated by Canadian National Exhibition Association (CNEA) and its Board of Directors. The CNEA is governed under the jurisdiction of two Acts of the Province of Ontario: the Canadian National Exhibition Association Act, 2000, and the Agricultural and Horticultural Organizations Act, R.S.O. 1990, chapter A.9. The casino is situated inside the Better Living Centre on a municipal site known as Exhibition Place which is administered by the Board of Governors of Exhibition Place, a local board of management of the City of Toronto.
The CNE Casino employs over five-hundred people every season, with approximately four hundred staff-members offering games of chance inside the casino with the vast majority of these folks receiving some form of on-the-job training. It takes between sixty to eighty hours to train a young person as a Table Games Dealer, and not all trainees are offered positions on staff. The hiring begins in May and paid training happens in June and July after which successful candidates must pass a proficiency test or Table Test conducted by industry professionals who set a high standard.
Visiting the CNE Casino
CNE Casino will never be accused of being pretentious. The décor will remind most visitors of a rural hockey arena complete with a public address speaker system. Because it's a city-owned and managed attraction, I was able to negotiate my way inside with my camera. I snapped these pictures of them making ready for the day before it opened for business on Tuesday 9th August.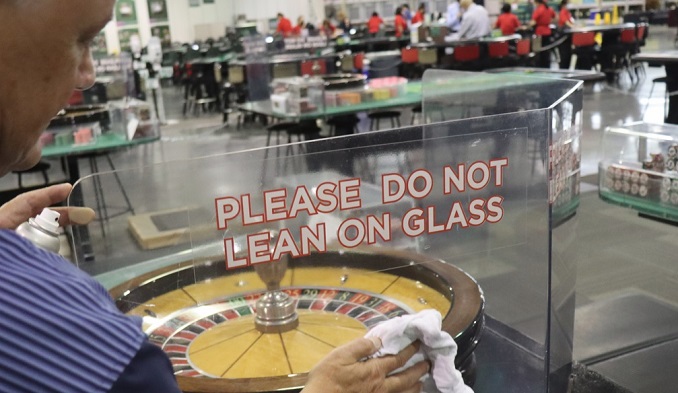 The first thing you see and hear upon entry is the clickety-clacking Crown & Anchor table which aligns perfectly with the history of gambling is Canada. The game was played by sailors in the 1700s with special dice which had six symbols etched on their sides. It's an enduring hold-over from the British Empire, as represented by the crown, and its mighty Navy, as commemorated by the anchor. Today the game is played with a spinning wheel and is popular at charity casinos and small town fairs and is offered in booths as a carnival attraction throughout the CNE grounds.
CNE Casino offers Charity Blackjack where the tie goes to the house. Similar style games include Lucky Ladies Blackjack where all the cards are dealt face-up. There are four Spanish 21 tables which is a faster version of Blackjack played with eight decks which have the number 10 cards removed. Standard rules apply from that point, but with bonuses and super bonuses. The Super Bonus in Spanish 21 happens when a player draws a pair that's the same suit and doesn't split them. Should he or she then get another card that's the same value, and the same suit, and if the dealer's 'up' card is also the same value (of any suit), the player is paid $1000 on the spot and everyone at the table gets a $50 dollar "Envy Bonus".
CNE casino has other table games besides blackjack and poker. There are eight roulette tables which offer a classic experience. If you ask any croupier which number is the most popular in terms of betting, they'll probably answer seventeen because the 17-pocket has been presenting wins for centuries and that must be part of its allure. One of the big differences between playing roulette in a real casino versus online is the crowd's excitement of course, but also the simplicity of the real game. Online sites like True North Bet online casino offer forty-two different flavours of roulette, but nothing beats playing the real game on an authentic roulette wheel with a white ivorine ball.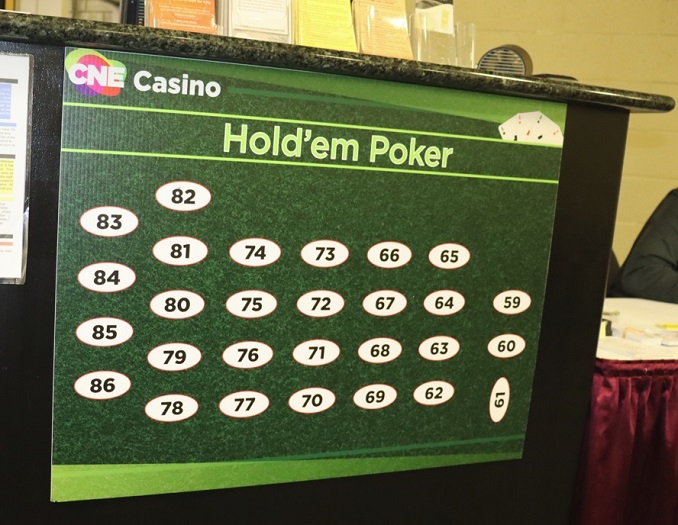 Poker is the Most Popular Game at the CNE Casino
The beating heart of the CNE Casino is the poker lounge where twenty-eight tables are separated from the rest of the casino behind a Plexiglas barrier. The area is restricted because it's better air conditioned, and due to supply and demand. There are simply not enough spots available for everyone to play at once which is why people must register and wait for their names to be called.
The betting limits are $100 per game. The maximum bet anywhere in the entire facility is $100 and the minimum is $1 bet. The pay-outs are standard or better than other casinos for example the blackjack pays 3 to 2 and not 6 to 5. The difference between 3:2 blackjack and 6:5 blackjack is simple. If you have a winning blackjack hand, you get paid $3 dollars for every $2 that you bet. In 6:5 you get paid $6 for every $5 you bet.
There are two Three Card Poker tables which is a variation of the classic game that features three ways to play and four ways to win. This game has increased in popularity in modern times because it's fun and easy to learn. Three Card Poker is like getting two games in one because not only can players compete against the dealer, but they can also win bonuses with their cards alone; a straight-flush pays 40 to 1, and three-of-a-kind pays 25 to 1 at the CNE Casino.
The two Texas Hold-em Bonus Poker Tables offer play based on traditional multi-player Texas Hold'em poker, but the game differs in that there's no bet after the river card and the player is allowed to make both an ante bet, and a bonus bet on their original cards. The aim of the game is for your Poker hand to beat the Dealer's hand. The bonus wager comes into play when Players compare their two-hole cards to a payout table. Players need not win in the main game to be paid on the bonus wager, provided their bet was placed prior to any cards being dealt.
CNE Casino is open every day including Sundays, except for Labour Day – Monday, September 5, 2022. The hours are from 12PM noon to 6AM. Because it's time-limited and happens during Canada's largest outdoor exhibition, it's not set-up to cultivate relationships with High Rollers or offer any of the amenities you might find elsewhere. There are no free steak dinners, luxury hotel rooms or continental breakfasts on offer, but it's great place for friends to relax and test their luck in classic games of chance.