Cinéfranco is a charitable organization in Ontario that stimulates, entertains, enriches and federates the Francophone communities as a minority through film art media. We spoke with Marcelle Lean, founder, executive and artistic director of Cinéfranco to find out more about them.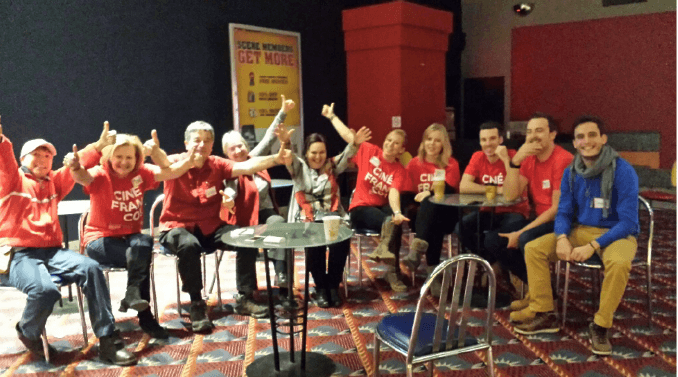 Describe your charity/non-profit in a few sentences.
Cinéfranco is a charitable organization that uses film art media to stimulate, entertain, enrich and federate the Francophone communities as a minority bonded by the use of the French language and the fulfillment of their historical and cultural values in Ontario.
Cinema becomes a tool of learning and discovery for Francophone youth and French language learners with the annual Cinéfranco Youth Festival.
The fall main festival celebrates local, national, and international Francophone talents. Cinéfranco organizes events all year round in partnership with other festivals and leading cultural institutions.
All films are subtitled in English to be inclusive.
What problem does it aim to solve?
It aims at solving:
-the difficulty of accessing Francophone films in general
-the lack of unity amongst various Francophone communities
-an academic/boring classroom approach of French language
When did you start/join it?
I started to think of creating this organization over 28 years ago.
What made you want to get involved?
I was frustrated by the French film desert reigning in Toronto and the reduction of French cinema to the New Wave constantly conveyed by the Ontario Cinematheque that presented French cinema as an elitist, intellectual entity.
What was the situation like when you started?
French films were rarely shown in cinemas. It was thanks to the Festival of Festival, now the TIFF, that one could gorge on French films once a year. Otherwise, The Ontario Cinematheque was heavily into the New Wave and author films that warded people off as the films appeared elitist and intellectual.
How has it changed since?
An interest in films made outside France gradually grew thanks to the TIFF that created film categories like Planet Africa or Quebec films honoring the latter with prizes. Quebec, Ontario with either large festivals like Québec cinema or smaller organizations like Le Labo to propel Franco-Ontarian filmmakers, are making progress with films being seen on television, various platforms even American ones. I am hoping that Cinéfranco contributed in an infinitesimal way to break the myth of French films as elitist and create an interest in popular cinema always balanced with author films. The audience is more aware of the diversity of film origins.
What more needs to be done?
The film exploitation in English Canada cinemas only wants to show Francophone films with very well-known stars neglecting little gems that are not as lucrative.
The help from 3 levels of government to boost festivals like Cinéfranco should be more reliable for the cultural/linguistic well-being and fulfillment of the French-speaking minority
How can our readers help?
They can check festival websites outside the usual commercial film websites that neglect to mention a wealth of creative films. They can reasonably get away from American cinema that is invading our minds. This is not to deny the quality of American cinema though.
The readers can be more adventurous and get out Netflix, Prime Video platforms to get acquainted with other platforms. Cinéfranco and Le Petit Septième showed Fahim through their websites for instance.
Do you have any events coming up?
Cinéfranco Youth Festival is coming up from February 22 till March 9. Cinéfranco will celebrate the Francophonie month with 8 films (2 films per weekend)
Where can we follow you?
Our website.
All the social media: Facebook | Twitter | Instagram | LinkedIn
PAY IT FORWARD: What is an awesome local charity that you love?
The Mount Sinai Children's Center Foundation (CCF)