Ninety-nine years ago this month, the Toronto Symphony Orchestra gave its first performance.
The date was April 23, 1923, the site Massey Hall, with a group of musicians gathered under the baton of Serbian-Canadian conductor Luigi von Kunitz. The program included Tchaikovsky's Fifth Symphony, a not inauspicious start for what was then a volunteer orchestra.
As we inch ever closer to that centenary, the TSO has started the celebrations early (perhaps making up for lost time during the COVID-curtailed previous season), with a "Maestros' Special Homecoming" last week. The one-night-only performance, April 9th, featured five of the six living conductors who have served as TSO Music Director. Sir Andrew Davis (1975–1988), Günther Herbig (1989-1994), Jukka-Pekka Saraste (1994–2001), Peter Oundjian (2004–2018), and Gustavo Gimeno (2020-present) were all on hand to conduct personal favourites from during their tenures. Only Japan-based Seiji Ozawa (1965–1969) was unable to attend, sending along a short note, included in the programme, reflecting on his years with the TSO.
The evening, hosted by soprano and CBC radio host Marion Newman, was a lightweight, celebratory affair, with musical selections, from Berlioz to Wagner, averaging around ten minutes a piece. While the short durations were understandable given the number of conductors to take the podium, it was nevertheless disappointing to have so little in the way of capital-S Serious fare. It would have been nice, for example, to see each conductor take on their favourite opera overture. Instead, with minor exceptions, we were treated to amusing but largely insubstantial pieces from the 19th and early 20th centuries.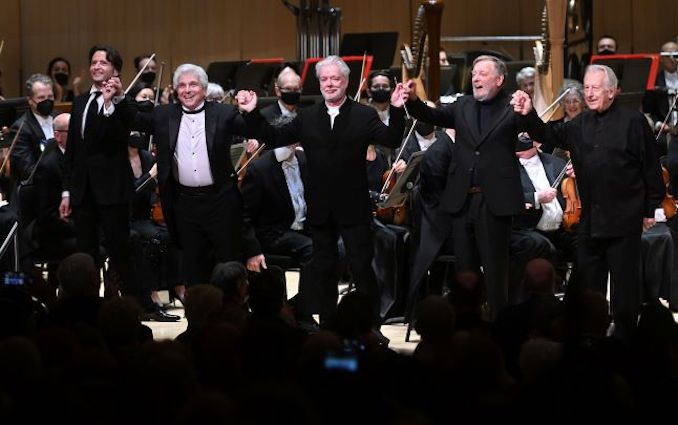 Appropriately for the festive vibe, the evening kicked off with Sir Andrew Davis conducting Berlioz's Carnival Overture (1844), a rambunctious, brass-heavy concoction with a significant role for the English horn. A reworking of material composed for Berlioz's failed opera Benvenuto Cellini, the Carnival is an orchestral showcase, giving every musician something challenging and technically impressive to work with. Sir Andrew's follow-up, Delius's "The Walk to the Paradise Garden" from the opera A Village Romeo and Juliet (1906) is a more lyrical, thoughtful affair. While there were some lovely and tender moments in "Paradise", it's easy to understand why Delius is a largely forgotten composer; the work comes across as an off-brand imitation of his countryman and contemporary Edward Elgar.
Günther Herbig is ninety years old, but while his walk across the stage might have been slower than it used to be, his selection, Wagner's Tannhäuser Overture (1845), was the most exciting choice of the evening. Perhaps it's because Wagner is one of my favourite composers, or because I have fond memories of performing the Overture with my undergraduate orchestra, or perhaps simply because it was the only work of real substance in the program, I found the Tannhäuser captivating, moving, and fresh. Not bad for a nonagenarian.
Pour one out for Jukka-Pekka Saraste, flown in all the way from Helsinki, who evidently drew the short baton during pre-concert negotiations. His sole contribution, the Sibelius "Lemminkäinen and the Maidens of the Island", No. 1 from Lemminkäinen Suite, Op. 22 (1896) clocked in at a grand total of seven minutes. No matter; it's a lovely piece and Saraste clearly delighted in bringing a taste of home with him – a piece, in fact, that saw its Toronto premiere under his direction back in 1998.
Toronto's own Peter Oundjian, only the second Canadian to ever serve as TSO Music Director, was warmly received by an audience with fresh and fond memories of his recently concluded tenure. Oundjian is certainly one of the most famous Music Directors to take up the role, having earned international acclaim as a violinist in the Tokyo String Quartet before transitioning into a celebrated (and Grammy-nominated) conducting career. Oundjian's "Homecoming" selection included Canadian composer Alexina Louie's The Ringing Earth (1986), a short, simple fanfare of moderate substance and plenty of percussion. Smetana's "Šárka", No. 3 from Má vlast (1879) was more interesting, a symphonic poem portraying one woman's bloody "revenge against the male race for the infidelity of a lover", as Smetana described it.
Finally, current Music Director Gustavo Gimeno took the stage, leading a rousing performance of Ravel's Rapsodie espagnole (1908). A dance suite with elements of Ravel's own Bolero and Rimsky-Korsakov's Capriccio espagnol (1888), it begins slowly but eventually builds towards a frenzied climax, recreating the sensation of a Spanish village fair.
Tannhäuser aside, the other highlight of the evening was the encore, an amusingly gimmicky performance of Dvorak's Slavonic Dance No. 7 (1887). The gimmick? Each of the evening's stars conducted a fraction of the piece, before jokingly bumping their predecessor off stage and taking their own turn with the orchestra. Appropriate enough as an end to the evening, and as a start to a celebration of one hundred years with the TSO.
***
Visit the official website for the Toronto Symphony Orchestra here.
Next season, the TSO's centenary continues with performances from Yo-Yo Ma, Yuja Wang, and so much more (including return appearances from Sir Andrew Davis and Peter Oundjian). For the full 2022-2023 season brochure, click here.