The amount you pay for your bathroom remodel will depend on many things. From the size of the room to the quality of materials used and scope, the cost of your renovation varies significantly from project to project. If you're planning a renovation on a budget, you'll need to consider several things before you begin. The main aspects of the remodel that will influence the total cost include demolition work, design, plumbing and electrical work as well as cabinetry, fixtures, and flooring. If your bathroom will require additional structural work, the cost can be significantly higher.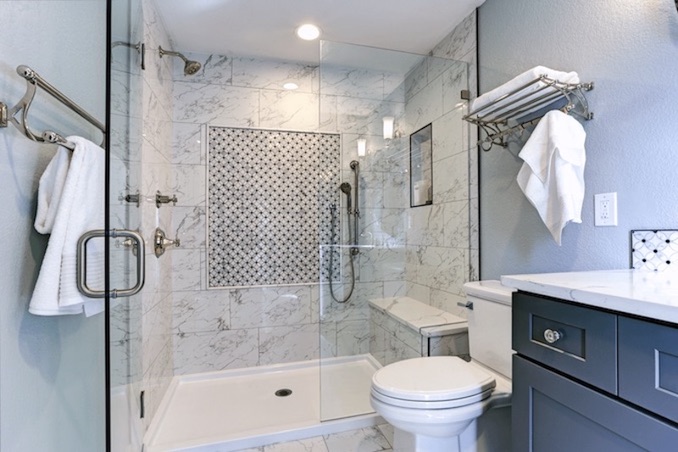 We spoke to the bathroom renovation experts at EasyReno, and they explained how the costs have changed in the last year. We'll feature the various factors that impact the cost of your bathroom renovation so you can get an idea of how much you're likely to pay during your remodel. The bathroom renovation specialists can provide a more precise cost estimate so you can reach out to them for more details.
Typical Bathroom Costs in Toronto
In Toronto, renovating a bathroom that's about 10x10ft in size can cost between 15,600$ to 45,600$. Budget renovations usually take into account more affordable materials and that's why the cost can be as low as 15,000$. However, to get a high-end renovation, expect to spend between $36,000 and $45,600 on the entire bathroom remodel of a room of a similar size.
How COVID-19 has affected construction and renovation sectors
The pandemic has resulted in lockdowns in so many regions that have also affected the construction sector. For instance, the very first lockdown resulted in treated lumber shortages. Renovators were experiencing shortages of other construction materials, which caused a surge in their pricing. This may have affected the cost of renovation projects all over Toronto.
5 Factors That Cause Cost Variations in Bathroom Remodels
Size: The first obvious one is the square footage of your bathroom. A bigger bathroom means more tiling, painting, and fixtures will be required. 
Your taste and preferences: If you're looking for more modern and exquisite finishes, get ready to spend more. Those fancy Italian showerheads and faucets will cost you a lot more than the made-in-China fixtures. 
Scope: Everyone has different goals and expectations when renovating their bathroom space. You may be looking to revamp the entire bathroom, replace the tiling, fixtures, cabinetry and potentially move some structures to create better space. You could also be looking to make simple adjustments like replacing the vanity or upgrading a few fixtures. Regardless of the direction you take, the remodel will still cost you, but the budget will vary significantly depending on how much you choose to do.
Quality of materials: The materials you choose for your bathroom cabinets, countertops, tiling and fixtures will not just affect its overall appearance but also determine its longevity. Thoughtful material selection will play a huge role in your long-term satisfaction with the bathroom remodel. Durable materials will cost you, but they'll create a room that you will love for years.
Plumbing and electrical work needed: If you have a lot of plumbing work as well as electrical fixtures that need to be supplied and installed, this will cost you. You'll need licensed contractors to handle the plumbing and electrical work. Most of them in Toronto will charge about $85 to $150 per hour. Your remodelling specialist will usually include the cost of these sub-trades in the quote. Ensure this is the case before signing your remodelling contract.
Breaking down the cost of your bathroom remodel
Demolition Costs: These are likely to cost you around $3,400. Demolition must be done by a pro to eliminate the risk of water damage.
Plumbing and Electrical Costs: May charge up to $150 per hour. Your remodelling specialist will usually include the cost of these sub-trades in the quote. Ensure this is the case before signing your remodelling contract. Any add-ons like heated floors or new appliance installation will cost you a bit extra. 
Tiling: The cost will depend on the tiling material and style. Porcelain is usually costly at about $5 -$10 per square foot. However, it's one of the best materials for bathroom tiles as it's easy to clean up and lasts for many years. You're likely going to be charged separately for the installation of the tiles. Tiling installation costs vary between $5 and $15 per square foot, depending on the complexity of the pattern.
Bathroom Countertop Costs: Most people will opt for natural or engineered stone for their bathroom countertop. This usually costs about $75 to $250 per square foot. If you choose to go for a wood countertop, it must be properly sealed to avoid water damage. Wood countertops can cost anywhere from $30 to $150 /sq. Ft.
Bathroom Vanity Costs: Depending on your budget, you can go for a stock vanity that's usually a lot cheaper than a custom bathroom vanity. Expect to spend about $500 to $1500 on the stock option with an extra $400 to $650 for installation. Custom bathroom vanities will cost you up to $2,300 without including the installation fees.
Labour Costs: Your bathroom remodelling specialist will also include general labour costs to cover things like painting. Labour costs vary from contractor to contractor but expect to pay anywhere between $2000 and $3000. When evaluating these costs, don't just choose the contractor who gives you the least value; evaluate their experience and past work to ensure that it justifies their price.
How to budget for your next bathroom remodel
A good place to start would be to know your bathroom's square footage. Use a tape measure to estimate the floor area. Once you calculate the bathroom's approximate size, you can get an idea of how much you should budget for your next remodel.  
Hiring bathroom remodels specialists can cost you much less in the long run. Other than the knowledge and expertise you're likely to get from an experienced bathroom contractor, you won't have to worry about the other contractors like the electrician and plumber remaining on schedule. Your remodel specialist will ensure everyone keeps a strict schedule so that the bathroom is done on time.