Flowers are visually pleasing, distinctly fragrant, and come in a range of varieties, shapes, sizes, and colors. Because of its beautiful features, why not try to make a bouquet of fresh flowers? This is a perfect way to maximize their freshness, beautify your home, or even offer it as a special handheld present. 
With the right skills and tips, you can turn even the most basic market blooms into an eye-catching bundle. While it can be quite stressful to select, prepare, and properly arrange flowers, the results will surely be worth your efforts.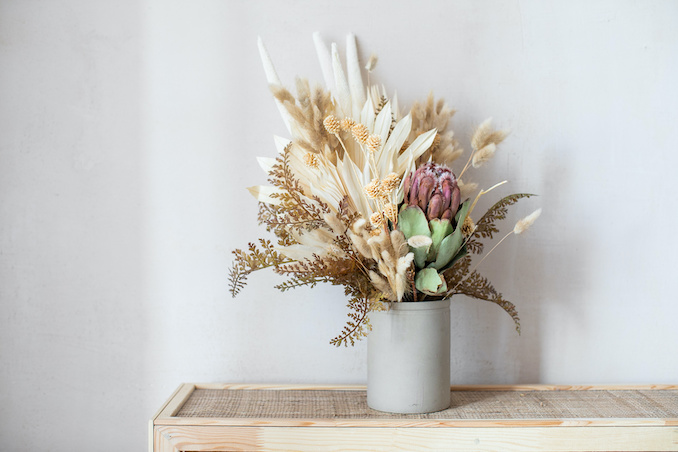 To help you out, here are tips and tricks to create the perfect DIY bouquet.
Keep It Seasonal
When making your own bouquet, make sure to choose seasonal, fresh flowers in your area. Flowers grown in your region are going to last longer as they're designed to withstand the climate of the place. This means that your arrangement will still look perfect even after a few hours of outdoor exposure. 
Moreover, seasonal flowers have a stronger fragrance as they're collected from your area. They don't need to be shipped or delivered for days. Thus, they look and smell fresh. Who wouldn't want fresh flowers at home or as a special gift?
Considering all these, look upon the seasonal blooms in your area. These vibrant plants can represent and remind you of the changing seasons too. As cheesy as it sounds, it shows you how you must cherish each period. 
For flowers that are available and abundant all year round, take your pick among Tulips, Sunflowers, Roses, and more. 
Choose A Color Palette
Arranging flowers is a relaxing activity that helps you relieve stress. While you're at it, decide on a colour palette. This will serve as your guide in choosing flowers to mix in your bouquet. 
When choosing a palette for a handheld bouquet, think of the person you're about to gift. You can take into account their tastes, favourite colours, or simply their personality. For instance, if you are gifting a bubbly sister during her graduation day, you can choose fresh pastels paired with vibrant shades of red. A perfect example of this is Pink Tulips with Red Roses. Pink Tulips signify good wishes while Red Roses represent love. 
Nonetheless, if you're going for a monochromatic arrangement, choose flowers of various shades to add visual depth and richness. A neutral bouquet matches well with a bright wall. 
On the other hand, if you opt for a colourful set, try to add contrasting hues to balance it out and make the bouquet more interesting. You can consult the colour wheel. The key here is to pair colours with their complementary hues. 
For example, if Sunflower is going to be your focal bloom, this will look good when paired with purple filler flowers such as Lavenders. It'll make the colours pop, create contrast, and naturally draw the viewer's eye.
Alternatively, if you're going for more than two hues, stick only to three different ones. While it can be tempting to mix and match various colors, too much can seem distracting rather than appealing. Your receiver may miss to appreciate the natural features of each flower.
Add Extra Touches
Today, it has become a trend to decorate your bouquet with certain greeneries and items that complements the entire arrangement. For instance, add flair by mixing up the bouquet with dry flowers, greeneries, berries, Pampas grass, and more. Pampas grass fits well if you're going for a spring-themed, modern vibe. However, if you're going for a bohemian concept for your home, dry flowers are a must.
Moreover, you can decorate your bouquet with filler flowers such as Statice, Snapdragons, Poms, Baby's Breath, and more. Their presence adds diversity, height, and richness to the entire arrangement. Likewise, most of these are affordable and are great for wedding bouquets.
For example, Snapdragons are one of the most unique flowers that instantly elevate the look of your bundle. Yellow Snapdragons add accents of colour, bringing a sense of happiness to anyone who sees it.
Nonetheless, make sure not to overdo it and only select filler blooms that'll enhance the entire arrangement. You wouldn't want them to outshine the focal point of the bundle unless you intend to.
Supplement Texture
Texture can be described as the feel, appearance, or qualities of a surface. Playing with flower texture allows you to visually accentuate the look of your bouquet. For instance, if you got smooth and delicate blooms on hand, you can mix them up with matte eucalyptus leaves and tree ferns. You can also pair soft Roses with succulents as most of these feel firm and flat. Likewise, try to incorporate various types of matte greeneries to add dimension and interest.
The Takeaway
Perfecting your flower arrangement takes time and a whole lot of practice. Nonetheless, by arming yourself with the tips and tricks above, you can make the entire activity fun, fulfilling, and a breeze.