Bringing the sweet candy world to life as the elusive Willy Wonka in Roald Dahl's Charlie and the Chocolate Factory – The Musical is stuff marshmallow dreams are made of. In the current touring production direct from Broadway, Noah Weisberg takes the lead as the eccentric and fun character of the candy man who finally opens the doors to his mysterious and mesmerizing candy paradise.
Actor Weisberg is a familiar face on television, film and on stage. On Broadway, he was in ELF, Legally Blonde, South Pacific and Enron. He's been with touring companies including the current Charlie and the Chocolate Factory, BIG, and Grease. Included on his television roster roles on Modern Family, Law & Order, The Snowy Day, The Goodwife, and many more. He's been in numerous films including What's Love Got To Do With It, And Then Came Love, and  Curse of the Jade Scorpion.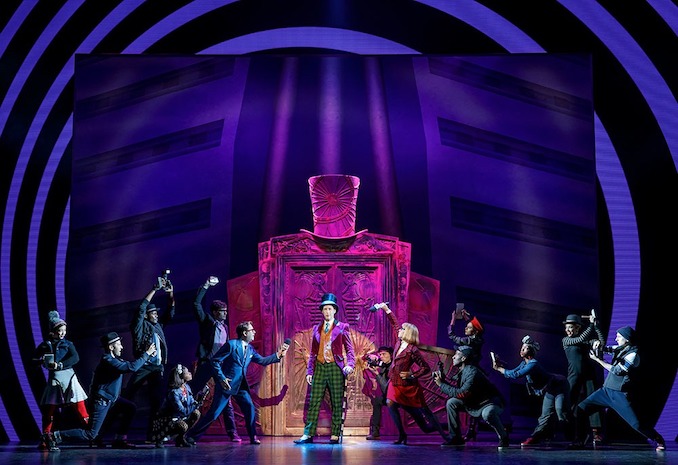 Weisberg takes us on a journey that's pure imagination in Charlie and the Chocolate Factory, we were lucky to obtain golden ticket access to ask him a few questions!
Roald Dahl was know for inventing new words. What are some of your favourites?
NW: Doonce. It can replace any word and can mean anything I need it to. It's a real go-to for my friends and I.
When we researched Dahl's upbringing we discovered that Gobstopper candies were one of his favourites and he actually worked them into this story. Got any interesting stories when you researched this story?
NW: I learned that Dahl was inspired by the real world competition between rival Chocolate companies when he was a kid.
That's pretty cool!
You play Willy Wonka in this production, describe your character in three words?
NW: Innocent. Misunderstood. Hopeful.
What's the most fun part about playing Willy Wonka?
NW: Getting to act opposite our awesomely talented cast.
We could say this entire production is "eye-candy" literally. What are some details we should look out for?
NW: The Oompa Loompas are AWESOME! Oh, and I think you'll laugh a lot, be dazzled by the sets and costumes, and you just might tear up a bit at the truth and heart that radiates throughout the show.
If you could ask Roald Dahl anything, what would that be?
NW: How long does Willy Wonka live?
So, what's your favourite candy?
NW: Skittles. Wait, strike that, reverse it…Everlasting Gobstoppers!
Charlie and the Chocolate Factory is now on stage in Toronto at the Princess of Wales Theatre until January 6, 2019. For more info visit Mirvish.com