As a child, I can recall reading Roald Dahl's Charlie and the Chocolate Factory and daydreaming about what it would be like to win one of those golden tickets. I could almost taste that Wonka Chocolate bar with crispy graham cracker bits. Then watching the 1971 movie "Willy Wonka & The Chocolate Factory" starring Gene Wilder, was like a dream come true. A world made of candy that only a few had laid eyes on. The famous children's story made of pure imagination has made its way to being one of the most beloved musical stage productions. The Broadway smash hit, Charlie and the Chocolate Factory: The New Musical  is now in Toronto.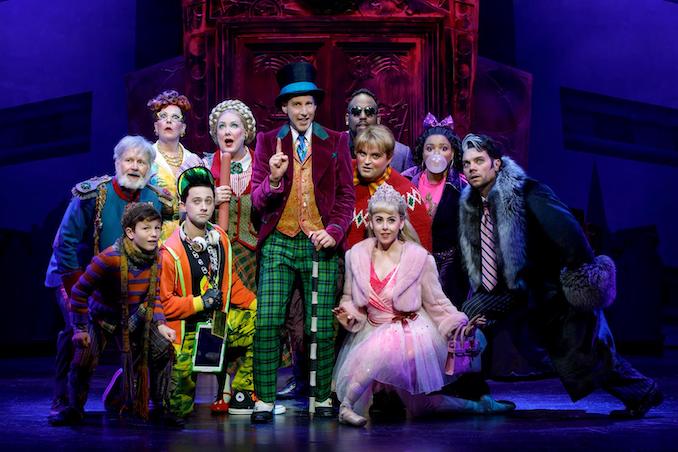 The story on stage unfolds as an aging candyman, Willy Wonka (Noah Weisberg), realizes that he needs to find a successor. He decides to hide 5 golden tickets in Wonka Chocolate Bars and creates a global frenzy. The prize for the winning tickets? To visit the never seen before behind closed gates tour of the Wonka Chocolate Factory.
Young Charlie Bucket (Henry Boshart) comes from poverty living with his bed-ridden grandparents and single mom working shift work to feed the family. Grandpa Joe (James Young) has not left his bed for 40 years after leaving his job at the Chocolate factory. His stories only fueled Charlie's curiosity even more. Barely scraping enough money to live day-to-day the only treat Charlie gets is on his birthday — one Wonka chocolate bar. The biggest treat of all. Reality check number one.
Charlie is a dreamer. When his mom (Amanda Rose) arrives home with a blank notebook she found tossed in the garbage, Charlie imagine all the possibilities of noting all his wildest inventions. But mom suggests more practical uses, as moms do.
When Wonka announced the golden ticket opportunity, Charlie wants for nothing more than at least his one chance at winning a coveted ticket. But it doesn't happen quite the way you would expect.
As days go on, announcements were made on where the golden tickets were found. Revealed winners are Augustus Gloop (Matt Wood) eats his way from Bavaria, Veruca Salt (Jessica Cohen) of the powerful Russian Salt family demands her daddy to get buy up all the chocolates he can, "pop" social media starlet Violet Beauregarde (Brynn Williams ) uses her influence, and screen lover Mike Teavee (Daniel Quadrino) is there not by his choice. The final ticket lands in the hands of Charlie.
The five ticket holders are invited to experience the magical candyland of Wonka. One child is told that there's one grand prize to be had at the end of the tour.
The kids are invited to the biggest sugar rush. Imagine flowing chocolate rivers, forests filled with marshmallow dreams and sweet candy delight complete with a team of Oompa Loompas – creatures who work in the factory originally from a long lost and unknown tribe. There are invention machines and state of the art labs for Wonka's creations. But Wonka is a quirky candyman. There are strict rules to follow and those who cannot follow quickly learn the consequences.
Through a series of tragic incidences is a story line filled with reminders for children, and adults, that good will eventually come to those who deserve it. Goodness in the heart will always prevail.
Weisberg took on the eccentric role of Willy Wonka  and dishes out zinger lines. He's full on and nothing short of fun along side some of the most recognizable songs from the show. He's made for this role. The script is dotted with mixed up words and jumbled sentences a la Roald Dahl humour and Weisberg breezes over them without hesitation.
The role of Charlie Bucket is a demanding one that has the child actor on stage pretty much the entire show. Boshart captured our hearts the night we attended (rotating in the role include Colin Jeffery and Rueby Wood). His duet with Weisberg near the end of the show is breathtaking and spot on.
The Oompa Loompas. I reeeeeeeally want to talk about them. But you need to see for your own eyes. No spoilers from me. But let it be known, that I'd like to spend some time with them to learn their secrets!
There are several familiar songs even for those who don't know much about this story. The Candy Man and Pure Imagination are amongst them. Yes, you'll be singing, or at least humming, whistling, on your way out the theatre…with a smile.
The stage set includes a modern approach with digital graphics and cleaver projections. It's like this team was also given carte blanche with their imagination. It's quite amazing how technology is worked into this classic story.
Imagination is what this show is all about. It's an escape to a world where anything can happen. Perfect outing for dreamers of all ages and frankly, a much welcomed diversion. We're still smiling today.
"There is no life I know to compare with pure imagination. Living there, you'll be free, if you truly wish to be." ~ Willy Wonka
The Warner Bros. Theatre Venture, Langley Park Production and Neal Street Production of Roald Dahl's Charlie and the Chocolate Factory: The New Musical is now on stage at the Princess of Wales Theatre until January 6, 2018.  For more information and tickets visit www.mirvish.com