How is it even the end of September already? This time of year we look forward to lacing up our sneakers and vats of coffee as we take to the streets all for the love of art. This Saturday, September 29, the city will be buzzing with NUIT BLANCHE, the free all-night contemporary art event that takes over the streets, public spaces and buildings throughout the city.
Many of the projects are family friendly (see individual listings). Leave the car at home or park outside of the core…or better yet, make a weekend out of it and check yourself into a hotel. If you're not interested in heading downtown, consider heading out to Scarborough where there are several installations taking place. Also be prepared for some line ups especially during peak time between 8 pm to 1 am.
Here are the top ten spots that have caught our attention and worth staying up all night for:
ANCIENT FOREST ALLIANCE: by Jennifer Baichwal, Nicholas de Pencier. Location: Art Gallery of Ontario, 317 Dundas Street West
Through video installation, the artists behind Anthropocene – Jennifer Baichwal and Nicholas de Pencier will create a compelling immersive experience in the AGO's Walker Court, offering visitors the opportunity to experience both old growth forests and deforestation on Vancouver Island, and to consider pristine environments and our impact on them. Visitors during Nuit Blanche Toronto will be invited to contemplate how all of us (individually and collectively) are leaving a profound human signature on the planet.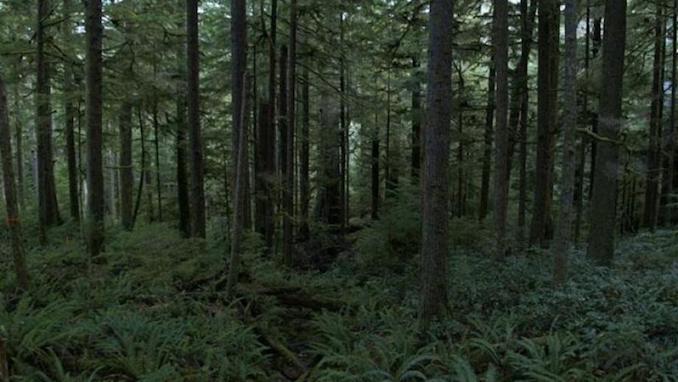 DOWN AT THE TWILIGHT ZONE: by Howard Offeh, Cambridge, UK. Location: City Hall, loading dock at 100 Queen Street West.
This live, interactive performative event aims to resurrect Toronto's rich, diverse queer histories and narratives. By considering the city through the lens of nocturnal queer identities, Toronto is reimagined as a contested site of repression, expression, resistance and celebration. Throughout the night, invited contributions from across Toronto's LGBTQ2S communities will activate historical memories while also exploring what a living queer archive might look like.  Located in a club-like setting scheduled sessions will evoke narratives of the Twilight Zone (a famous Toronto nightclub) through captivating interviews, old-school playlists, back-in-the-day dance moves, vintage fashion, midnight singing and dawn storytelling.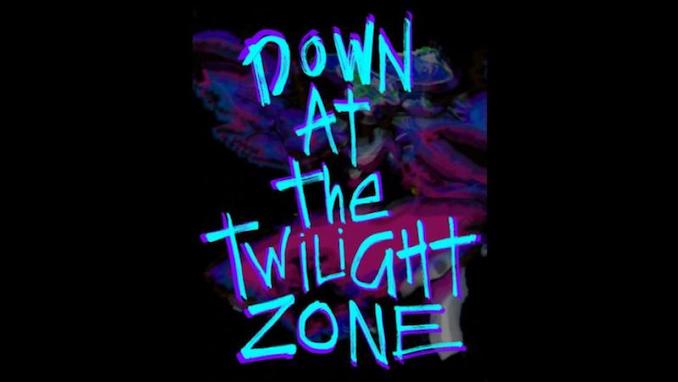 WALK AMONG WORLDS: by Maximo Gonzalez, Mexico City, Mexico. Location: Scarborough Town Centre
Through a large installation of globes, globes rife with political divisions, the artist points out the lines that divide so many territories. These are lines that respond to economic rationales, that seek to separate inside and outside, desire and wish, constructing a global political labyrinth that has been drawn and redrawn for centuries. This installation will be, in some ways, an accumulation of different worlds: worlds of different sizes, colours and shapes, some bigger or smaller, some more or less intricate. There will always be a comparison to draw: Some globes are full, and others deflated, for instance. Should the deflated globes remain? Should they be given more air? Should they be removed? And if this is how we think about inflatable globes, then how do we think about our fellow humans?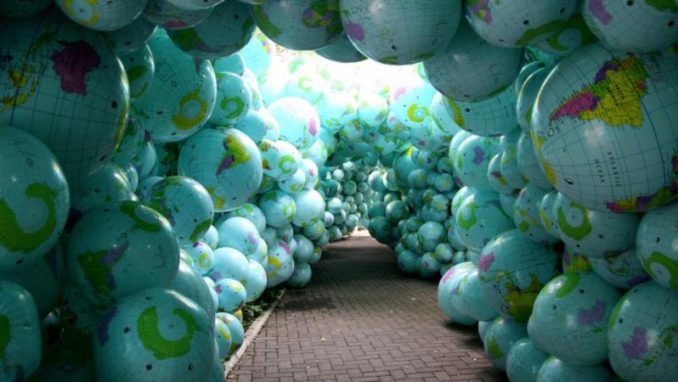 SINCERELY SCARBOROUGH: includes Director X, Cameron Bailey (TIFF), Saukrates, D'Lyfe Dance Company, and many more. Location: Scarborough Town Centre
An all-night program of talks, workshops, and live demonstrations that focuses on Scarborough's artists and cultural innovators. Take in the art and ideas of Scarborough and find out why so many creatives consider this place home. Full schedule available here.
CONTINUUM: PUSHING TOWARD THE LIGHT: by Brandy Leary, Toronto, Canada and Anandam Dance Theatre, Toronto, Canada. Location: CF Toronto Eaton Centre Bridge at 14 Queen Street West
In the new performance work Continuum, an ensemble of dance and circus artists will use light as a choreographic element. And they will use it to engage a unique space: that of the CF Toronto Eaton Centre bridge over Queen Street West. Since the bridge is made of glass, the performance and its light will also radiate to the street below.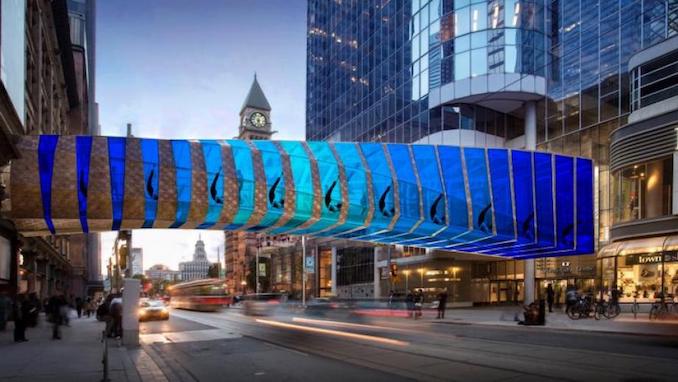 CONFESSIONS:  by Concordis, Toronto, Canada. Location: Design Exchange, 234 Bay Street
Everyone has secrets. Most people have a difficult time telling their partners, family members and friends (or even complete strangers) some of their most tightly held secrets. However, some people might be willing to reveal secrets if the conditions are anonymous and untraceable. Whatever a person's secrets may be, Concordis invites them to be shared in Confessions. Individuals will be able submit their secrets, thoughts or confessions anonymously. These secrets will then be publicly displayed for all to see at Nuit Blanche Toronto. Secrets can be shared either on the night of Nuit Blanche at a Confessions booth or by submitting them ahead of time online at concordis.wixsite.com/concordis.
STEAM POWERED STORIES: Ontario Science Centre, 770 Don Mills Road. Indoors and Outdoors
Enter into a world where science, technology, engineering, art and math collide to create STEAM-Powered Stories. From 7 p.m. until 7 a.m., take in and create new narratives through interactive experiences — from a star party to storytellers, and from a graffiti wall to a green screen. Listen to Indigenous orators tell tales of their heritage and then scratch your own history in six words. Stroll through the Nuit Bazaar and discover artisans from the Thorncliffe Park Women's Collective. Observe the night sky through a telescope and pick up tips on astrophotography. Wonder at the award-winning Toronto Caribbean Carnival costume Rise of D Cherry Blossoms, and immerse yourself in the stunning works of independent artists Zahra Saleki and Yaw Tony.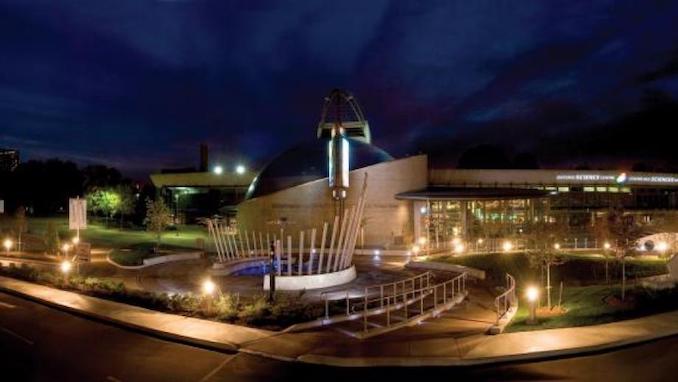 #METOO & THE ARTS: Location: Royal Ontario Museum, 100 Queens Park
Museums today are struggling with what to do when artists represented in their galleries are accused of sexual harassment or when artworks in their collections are viewed as problematic. #MeToo & the Arts offers audiences a series of public engagements that explore the intersection of #MeToo and the arts, with a focus of museums. Prompted by the ROM's upcoming presentation of Modernism on the Ganges: Raghubir Singh Photographs, and an allegation of sexual misconduct made against the deceased artist, #MeToo & the Arts seeks to encourage a larger conversation about how museums, and the public, are engaging with art within the context of the #MeToo and Time's Up movements.
STAR MOON WATER STONE: by Ensemble Jeng Yi, Toronto, Canada. Location: Church of the Redeemer at 162 Bloor Street West
n Star Moon Water Stone, Ensemble Jeng Yi will anchor a cast of performers for an all-night presentation of drumming, music and dance. Guest appearances will include Japanese taiko and music group Nagata Shachu, Korean zither performer Joo Hyung Kim and the Korean dance company JM Dance Collective. Weaving music and dance with elements of ritual and theatre, this project aims to recreate the dynamism and eclecticism of all-night shaman rituals performed in Korea. In addition to playing an important role in community-building, such all-night affairs are pivotal in entertaining and appeasing the spirit world. These performances demonstrate a giving of thanks to spirits for their safekeeping during the summer season, and an appeal for their continued guardianship over our home—in this case, Toronto—and its citizens in the coming autumn and winter months.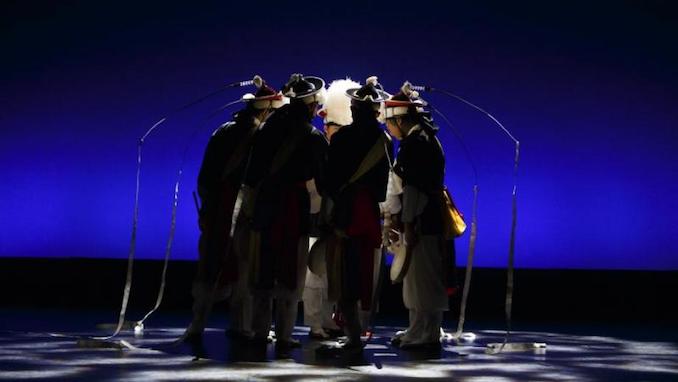 INTERNATIONAL DUMPLING FESTIVAL: by Ken Lum, Vancouver, Canada/Philadelphia, USA. Location: James Street & Queen Street
International Dumpling Festival is a street-side public food court serving dumplings in multiple ethnic variations. Dumplings are found in cuisines around the world, many of which are represented in Toronto's diverse food scene. Lum collaborated with seven Toronto food vendors to curate a menu of dumplings and other fare, including Jamaican patties, Finnish pies, Tibetan momos, Colombian empanadas and Polish pierogis. Accompanying the kiosks will be banners made by Lum that represent the vendors and their food, building off from the artist's ongoing investigation of portraiture, language, and the public memorialization of marginalized communities. The proprietors will also be present at times throughout the evening to engage with audiences and share stories about their dumplings, their businesses and themselves. Installation is free but dumplings are for purchase while supplies last.
For a complete list visit nbto.com