The cosmopolitan Elmwood Spa has an understated resort vibe spread over four floors of a Toronto heritage building. It was the city's original Y.W.C.A, and in the 1950's it became The Elmwood Women's Hotel. Located on Elm Street in downtown Toronto, the day spa has been in the business of providing well-being, serenity and refreshment for thirty-six years.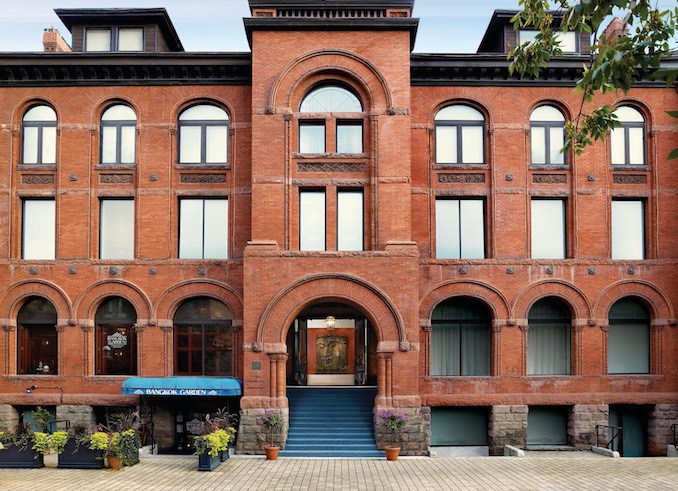 Open to both women and men now, the Elmwood Spa is a popular destination for birthday and wedding party celebrations. The Elmwood atmosphere is relaxed and casual; guests are at home, roaming from floor to floor in comfy white robes. Whether you're at the spa for a facial, massage or manicure, the Water Therapies are a must.
The women's change room has a whirlpool, steam room and private showers stocked with Moroccanoil hair care and the spa's ElmLine body care. I enjoyed the ElmLine Coconut Lime Verbena Body Wash – the aroma is so refreshing. The Water Therapies continue on the third floor with a co-ed swimming pool, whirlpool, steam room and quiet lounge areas. It's recommended to arrive at least an hour before your first service for ample time to enjoy all the water therapy options and relax with a drink and snack from the Juice Bar. Just bring a swimsuit.
I love the resort feel of the Elmwood, with its Juice Bar and two on-site restaurants. The Bangkok Garden, and the Terrace Restaurant where guest are encouraged to dine in their spa robes on the fourth floor patio. The Juice Bar offers a variety of beverages; unwind with a glass of Prosecco or a pina colada. I recommend the creamy mango lassi.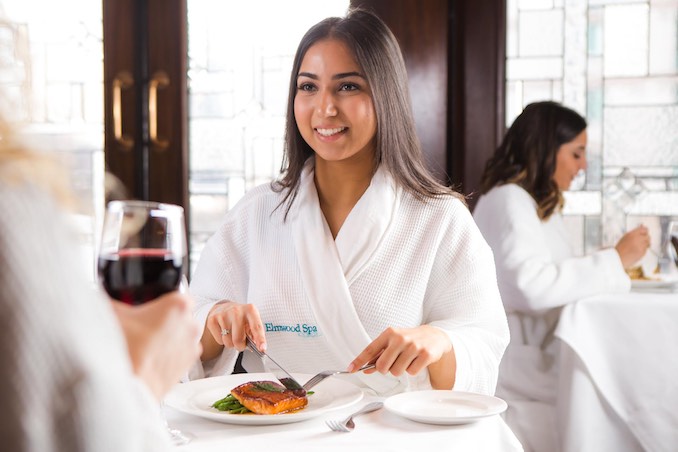 Additionally the spa has a newly renovated manicure/pedicure lounge, a hair salon, a lobby beauty boutique, numerous lounge areas, a sunroom, 34 treatment rooms including unique couples' suites with fireplace and shower. It's no wonder a day at the Elmwood Spa helps guests forget the busy metropolis outside. Every part of the vast spa encourages guests to linger and feel comfortable.
All of this make the Elmwood Spa a complete wellness destination to enjoy solo, or reconnect with someone special. There is so much to experience at the Elmwood – check out the spa treatments online, they even offer Australian LI'TYA botanical body treatments.
I absolutely enjoyed my relaxing hour discovering all the Elmwood has to offer before I was invited to experience a HydraFacial: an award-winning, non-invasive skin resurfacing treatment.
Here's What To Expect
After I tried all the Water Therapies I met skin care expert Lidia for a 50 minute HydraFacial MD Platinum experience.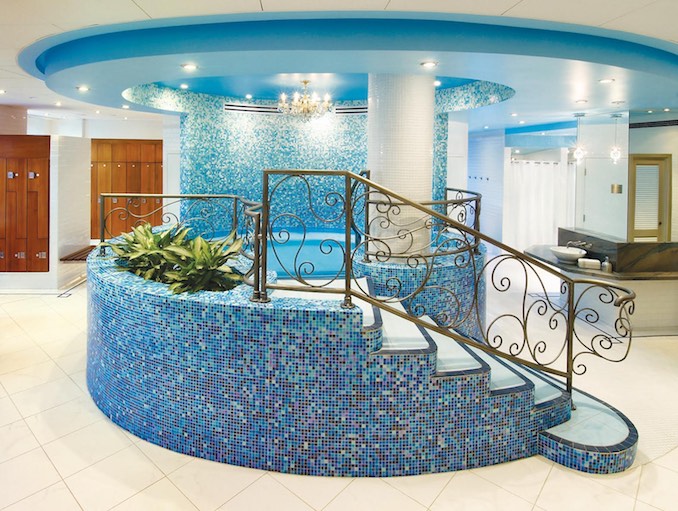 This is a new facial for the spa and it's serious about results! The HydraFacial treatment removes dead skin cells and extracts impurities while bathing new skin with cleansing, hydrating and moisturizing serums – it's a 3-step process. HydraFacial includes Boosters as well as LED Light Therapy. During the treatment up to two skin Boosters are selected based on your skin's needs: Dermabuilder (aka baby botox) to soften fine lines and improve tone and texture; Britenol to reduce pigment due to sun damage; and/or CTGF Connective Tissue Growth Factor which helps with fine lines, elasticity and scarring. The treatment finishes with LED Light Therapy: blue light for acne-prone skin and/or red light for rosacea, scarring and pigmentation.
The 3-step process of the HydraFacial is non-invasive and gentle; the sensation on the face is like a pinpoint mini vacuum, yet wet at the same time. Unlike more 'relaxing' massage-based facials, the HydraFacial felt more serious, more medical.
I asked skin care expert Lidia: Who gets HydraFacials? She said: People who are serious about skin care and getting results. And after my first HydraFacial I'm inclined to strongly agree; my skin looked fantastic after the treatment. I could hardly believe the diminished appearance of concerning fine lines, especially on my forehead. Years were taken off my face after this facial. I'm not saying other facials are not as good, but this one takes it to a whole new level.
My recommendation, if you are looking for impressive, instant results, then HydraFacial Platinum is the treatment you need to try!
***
For more information and a menu of spa services visit: https://www.elmwoodspa.com
Hours of operation Monday to Thursday 10:00 am – 9:00 pm; Friday 9:00 am – 9:00 pm; Saturday 9:00 am – 8:00 pm; and Sunday 10:30 am – 6:30 pm.
The Elmwood Spa is located at 18 Elmwood Street near Yonge-Dundas Square in downtown Toronto. The spa is located in an historic, five-story brick building designed by Gordon & Helliwell Architects and built by Edward James Lennox – the same architects who designed Old City Hall, St. Paul's Anglican Church and Casa Loma.
About Elmwood Spa
Open 7-days a week; featuring two restaurants – Terrace Restaurant and Bangkok Garden, a juice bar, 34 treatment rooms as well as water therapies. The water therapies include swimming pool, whirlpool, steam room and poolside lounge – a water spa day pass is available Mondays to Thursdays for only $35.
Elmwood Spa Terrace Restaurant
Enjoy a three-course lunch at the licensed fourth floor restaurant for $38, where your spa robe is the preferred attire.
ElmSpa
An offspring of Elmwood Spa, this Church Street boutique spa offers exclusive treatments for men and women in a zen-inspired environment. With seven specialized treatment rooms, two steam rooms, an infrared sauna (complimentary with spa services), rain shower and garden terrace area.
Elmwood Spa Products
ElmLine is a range of luxurious products derived from botanical extracts for all skin types, at an affordable price. Made in Canada, ElmLine products contain vitamin A, B and C and/or extracts such as Yucca that are high in vitamin content. ElmLine is available for face and body, as well as delicious teas. The spa also stocks and uses Guinot and Swiss Line product lines.