For our latest Charitable Choices column we chat with the folks over art East End Children's Centre about the great work they do with young kids and their families in the East End of our city.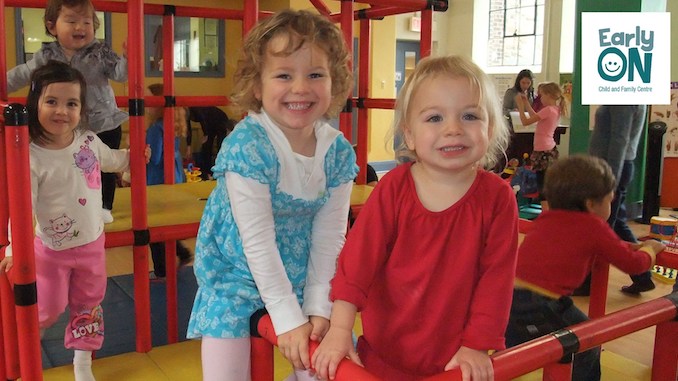 Describe your charity/non-profit in a few sentences.
East End Children's Centre's mission is to support the development of children 0 – 6, their families and caregivers, though community and inclusive play. We provide FREE programs for young children and their parents/caregivers in the East Danforth area, to support the development and well being of children and families.
What problem does it aim to solve?
Some of the problems it aims to solve are parent isolation and developmental gaps in children. But we usually don't think of it as solving a problem…more as a way to support children and families whether or not there is an identified problem. Parenting is probably the hardest job there is in the world and yet there are very few formal supports to help people who want to do it well. It's well documented that children need opportunities to build social and other school readiness skills during infancy and preschool years.
What made you want to get involved?
I got involved originally as a board member in 1991, when my own children were small. I joined the staff team in 1993. I wanted to get involved because I was blown away by the effectiveness of this particular support model, for improving outcomes for children and their families. I returned to school to prepare myself for a career change.
What was the situation like when you started?
There were far fewer children living in the East Danforth area back then, so the demands on the services and programs were easier to meet. As homes in the area occupied by seniors were bought by young couples, the child population increased slowly and then exploded around 2008.
How has it changed since?
Since then, we've been struggling to respond to the demand for our programs. They became increasingly crowded and we had to implement room limits for safety. With room limits in place, many children were turned away. Parents and caregivers felt stressed by the need to rush to our programs early and wait in line. Divisions were created between parents who only brought 1 or 2 children and caregivers who brought 4-5 children. Our board received many complaints from families who were very distressed by the experience of being turned away repeatedly. It was decided in 2016 that we would have to raise the funds ourselves to expand our program and stop turning children away. In 2017 we piloted a very successful expansion we called the NO CHILD TURNED AWAY project. The project added two additional programs a week to our schedule during the cold weather and provided 100 more play opportunities a week. We ran it again in 2018 and our Boots & Bling Gala will raise funds for NO CHILD TURNED AWAY to operate in 2019.
What more needs to be done?
This program expansion has been a great start in addressing the ballooning need for our program. But the community needs more than just the two additional mornings and it needs a sustainable expansion. Our event only raises enough money for a few months at a time.
How can our readers help?
We would love more people to come to the Boots & Bling Gala on October 13th. We would also love any monetary support available. We're a registered charity and can write tax receipts. Another easy way to support our event would be to buy us a gift card for our wheel game and send it or drop it off by September 30th at our 200 Wolverleigh Blvd site.
Do you have any events coming up?
We have the Boots & Bling Gala on October 13th. We thank FIRMA Foreign Exchange, Cobs Bread in the Beaches and Juliette Fergus of Trust Realty Group for their sponsorships!
Where can we follow you?