We love hearing about kids who are inspired in the kitchen. Thanks to the many great cooking and baking shows on television (okay, on YouTube as well) kids are heading into the kitchen more than ever before. We were introduced to sixteen-year-old Liam Lewis who started cooking at the age of 10 and has since created his own food blog, The Little Locavore. He's been lucky enough to have the opportunities to cook with culinary talents such as Vikram Vij, Ned Bell, and Trevor Bird.
Liam has receive culinary training at the Pacific Institute of Culinary Arts, UBC, and The Dirty Apron. He now lives in Toronto with his family and continues his passion about food and sharing his experiences visiting with chefs, bakers, and farmers.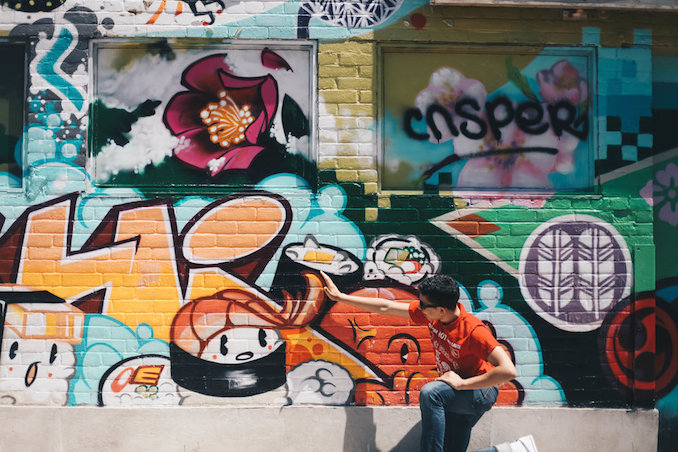 We asked Liam to "dish" on everything he loves about being in the kitchen and getting ready for back-to-school routines…
What inspired you to get into the kitchen?
I was watching too much TV, so I had a ban from that and was looking for something interesting to fill my time. I started going to more farmer's markets with my parents to see where our food comes from, and I was really excited to try new ingredients and to try and cook them! Lucky my parents were supportive! 🙂
What's your family's favourite meal? You know, the one they ask you to make often?
My family seems to love most of the Asian Inspired dishes that I make. The one on heavy rotation right now is Chicken Katsu with Sesame Rice and Japanese Slaw – which is also available through ChefsPlate.com week of September 2.
This recipe is a super convenient way to get kids involved in the cooking and creating process. The pre-portioned ingredients and the step-by-step recipe card will be delivered right to your door.
Younger kids can easily get involved in creating this recipe with fun steps like: crushing potato chips in a bag with a rolling pin and crumbling them with their fingers, mixing the salad ingredients together and creating the salad dressing. Check out the video here on my blog and my tips: https://thelittlelocavore.ca/blog/
Who are the chefs that inspire you and why?
It would be hard to name just one. I have Chefs that I've never met, but I am inspired by their work, like Anthony Bourdain and Jamie Oliver. I am so thankful to all of the Chefs that I do know and that have taken the time to mentor me in their kitchens!
Tell us more about your food blog? 
I had the idea to start the blog when I was 8, and started to get more excited and experimental with cooking. I didn't actually start it until about 6 years ago when I was 10.
I have learned a lot about food in that time, photography, writing, editing! It has been rewarding that because I started the blog, it opened some more doors for me to have really exciting food/cooking experiences. It has been challenging to document everything I do (food-wise). Being consistent with posting is something I hope to work towards.
We're  heading back-to-school soon and dreading the daily grind of packing lunches. Any tips on how to keep things interesting?
Getting back into a fall routine is sometimes hard! But planning meals together with your family, by cooking together and then sitting down to eat them is a good way to re-connect!
Kids are always hungry after school and it's hard not to reach for the junk!  What are some better snack choices that kids can make at home fast?
Not buying the junk food in the first place is a good idea. Instead try some fun snacks, like pizza bagels, or hummus and cut up veggies. Those make good after- school (easy to prepare) snacks.
What are 5 items you always have handy in the kitchen pantry?
Pasta, Canned Tomatoes, Onion, Garlic, Crackers.
We all crave a bit of junk food now and then, how about you? What's your kryptonite?
Probably POTATO CHIPS 🙂
So, we know you've made a version of the pumpkin spice, we found it on your food blog… so, what are some of your favourite ways to use the spice?
My pumpkin spice recipe is really simple, and it's great to use for pancakes, smoothies, muffins, and even just a little sprinkle on cut up apples!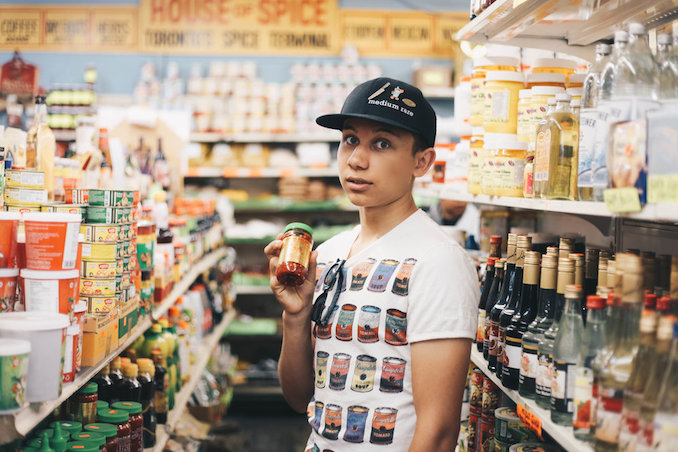 What's your favourite cuisine?
It's probably not fair if I just pick one. I really do love trying all kinds of cuisine and new foods. Lately I have been cooking a lot with Asian flavors.
How about eating out in Toronto? What are some of your favourite restaurants?
One of my fav places to go-to in Toronto is Tuck Shop Kitchen. It's a tiny lunch spot in the Junction, and literally the best burger!!! I really like chatting with the owner (chef) Jake Taylor.
Love, love Pizzeria Libretto! My fav thing on the menu there is Rocco's Salad, you have to try it! There is also this great place called Oddseoul, kind of like Korean/American-Fusion-Tapas if that makes sense. The flavours there are sooo good!
If you could make dinner for anyone in the world, who would it be and what would you want to make?
I'm thinking Macklemore (Ben Haggerty), really like his music and I think he would be fun to have at a dinner party. He has this song called Let's Eat, so I think I would make some guilty pleasure foods, like fried chicken!
What do you wish people would know about you?
I am inspired by inspiring others – especially kids – to get creating and cooking in the kitchen. That's why I collaborated with this company to create a recipe that is designed to make it easy for the entire family to get involved in the cooking process.