Name: One In The Chamber
Genre: Rock & Roll
Founded: 2015
# of Albums: Two with a third on the way
Latest Release: "Bills To Pay" single, April 30, 2018
Latest Video: Bills To Pay
Bio
Dirty rock & roll straight from the heart of Toronto. With influences from all over the musical spectrum – ranging from Led Zeppelin and Guns N' Roses to The Red Hot Chili Peppers and Soundgarden- One In The Chamber has found a distinct and modern sound that feels reminiscent of flipping through old vinyl. In the past two years, the band has tirelessly performed throughout Toronto at acclaimed venues such as The Horseshoe Tavern, The Hideout, and The Opera House, while also hitting up cities outside the GTA, including Burlington, Brantford, Ottawa, and even an international stop at the MGM Grand in Las Vegas.
Along with performing at an array of festivals – Sound Of Music Fest, Lockdown Festival, Blackout Fest, The Bout, and Epidemic Music Group's Guinness World Record breaking concert – the band has opened for acclaimed international artists such as former Ted Nugent vocalist, Derek St. Holmes, Darby Mills, Dreamkiller, and most notably, Scott Weiland & The Wildabouts at what would tragically be his final performance.
Having released The Boston Session: Bootleg Demos, a small collection of demos – recorded in Massachusetts with former Bang Tango guitarist, Scott LaFlamme- and a live album, Live From The Rockpile, in 2017, One In The Chamber is gearing up to release their debut studio EP – recorded at Phase One Studios with Murray Daigle at the helm – this coming summer. "Bills To Pay" is the first of what's to come.
Latest Single:
"Bills To Pay"
Favourite Restaurant:
Dangerous Dan's was a favourite post-show spot when we would play The Opera House before it closed down.
Favourite band as a teenager:
Led Zeppelin, Red Hot Chili Peppers, Soundgarden, Metallica, System of a Down, The Rolling Stones, Stone Temple Pilots, Aerosmith, Guns N Roses, Bowie, Prince, Rage Against The Machine… This list could go on and on.
Favourite band now:
Not much has changed.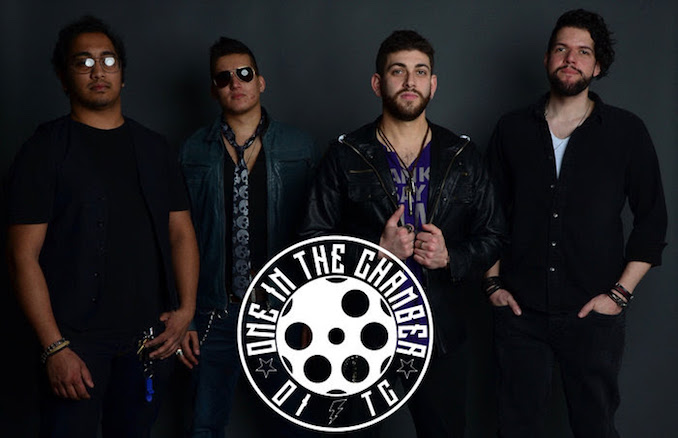 Guilty Pleasure Song:
Shania's "Man! I Feel Like  A Woman"… Who am I kidding, you can't help but love that song.
Live Show Ritual:
Got any suggestions? We need one.
Favourite local artist:
Last Bullet, Drop Top Alibi, Crown Lands, Tomahawk Love, Rue Bella. It's great to be a part of a scene with so many great artists.
Sneaky Dees nachos, pasta from Terroni or a superfood salad from Fresh?
Nachos all the way
Queen or College St?
How does one choose between The Hideout and The Horseshoe? Both!
Trinity Bellwoods or Highpark, Riverdale or Kew Gardens?
Highpark.
EP or LP?
LP. EP's are just a tease. With a full length record, you get an immersive experience that can truly showcase an artist's performance and writing.
Early bird or night owl?
Night owl
Road or studio?
Both! We love the studio and the process of making music happen, but put us on any stage and we'll tear it up.
Swiss Chalet or Roti?
Roti. Everytime.
Visit One In The Chamber's website to learn more and to follow them.