Empress is a 13-year-old boss lady who loves hunting things attached to strings, being brushed, being fed, and being left to think about how wonderful she is! She's called Empress because she's lived in a few castles and has been served by many humans! She's now hoping to either find a foster palace or a more permanent palace where she'll get all the attention she deserves!
Empress is very picky about certain things. But really, try finding a queen who isn't. While she can get used to the deep voices and strange faces of most humans, it's those hands of theirs she simply will not stand for. My word, those HANDS! When those hairless beasts come near her, she'll give em the old one-two with a swat of her paw! She really doesn't like hands. Problem is, she LOVES scratches, brushes, and rubs! She just prefers you keep those hands of yours out of her sight! (We weren't kidding about her empress status).
Empress is the sweetest girl once she's been given a little time to get to know you. She loves cuddles, rubs, and scratches (just remember to hide those hands!). She'd be the perfect addition to any calm, quiet household where cuddly evenings by the fire and sleepy Sundays by the window are plenty! She hopes to find a foster or adopter who will give her a room to herself so she can adjust to her new environment. She also hopes that she'd be the only pet in the home and if there are children, they respect her space as much as the adults do!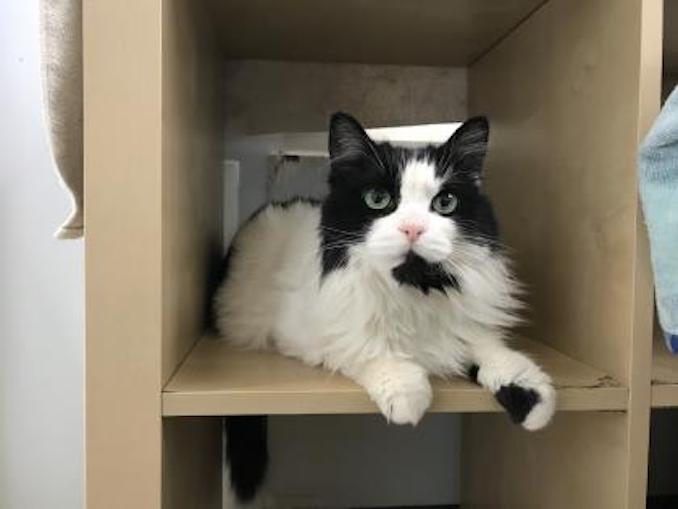 Empress
Age: 13 years 7 months
Sex: Female
Size: Medium
Colour: Black/White
Spayed/Neutered: Yes
Declawed: No
In order to ensure a smooth and successful adoption, please remember to check all the basic requirements for adopting before coming in to the shelter.
About this column:
Each week we feature animals available for adoption from local shelters in the Toronto area with the hopes that our readers will assist in finding good homes for them. If you, or someone you know, has the resources to take care of one of these animals, please do get in touch with the appropriate shelter via the links provided.