It's that time of year again! Winterlicious 2018 reservations are now open! Considered one of the city's favourite culinary events runs from January 26 to February 8, 2018 and there are many great restaurants to choose from for lunch and/or dinner. It's a great opportunity to explore ones that have been on your must-eat list as well as revisiting tried and true. But note, reservations are encouraged! Popular restaurants fill up pretty quickly and don't always offer up the special menu for walk ins. Best to read the details on each spot as menu offerings vary — some still offer up a regular a la carte menu along side the Winterlicious specials and others will only offer up the Winterlicious menu.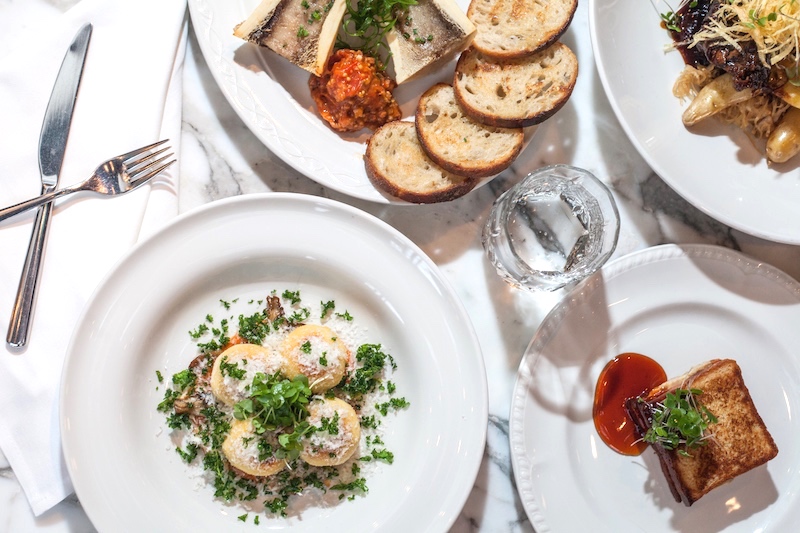 By the way, if you need help deciding which places to check into, you can see what's on all the menus at the official Winterlicious 2018 website.
Here are our Top 18 restaurant picks for this year:
CAFE BOULUD: located at the Four Seasons Hotel, 60 Yorkville Ave. $33 Lunch/$53 Dinner. Chef Daniel Boulud's French roots have inspired this season's menu. Here you can stick with the always popular Steak Frites for lunch or try the Pike Quenelle, a Lyon style northern pike amongst the restaurant's offerings. The Grilled Kale Salad is a personal favourite and the Profiteroles are a must. Seriously.
AGO BISTRO: located at the Art Gallery of Ontario, 317 Dundas Street West. $28 Lunch / $43 Dinner. Canadian, Contemporary. The award-winning Frank Gehry designed restaurant hosts a contemporary global fare showcasing seasonal flavours. Bouillabaisse on the dinner menu includes whitefish, bay scallop, mussel in a miso ginger broth accompanied with Togarashi fries. The Chai-spiced cheesecake is also enticing us.
ONE Restaurant: located at the Hazelton Hotel, 116 Yorkville Ave. $33 Lunch/$53 Dinner. International. Celebrity Chef Mark McEwan has created a destination for food lovers here and the menu always has a few surprises. Start with the Karaage Tostada (Japanese fried chicken) that's available on both lunch and dinner menus and go from there. Slight variations for lunch and dinner.
CANOE: located at 66 Wellington St. West, 54th Floor, TD Bank Tower. $33 Lunch/$53 Dinner. Canadian, Contemporary. If you're quick enough to nab one of the reservations here hold onto it for good. Yes, the view is breathtaking from up there and it's a great chance to try Chef John Horne's incredible dishes with, or without, that healthy expense account. Quebec Foie Gras Parfait sounds heavenly, don't you think?
LENA: located at 176 Yonge Street. $33 Lunch/$53 dinner. Argentinean, Spanish. Chef Anthony Walsh pays homage to his Argentinian mother-in-law here and the menu celebrates the vibrant South American cuisine. Albondigas y Calamaris (Pork & guajillo meatballs, baby squid, white bean stew) is on our radar.
WESLODGE: located at 480 King St. West. $43 Dinner. British, Contemporary. We've visited this modern saloon during TIFF and loved Chef Ben Heaton's innovative touch to some familiar dishes. For Winterlicious we're eyeing the Duck Leg Scotch Egg to start and their Braised Beef Rib sounds like total comfort food. Highly recommend exploring their separate cocktail menu while you're there.
UFFICIO: located at 1214 Dundas St. West. $28 Lunch/$43 Dinner. Italian, Pescatarian, Seafood. This gem has garnered rave reviews from the media as well as loyal customers. The menu is full of  irresistible dishes made with the freshest seafood along side house made pastas. Warm up and start with the Ribolitta – a traditional Tuscan soup (vegetarian) then take in the Lasagne di Pesce (seafood nestled in-between layers of fresh pasta). Unforgettable.
JUMP: located at 18 Wellington St. West, Commerce Court East. $28 Lunch/ $43 Dinner. American, Italian, Mediterranean. A hotspot amongst the Bay Street crowd, this New York style bar offers classic dishes along side innovate dishes. Pastas are handmade. Go for the Rustic Lobster Bisque. The Olive-Marinated Fogo Island Cod is great main or cozy up to the Beef Shortrib Mac and Cheese .
BANGKOK GARDEN: located at 18 Elm Street. $23 Lunch $33 Dinner. Thai. A very recent visit to one of Toronto's oldest authentic Thai restaurants was a pleasant surprise and definitely worth revisiting. One of only four Toronto restaurants to be awarded the Thai Select Premium designation from the Thai government recognizing authenticity and in service. Yes, you can order Phad Thai but their Khao soi is really good too. If you're there for lunch finish with their Khao Neow Ma Muang dessert (warm and sweet sticky rice with mango and coconut cream syrup). So good!
BOSK: located at the Shangri-La Hotel, 188 University Ave. $33 Lunch/$53 Dinner. Canadian. Walk through the tranquil lobby space and notice the calming scent in the air before you enter into the tucked away dining room at this luxurious hotel. Diners can expect an Asian inspired menu with a Canadian touch. We spot an Albacore Tuna "Poke" on the lunch menu that sounds pretty darn good.
DIWAN: located at Aga Khan Museum, 77 Winford Drive. $28 Lunch. Indian, International, Middle Eastern. Chef Mark McEwan is joined with Chef de Cuisine John Kovac here to offer a menu that celebrates the many textures and flavours of the Middle East, North Africa and Indian subcontinent. Ali Nazik (Smoky Eggplant Puree with Spiced Lamb) will transport your tastebuds to exotic lands.  Chicken Biryani's Basmati Rice is layered with chicken and cooked in a banana leaf. Make it a day's outing at this beautiful museum and grounds.
THE CARBON BAR: located at 99 Queen Street East. $43 Dinner. American. Offering southern-inspired fare that will sure to please any bbq lover! Some dishes are locally sourced and seasonal. Go for the Crispy BBQ Pork Belly, Beef Brisket and Pork Ribs.
NOTA BENE: located at 180 Queen Street West. $33 Lunch/$53 Dinner. Contemporary. This restaurant constantly lands on various "best of" lists and for good reason – the uber nice Chef David Lee delivers dishes that leave you wanting more. Lunch has a few choices but  we have to admit, the Heritage Chicken Ramen is pulling on our heartstrings. Dinner menu also has three choices (including a vegetarian dish) that all sound amazing. Sticky Toffee pudding with drunken rum raisins is a must.
AUBERGE DU POMMIER: located at 4150 Yonge Street. $33 Lunch/$53 Dinner. French. It's worth the drive uptown to this quaint cottage like structure surrounded by offices and a church. Several vegetarian offerings on the Winterlicious menu that sound just as good as any other dish. The 'Grains and Greens' appetizer consists of quinoa, puffed rice, chickpeas, cranberry, sumac yogurt and greens sounds like sunshine on a plate.
BATCH: located at 75 Victoria Street. Canadian, Gastro Pub. $23 Lunch/$33 Dinner. Great spot to gather your friends for a pint or two along with your Winterlicious menu. This restaurant is easy going and the food is great. Craving Fish & Chips? The beer-battered haddock is served here with thick cut chips that is supremely satisfying.
PETER PAN BISTRO: located at 373 Queen St. West. $28 Lunch/$43 Dinner. Bistro, Canadian. This Queen West institution recently renovated to restore its 1930s charm. The menu is seasonally driven Canadiana steeped in French tradition and cheeky British influence. French Onion Soup is perfect for winter as a starter. Lunch and dinner menu has variations…er, so go twice?
THE MONKEY BAR & GRILL: located at 3353 Yonge Street. $43 Dinner. Bistro, Canadian, Contemporary. This charming neighbourhood gem consistently offers up an impressive menu for this program with five selections for appetizer, mains and dessert. Braised beef short ribs with garlic mashed potatoes is all comfort.
CLUNY: located at the Distillery District, 35 Tank House Lane. $28 Lunch/ $43 Dinner. French. Plan a date night and stroll through the cobblestone laneways before (or after) heading into this French inspired bistro. Several classic dishes can be found on this menu including Bourguignon Braised Beef Short Ribs and a Twice Baked Cheese Souffle. Bonus points for you if you're planning to visit during the Light's Festival.