There was some buzz happening on King Street West across the street from Roy Thompson Hall recently. Hundreds, if not thousands, of orchids were cascading at the entrance way of a tall residential building. Eyes were curious as soon enough a Four Seasons sign was erected. People passing by wondered if the luxury hotel was opening a second location but it was soon revealed to be the location for a one-night-only Four Seasons Popdown event — part of a new global series of immersive experiences that brings the Four Seasons to unexpected settings all over the world.
It breathtaking event featured some of the hotel's most talented teams from their properties around the world including Italy, Mexico City, Brazil, Seoul, Beverly Hills, and of course Toronto.  Michelin-starred chefs, charcuterie masters, award-winning mixologists, internationally acclaimed florists, and cutting-edge artists were all brought in for this unforgettable evening.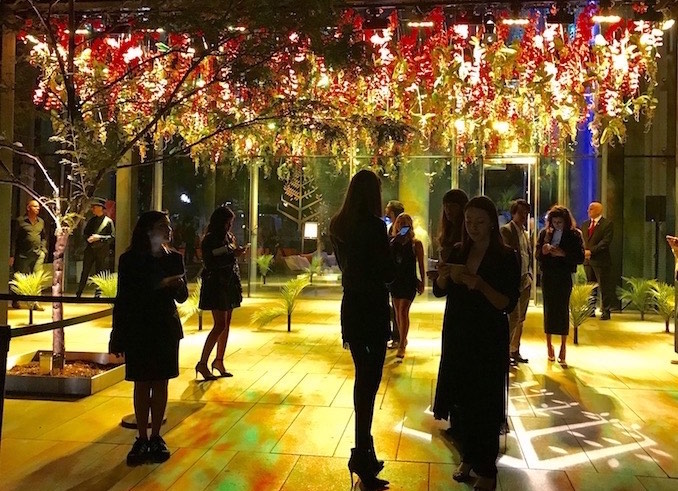 Guests arrived, all in their finest, to climb a set of scaffolding to reach the second floor. This wasn't just any party! The raw space with floor to ceiling glass was transformed into a creative space to journey…well, through the four seasons. One wall was filled with overflowing cherry blossoms. Hanging delicately from the tree branches were individual bite sized desserts created by Christopher Ford, Executive Chef from Four Seasons Beverly Hills Wiltshire and Beverly Hills. Creamy maplewood salted caramels were wrapped in edible paper. Unconventional chocolate covered strawberries were served perched inside bird cages, and apple pie bites were irresistible morsels of apple jellies topped with light pastry. Another wall featured an incredible vertical herb garden.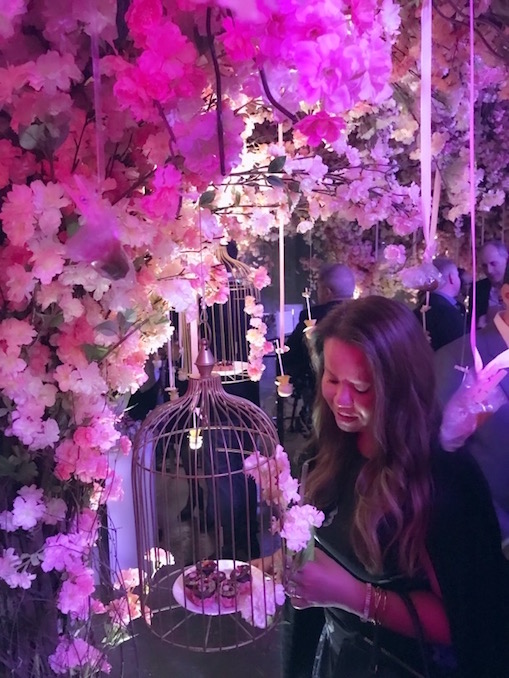 Chef Vito Mollica, Michelin-starred Il Palacio, Four Seasons Hotel Firenze and La Veranda, Four Seasons Hotel Milano) treated us to zucchini blossoms and tasty risotto dishes. Chef Sylvain Assié of Toronto's Cafe Boulud offered each guest a selection delicious house made cured meats, terrines and Pâtés.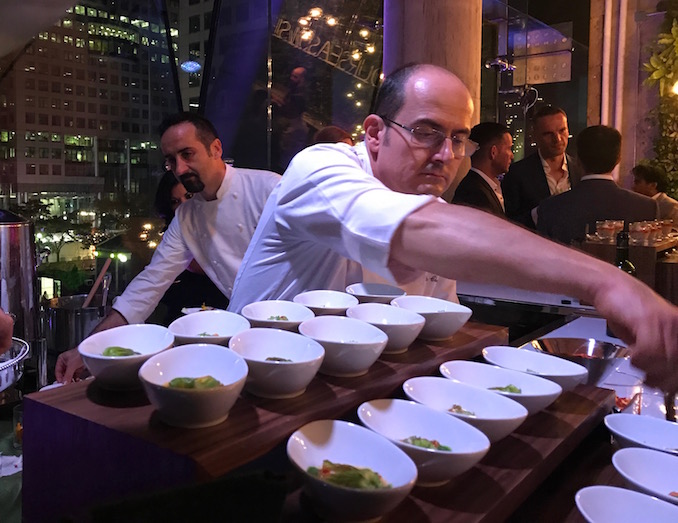 Mixologists were creating some out of this world concoctions. Head Mixologist Lorenzo Antinori from Four Seasons Seoul offered four original cocktails including the most talked about "Step Into The Green" that was complete with a lit pinecone.
There were so many great dishes and cocktails to try at this event. We're still dreaming about how incredible this night was! We even spotted Isadore Sharp mingling with the crowd. By the way, the cascading flower installation was created by highly acclaimed florist Jeff Leatham. When I had heard this was his vision it gave me one of those "a-ha" moments as we fondly remembered walking through the Four Seasons in Beverley Hills not too long ago and admired the flowers in the lobby. For this event, we had learned this display was reminiscent of his work in Beverly Hills and in Paris.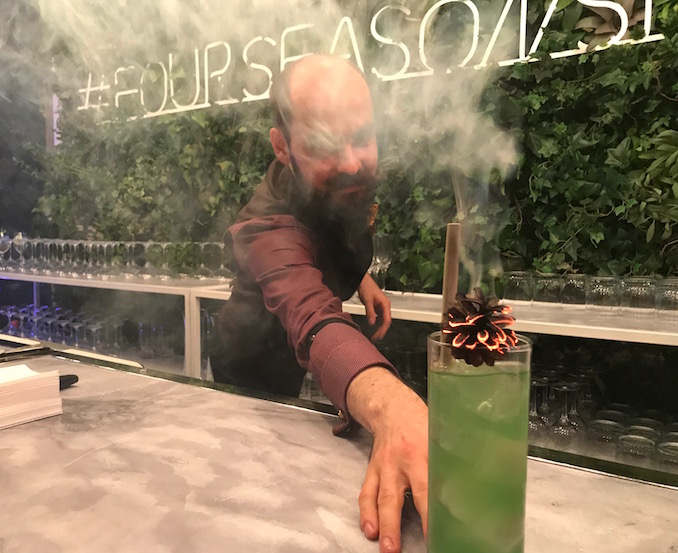 The event was designed and executed by celebrity event planner Catriona Smart of Coco & Cowe here in Toronto. Incredible! It definitely was an unforgettable night!