On Friday, February 2nd, 2018 from 7:00 am – 7:00pm, the 8th annual youth helping-youth initiative will see 600 local students and volunteers visit 25 TTC stations, PATH locations and high-traffic urban areas across the city to entertain commuters with pop-up theatre, dance, visual arts, music and spoken word performances that share the realities of the youth homelessness crisis in Toronto. Volunteers will also collect spare change, TTC tokens and donations made by credit or debit cards that will go to help support transportation costs and essential programming at Youth Without Shelter (YWS), an Etobicoke shelter and support house serving more than 1,000 homeless youth every year.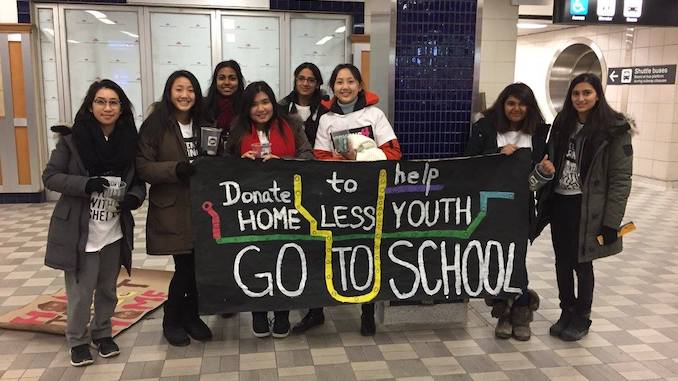 Tokens4Change has programs running all year long that are run by Youth Without Shelter (YWS) and its partners that share information about the needs of disadvantaged youth in Toronto with students, aiming to put a dent into youth homelessness. The program's big day is Tokesns4Change Day, a day whose mission is to end youth homelessness one youth, one step and one donation at a time. This year's goal is to raise $101,000. To date, Tokens4change has raised more than $550,000.
Here are some of the highlights and best times to catch some of the performances:
-8:30 am – 12:30 pm at Ryerson Amphitheatre: dance performances by Central Toronto Academy students
-8:30 am – 12:30 pm at Yonge-Eglinton Centre: spoken word poetry by Havergal College students
-10:00 am – 1:00 pm at 10 Dundas East: Live mural creation by Hodgson School students
-11:00 am – 1:00 pm at Spadina Station: theatre performances by Crescent School students
-1:30 pm at Tangerine Downtown Toronto Cafe: huge arts showcase, featuring 
several student performances and inspiring words by youth who have experienced homelessness
Full list of Tokens4Change TTC Stations:
Bathurst, Bay, Bloor-Yonge, College, Don Mills, Downsview, Dufferin, Eglinton, Finch, Islington, King, Osgoode, Queen, Queen's Park, Sheppard-Yonge, Spadina, St. George, St. Patrick, York University.
Full list of Tokens4Change PATH, Office and School Locations:
Bay-Adelaide Centre, Bloor Islington Place, Brookfield Place, Hudson Bay Centre, Royal Bank Plaza, Ryerson University Amphitheatre, Yonge-Eglinton Centre, 10 Dundas East.
For more information on how to get involved visit YWS.on.ca and Tokens4change.com