Since the KonMarie method was first published in the "Life Changing Magic of Tidying Up", many a closet has been ruthlessly purged of clothes that do not "spark joy". While this is arguably a luxury only the wealthy can afford, there is something to be said for investing in quality pieces. Free from searching through hundreds of never worn garments, a capsule wardrobe leaves you with a few pieces you love, and look great in.
For years we've been trained to buy more for less, with fast fashion driving a global apparel industry worth 3 trillion, 3,000 billion dollars annually (not a typo).
The problems with disposable fashion are many. We all know that there is a very high price to be paid for that $9.00 dress. Slavery continues in the cotton fields of Uzbekistan, where high pesticides ravage the health of workers, and leaves acres of land poisoned and barren. Who can forget the 2013 Rana Plaza building collapse, (used by cheap clothing retailers, including Joe Mimran of Joe Fresh)? 1,134 garment workers, mostly women, were killed. It's just ugly.
The capsule wardrobe, while pricey, offers an alternative. Carefully selecting timeless, quality pieces is not a new idea. Gabrielle Chanel's "Little Black Dress" was designed for exactly that purpose – a basic look that could withstand decades of wear, and take women from work to dinner with a few changes in accessories. In her words, "Fashion fades, only style remains".
Grayes is a new Canadian company designing a line of professional clothing. While in law school, Stephanie Ray felt awkward in power suits that didn't quite fit her body or contemporary vibe. (Anyone else wonder why law schools are graduating incredible fashion designers, like Shawn Hewson and Ruth Promislow of Bustle? Does the pain of bad Bay Street suits send them running like banshees in search of style)?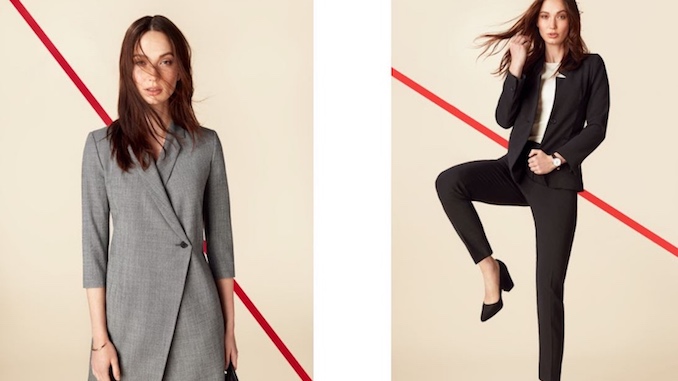 Ray uses clean, tailored lines with a dash of Icelandic minimalism in her pieces. These are designed to be easily mixed for a five day wardrobe. A pair of trousers, a dress, a couple of blouses, and a blazer will get you from Monday through Friday with ease. Bringing life to the greys, blacks and pinstripes is easy with vibrant scarves, statement jewelry, and on-trend make-up.
Designed, cut and sewn in Canada, a Grayes wardrobe is an investment for most, but running between $200 and $350.00, the mid-range prices are a far cry from the $2,000.00 you'll spend at Gucci.
Few can afford to buy an entire capsule wardrobe. But if you're used to cashing out with $150.00 worth of fast fashion every month at HM, or Forever 21, consider a slow build. Try purchasing one quality piece that's made in Canada from local designers each season, and adding to your capsule slowly. Your mornings will be less stressful, and your clothes might spark joy.