Name: Haz
Founded: The journey started in 2001. I was Hazardous back then. 1/3 of trio Gatez. Lol. Fun times. Decided to take a few years off and with some convincing, returned as Haz in 2016. When i was told "we need you back"…I never looked back.
# of Albums: I am currently putting together my first official body of artwork. When the stars are aligned, you will see the light…or rather hear.
Latest Release: N/A
Latest Video: Rudebwoy Rhetoric. Be on the lookout for "City Lights". Its a lifestyle video coming to a screen near you. Promise.
Bio
In the past decade, there is no denying the indelible mark the city of Toronto has left on the wall of urban music and culture. In 2017, that legacy shall unquestionably continue to grow as Motion Ent officially launch and release their first single "Hey Young World" by the city's best emcee you haven't heard of. Yet. Hey Young world, pay attention and turn the volume up. This is Haz.
While hip hop has always served as the beacon of the youth movement in its first 3 decades, it is safe to say that it is now capable of reaching a wider and wiser audience; an audience that was raised by hip hop and wrote the script to their futures with hip hop music serving as the soundtrack. But as the audience grows up, the music must grow as well, and often times that creative voice is hard to find. Look no further. This is Haz.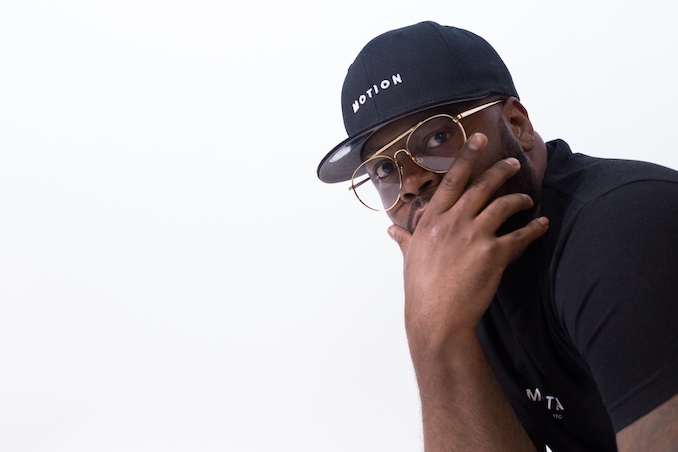 Born and raised in Toronto, a young Haz could be found trading punchlines and puns in freestyle ciphers in his highschool hallways during his freshman years. An avid student of music and the art of being an emcee, Haz has mastered the intricacies of not only 'rocking the mic' how Mike rocked Nikes, but more importantly what it means to be a timeless songwriter. Lyricism, cadence, flow, integral rhyme patterns? Check, check, check and check. But above all, Haz makes use of melody and atmosphere of every instrumental creating an immersive listening experience. Look no further then the lead single "Hey Young WORLD" where Haz methodically picks some now historic and modern day news clips over ominous keys to set the stage for a powerful tour DE force of introspection and societal reflection. Poetic and poignant; never preachy or pious. Look no further. This is Haz.
It is in no way hyperbolic to make the statment that the DNA of the greatest emcees of all time run through the creative veins of Haz. As a Lead single, "Hey Young World" is merely a snippet of what Haz brings to the booth. With a proper dose of wittiness, observational commentary and charisma, the music coming from the Motion Ent artist has mass appeal to all listeners, young and seasoned hip-hop fans. Having kept a prolific pace in his creative endeovors, Haz has nearly two albums worth of material to share with the world. Masterminding a masterpiece takes patience and time, and the time is now. If you've been looking for that voice to give your a fix for classic and timeless hip hop, look no further. This is Haz.
Latest Single
Hey Young World.
Fav Restaurant
Hong Shing. The pepper shrimp get me everytime
Fav band as teenager
A Tribe Called Quest/ Outkast
Fav band now
A Tribe Called Quest/ Outkast
Guilty Pleasure Song
Crystal Waters – Gypsy Woman
Live Show Ritual?
Pray and perform
Fav local artist?
Saukrates
Queen or College St?
Im a hermit. The homebody in me keeps my inside so im rarely downtown. My favourite poutine spot is on College St., so I'll give it the slight edge.
Trinity Bellwoods or Highpark?
I know more about High Park. You gave me a reason to check out Trinity Bellwoods…if i ever decide to leave my house. Highpark by default.
EP or LP?
EP. Short and sweet.
Early bird or night owl?
I wanna say "Early Bird" because i have a single with the same title on Youtube (Shameless plug), but i tend to thrive musically at night. Im nocturnally ambidextrous i guess.
Road or studio?
Studio grind now. Road to promote later…and repeat. That is the goal.
Swiss Chalet or Roti?
Hmmmm. Swiss Chalet is a great "on a budget" restaurant. It really is….but as a West Indian, i have to go with the roti (vegan) though.
This artist was featured through a partnership with Reverbnation in which local artists could apply to be featured in this column.