From the first time I turned on Everybody's Golf, I felt like I was in the Katamari world. The design, graphics and music remind me of the popular cult game from 2004. Everybody's Golf is a sports game at first and a 3rd person RPG game second. The games and tournaments are divided by 3rd person gameplay and character modifications.
When you start the game, Suzuki welcomes you to Golf Island. You are then introduced to Hikri, whop takes you through the character set up. Here, you can Build new (change all the clothes and look), Create based on image (choose a pre-built model) and Copy beaten VS character (use the image of one of the bosses you have defeated).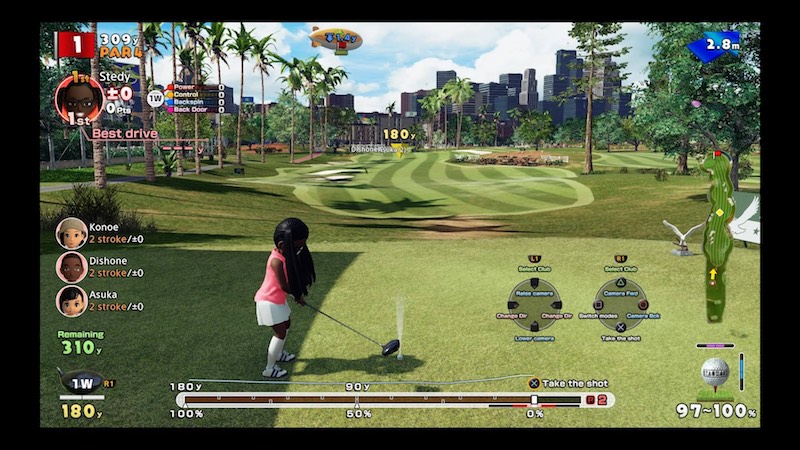 If you choose Build new, you can choose the sex as male and female, the head shape, hair, eyebrows, eyes, ears, nose mouth, glasses, extensions like moustaches and sideburns and miscellaneous like makeup, freckles and dimples. Facial hair is also classed under misc.
All shades of colour skin including blue, red and even green for us aliens!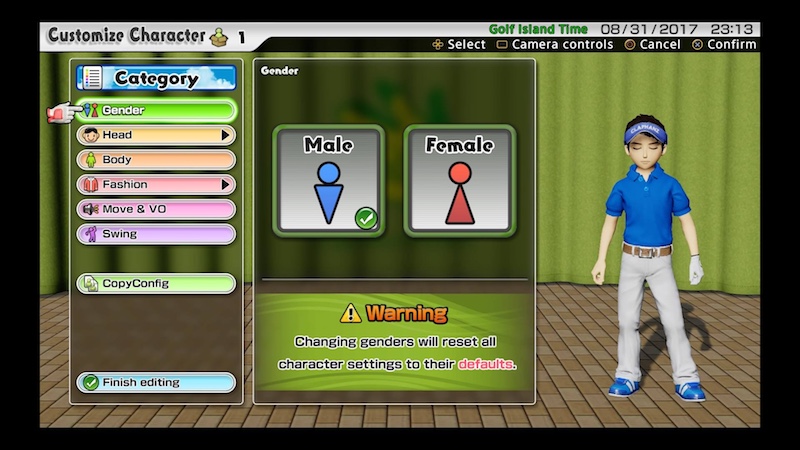 height, head size and weight come next followed by the fashion where you can change hat, top, pants/skirts, outerwear, socks, shoes, gloves, and accessories like watches, bows and wristbands.
After you choose your celebration animations and your swing style it will be time to play the game.
At this point the game goes to a 3rd person style view where you can explore your surroundings. You will now talk to Specs.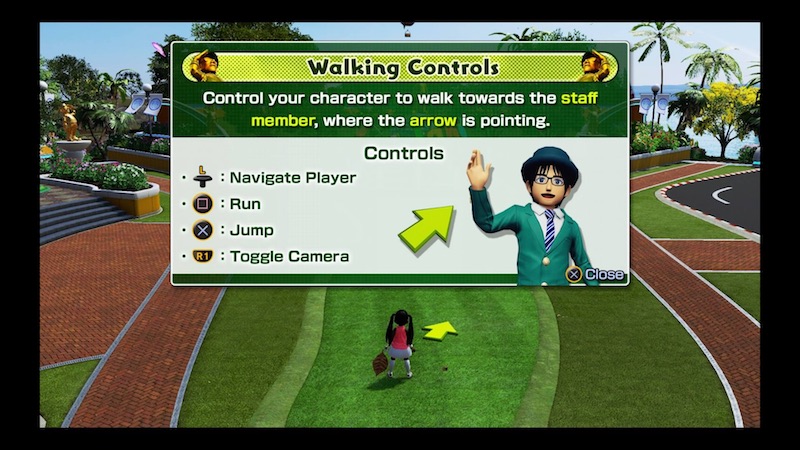 There are different game modes at this point. You can play Offline – Compete in tournaments and matches to improve your rank.
The online world features golf courses where you will find many real players. Just talk to them and play a few rounds with them. The best scores will go on today's top scores for all to see.
Online you can also team up with your friends and play turf war mode against other teams.
There are also side quests where you can go fishing and cart driving.
Now you will head back to Hikari to start at rank 1 challenge tournaments to raise your rank. By playing tournaments, rank bosses wil appear for you to beat and go on to the next level.
The game plays much like previous golf games like the Tiger Woods series. With better shots you gain experience for that club and can improve your power and other stats.
You aim the shot before you take the swing by placing the marker where you want to place the shot. You can change clubs at this point with L1 and R1. The Controls are pretty simple and make the game possible for almost any age.  Pressing X will start the metre, press X again at the desired power level and press X again when it is back at the start line.  One can decide how much power depending on distance in relation to the max range of the club you are using.
Throughout the game you will find new courses and face new bosses as you gain coins to configure your character. If you are looking for a new golf game that you can play solo or online, then try out Everybody's Golf.