WayHome 2017 took place this weekend, featuring three days of music and food at Oro Medonte's Burl's Creek Event Grounds with headliners Flume, Imagine Dragons and Frank Ocean. Having attended last year, I was hoping that Toronto's big (but still young) camping festival would build on its previous success to deliver a blockbuster weekend.
After arriving we checked into the site, pulled up our car for the week, the Honda Ridgeline, and started to set up camp. This is definitely one aspect of a Canadian festival that many take for granted, but having attended a number of festivals in Europe, I have always been used to travelling by train and bus, or having to park miles away and walk all the equipment to the campsite. It is just so easy at WayHome, which makes the camping experience much more luxurious!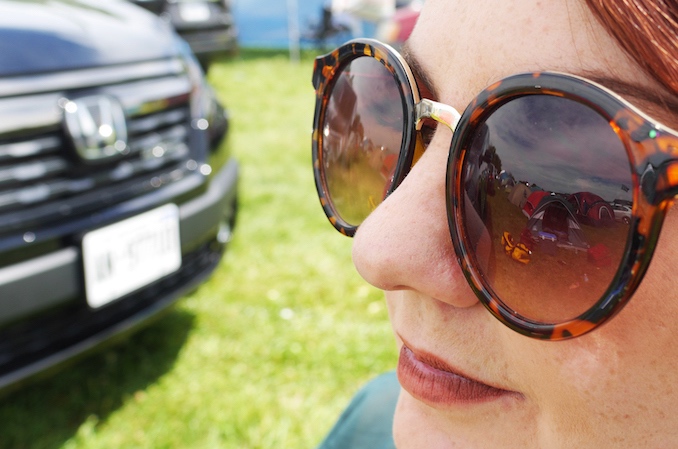 Once we had unpacked, we entered the festival site and headed straight to the WayHome main stage to catch NoName, a soulful Chicago artist featuring a full live band. To avoid the scorching summer sun, we spent a lot of time roaming the festival grounds on the first day to get our bearings.
After seeing Dashboard Confessional's set for some early 2000 emo vibes, we were soon treated to a festival highlight in Cage The Elephant. The Kentucky band has never been far from the mainstream since their first album in 2008, released on the back end of Indie-mania. They're not doing anything particularly revolutionary, but nothing can detract from the animal magnetism of lead singer Matthew Shultz – you can't take your eyes off the guy as he struts around like a dolphin at a Disney themed water park. Diving into the crowd and ripping his shirt didn't seem to deter him, and it was the sort of magic that only a festival can provide.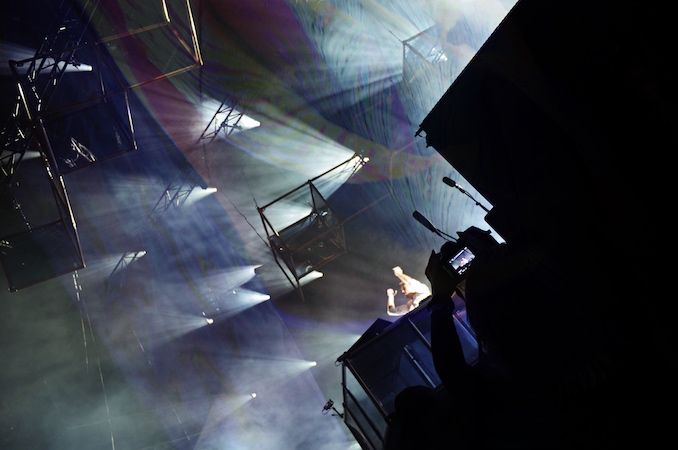 Flume, Australian record producer Harley Edward Streten, headlined the main stage on Friday. The DJ let rip, playing a variety of 'bangers' with a big light show and visual display. It seems he's pretty popular with 'the kids', who enjoyed his set.
From there we fled to see Justice, the French electronic music pioneers who had brought a huge show with them. With walls of amps stacked and lined up on either side of the stage, the duo can still create that feel good music that we've all become so well acquainted with.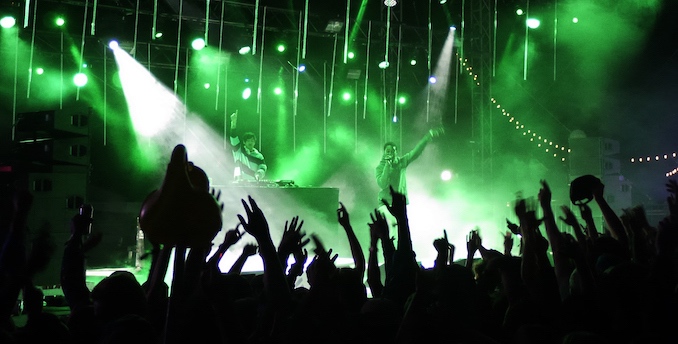 Danny Brown brought the first night's proceedings to a close, playing material from his recent album, Atrocity Exhibition. With that unique voice that has seen him collaborate with the likes of Kendrick Lamar and The Avalanches, his disposition was infectious and it made for an entertaining set.
Saturday came around with Death From Above providing the first major highlight. I had seen the Toronto duo several times previously, and to be honest, assumed that they had maybe lost some of their intensity over the years. However I can confirm that there is no such problem – they ripped through both old and new material like true professionals, reimagining some of the hooks. With a touch of humour from lead singer Sebastien Grainger, the mesmerizing bass mastery of Jesse F. Keeler and an excitable home crowd, it was another magical festival moment.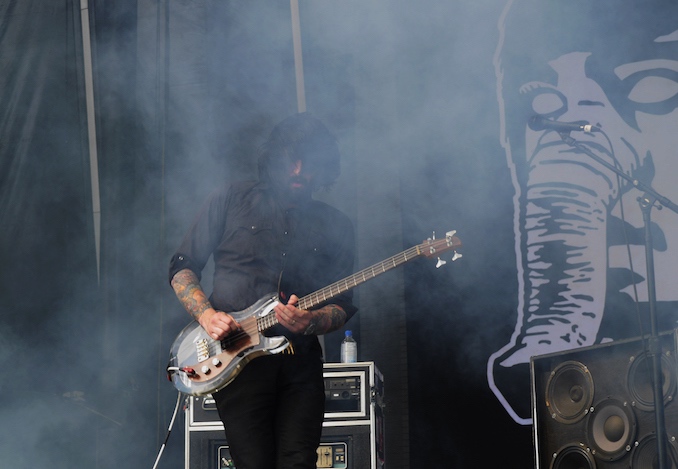 We switched over to see another two-piece immediately after in Royal Blood, who hail from my home country of England. Whilst their first album shot them to instant fame, their second has not been so well received and to be honest, I can see why. They were tight as hell, but what's the use when it's about as entertaining as a sack of potatoes. I guess it goes to show that the effects of Brexit are far further reaching than we first feared.
During the day, we were constantly shifting between the stages and the campsite to sink a cheeky beer or two. Hell, it's all so damn close and that's one of the best things about WayHome. This year's festival was slightly condensed with only three stages rather than four, meaning that there were more chances to catch some campsite fun if there was no-one playing you wanted to see. For me, the campsite is a key part of any festival experience – if you're not camping, you're not doing it right.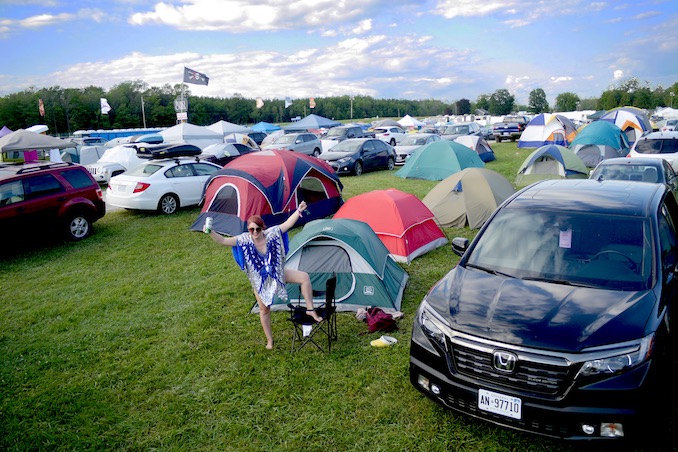 We returned to the arena for Solange, Beyonce's sassy younger sister, who received rave reviews for 2016's, 'A Seat at the Table'. I can see why because she is pure class. Dressed all in red alongside a motley crew of backing singers, brass players, guitarists, a drummer and synth maestro, she flew through a set that was captivating from start to finish. Solange seems to have reimagined Motown, bringing it into the modern era with a fresh new feel.
With choreographed movements and the best stage design of the festival, her vocal strength shone through. Even when having technical issues with the drums, she pulled it out of the bag by playing a version of Toni, which was probably the standout moment of the whole set.
Imagine Dragons then took to the main stage to headline Saturday, and while they're not really my thing, it probably drew the biggest crowd for the entire weekend. The attendance for Saturday in general seemed a lot stronger than the previous day, presumably with the sales from day tickets.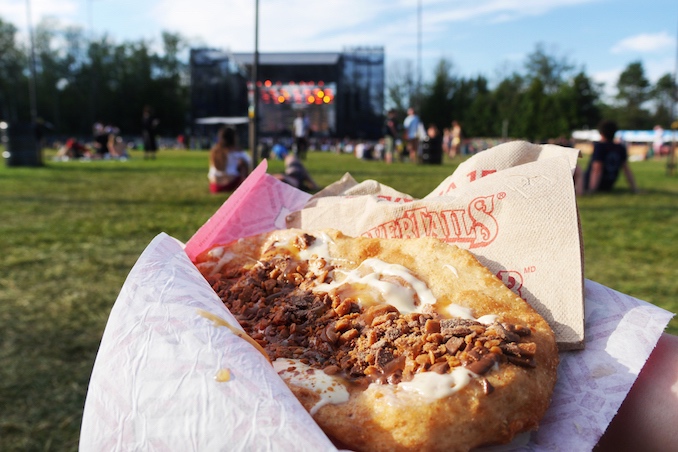 Marshmellow, an EDM artist with a huge light up marshmallow for a head, was up next. It is at this point that I do wonder if I've completely lost track of what music is and should be? Am I out of touch with the new generation? The giant sugary treat persisted to remix material from great artists like Oasis and Adele. The formula is simple: start with a popular song, ruin it and then fall into some monotonous half-time EDM with about as much class and subtlety as a chocolate fountain. THEN, alternate between smoke and fire effects to get a cheer from a crowd.
I would just like to take this moment to point out that I am a huge fan of electronic music when it is executed with subtly and class. I can only describe Marshmellow as hell on earth and I was later haunted by confectionary related nightmares.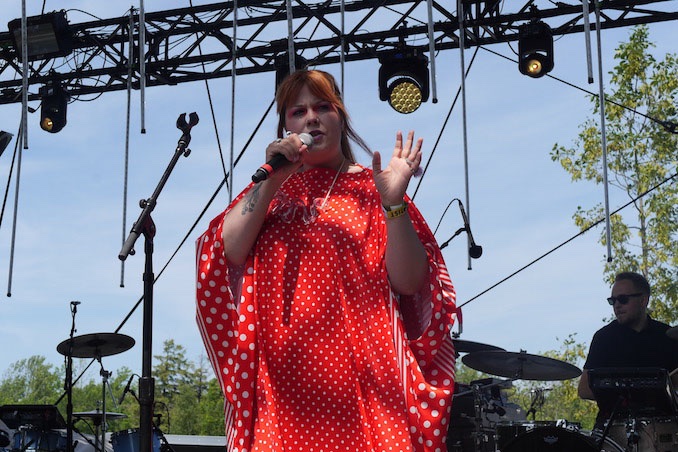 The final day of WayHome arrived and the sun was again out to play. Begonia brought some soulful vocals to the WayAway stage in the forest (my favourite stage, being beautifully lit at night to give it a paradise feel). After that we caught Tennessee's Colony House who provided some lively American rock that woke up the crowd, who were probably still hanging from the debauchery of the night before.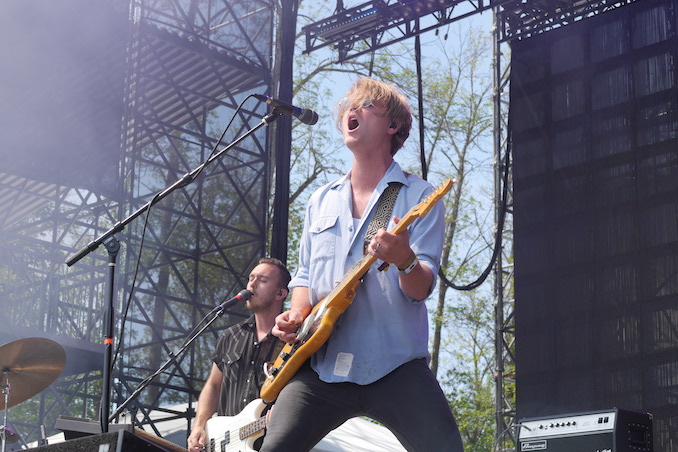 Following them came a good feel performance from New York's The Drums, for everyone that wanted to go surfing.
Alas we were hit by a sudden pang of the blues because we knew that our WayHome festival experience was coming to an end. Charles Bradley hit the WayBright stage in the early evening sun with his Extraordinaires to give us some funky upbeat music as we contemplated life after the festival. For a man that's knocking on the door of 70, jeez does he rock, swing and wear some fantastic outfits. Charles still has the moves.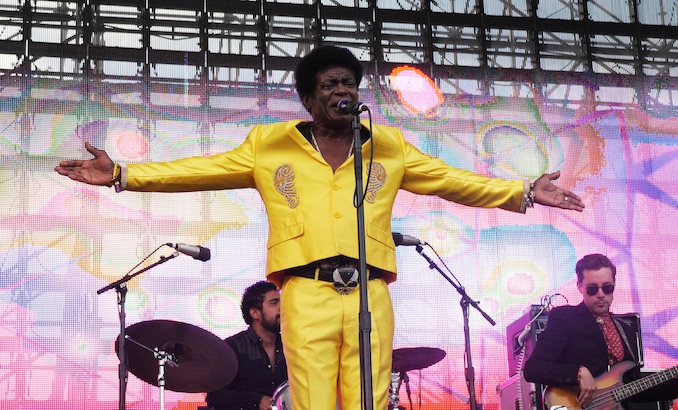 Now unfortunately we had to leave before the hotly anticipated performance of Frank Ocean, so I am unable to comment on his performance, but the final set that we saw in was from Virginia's Car Seat Headrest, fronted by the enigmatic Will Toledo.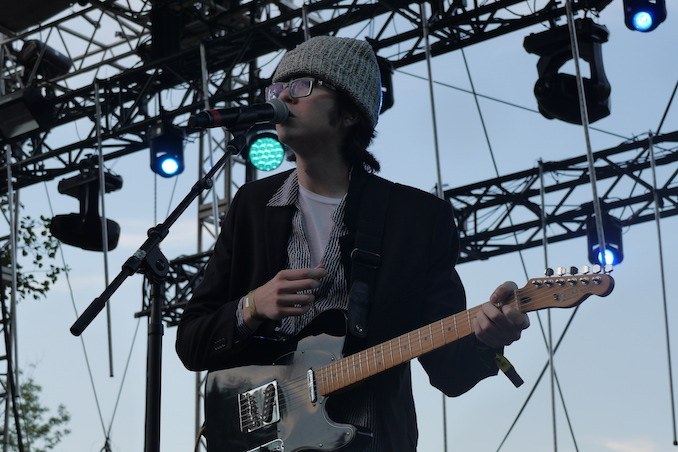 In addition to playing some groovy tunes with humorous lyrical undertones, the band played a song about Oro Medonte that they had written that same day, with bassist Ethan Ives holding the freshly scribbled lyrics up for Will to read as he strummed.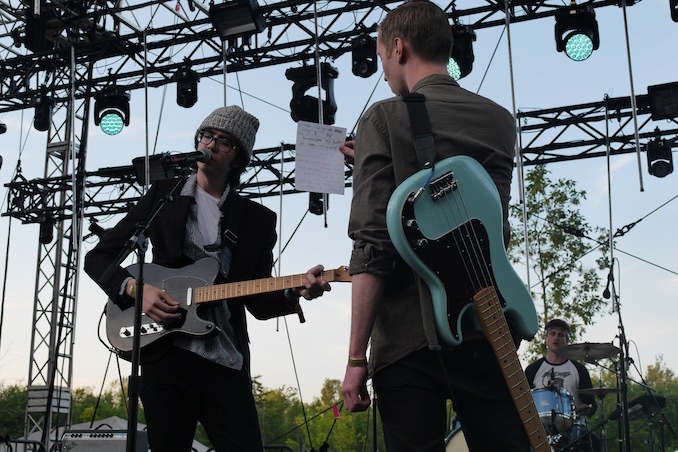 And with a wham, and a bam, WayHome Arts and Music Festival 2017 was over for another year. The weather was hot and glorious and many of the issues that I outlined with 2016's festival had been dealt with. Attendances were not as high compared to the previous two years, which I think can safely be attributed to the lack of any mega, mega, mega stars on the lineup – it was always going to be hard to follow up on Arcade Fire, LCD Soundsystem and The Killers, and that proved to be the case.
That said it was overall a great festival experience, and one that Toronto really needs close by, so I really hope that they come back in 2018 with a bigger and better lineup. For more information about WayHome, visit: www.wayhome.com
Thanks to Honda for letting us test drive the Honda Ridgeline for WayHome 2017 – it was an awesome ride with tons of space for all of our camping gear and provisions.