Advertisers have always found it difficult to track the productivity of advertisements but will spend millions and millions of dollars on it. This is because there has not been a linear way to track that a purchase was linked directly to the power of the advertisement. In many ways, we've known it's a broken flow: you get enticed by an advertisement but you still have to find the website, or call the number, or find the nearest store in your city. Because there hasn't been a way to buy directly from the advertisement…until now. Introducing SoundPays: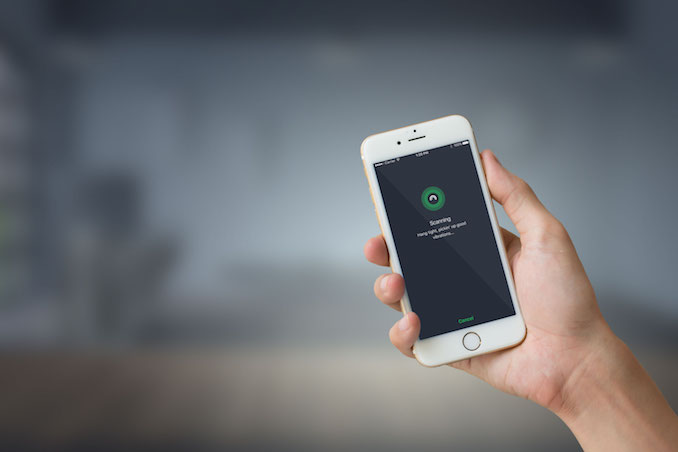 SoundPays; scanning for product information!
SoundPays is a digital e-wallet that transcends the technologies of its competitors. It is a secure-transaction service that uses ultrasonic sound waves embedded with information to transfer information, instead of NFC. As that famous quote goes, the best solutions are often the simple ones and SoundPays may have just solved one.
The problem with NFC is that it inherently requires that you have both the correct hardware and compatible software at each end, whereas SoundPays just requires speakers and a microphone meaning that this technology will work on any and all smartphones, PC's, and cell phones with internet capabilities.
By broadcasting ultrasonic sound bites with product information embedded directly into them from TV advertisements or online videos, the fragmentation that happens between seeing an ad and reading about the product is eliminated.
Soundpays – Commercial from Soundpays on Vimeo.
These sound waves can be broadcasted at frequencies the human ear cannot even perceive, so its range is not a barrier either. With Apple Pay or Google Wallet, they are strictly bound by distance. You still have to be in the store to buy your item with those services. Broadcasting it at a loud enough level is like tapping into an entirely different commercial channel. That hockey jersey ad playing on the Jumbotron at a Leafs game? You can buy that right from your seat.
"What's the point of advertising if you can't even buy from the ads," says Steve Doswell, CEO of SoundPays. Doswell actually came back to Canada to go into retirement after working with multiple successful start-ups that have amassed over 400 employees each, before being acquired. When asked why he'd delay his retirement, he simply says "I wasn't really thinking of doing another start up, but I really liked the technology so that's how I got involved. […] The more I thought about it, the more I could feel the adrenaline just building inside of me!"
The company was started when Peter Misek was an advisor to Shazam and had suggested the idea of making payments through the app. Through a series of convoluted events, it was ruled that this kind of technology wasn't what Shazam wanted and that Misek had permission to take this idea elsewhere. So he did. Having fundraised over 2 million dollars last summer, the company has finally got the means to work full steam ahead. While SoundPays has been a long time coming, it is still in its early stages and having recently hired new employees, SoundPays has no intention of slowing down.
"We spent over a year now talking to most of the major banks in North America, and some of the biggest brands like Disney," says Doswell.
Soundpays – Pay Anywhere from Soundpays on Vimeo.
As SoundPays is working to get embedded into all the inbuilt phone wallets, its reach is growing at a breakneck pace. The company is working to create what will likely be the standard in this new payment method and what Doswell considers to be "tailor-made for the Asian markets," SoundPays looks to have a very strong future internationally having already received immense interest from the Japanese market.
"It's a challenge because this isn't a little niche product, this is either going to be one of the most impactful technologies of the next 10 years, or it's going to be nothing […] I felt we had a better than even shot at making a huge technology success."
For more information on how SoundPays works or how to download the app, go to their website at: