The latest entry into our food-crazed city is the trendy Daifuku fruit mochi at the new HCafe located at Yonge & Sheppard, one of the hottest restaurant areas in the city. This particular style mochi is popular in Japan and according to the owners of this new establishment, they are the first in Toronto to make them and offer them fresh.
What is mochi, you ask?  Traditionally mochi were mainly eaten during the Japanese New Year. The simplicity of the humble little pleasure ball is meant to bring happiness into one's life. Daifuku mochi translates to "big belly rice cake" — dai (big) and fuku translates to "belly" but also sounds like "luck".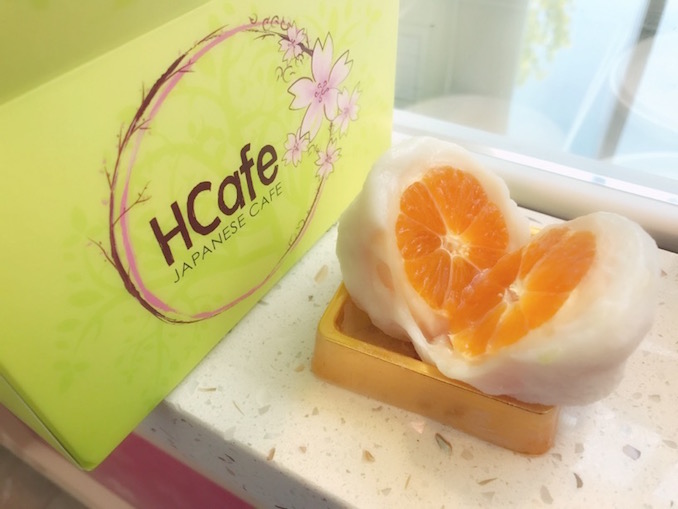 The easiest way to explain is Japanese rice cake balls that are often filled with savoury or sweet fillings. Made of glutinous rice that's pounded into a smooth  texture. The mochi is then hand-pulled and gently wrapped around the filling of choice — often ice cream (green tea is so good), peanut with coconut and sugar, or red bean paste. The soft pillowy mound is about the size of a golf ball. You can often find them at the big Asian supermarkets like Galleria or T&T fresh or frozen and some asian bakeries. But nothing compares to fresh and hand-made.
What's different about the Daifuku fruit mochi is the use of fresh fruits as centre fillings and great for summer dessert treats. But it's not easy to make. While I've tried making regular mochi at home with the red bean or peanut fillings, fresh fruit is definitely more challenging. The fruit has to be fresh and sweet and if it's a wetter fruit there needs to also be a something to help the mochi stick to the fruit itself. The hands need to work fast before the glutinous rice becomes too sticky or not sticky enough.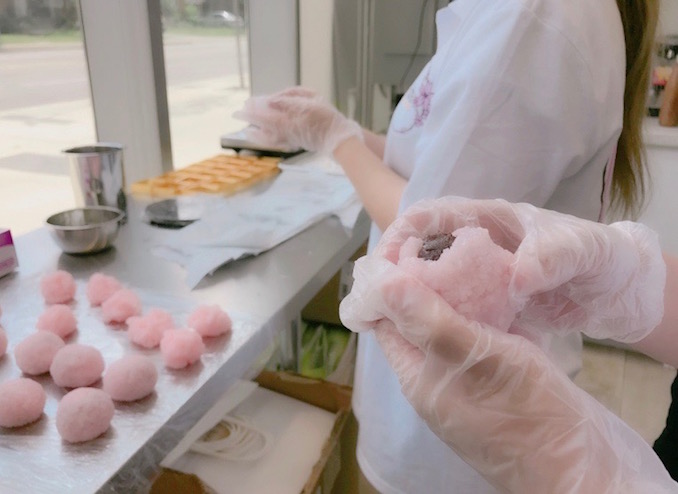 HCafe's chefs have created a nice balance allowing the fruit's natural flavours to come though with a thin layer like custard, cream cheese, or 'anko' a mashed red bean paste before wrapping the mochi around.
Mochi are ideal gifts when visiting friends. Here each mochi is in it's own little clear box so they don't stick to the others. Larger fruits like tangerines should be cut to be enjoyed. A little messy but fun to eat. Account for two per person. The mochi sits heavy in the tummy but the fruit is a nice change for the summer. Eat within the same day.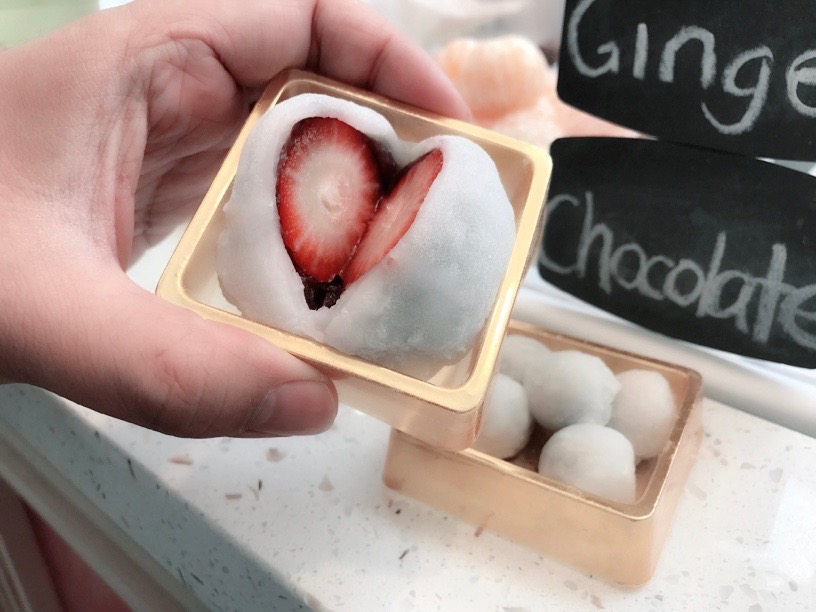 What else is there to try? Their house-made madeleines are delicious. We were fortunate to nab them fresh out of their oven.  The buttery Yuzu Blueberry and the Honey Lemon flavours are stand outs. If they seem familiar, you're right. HCafe is an offshoot of Uncle Tetsu's – yes, the Japanese cheesecake and bakery company that still sees line ups out the door. "H" represents Hiro, the man who helped introduce Uncle Tetsu's to Canada.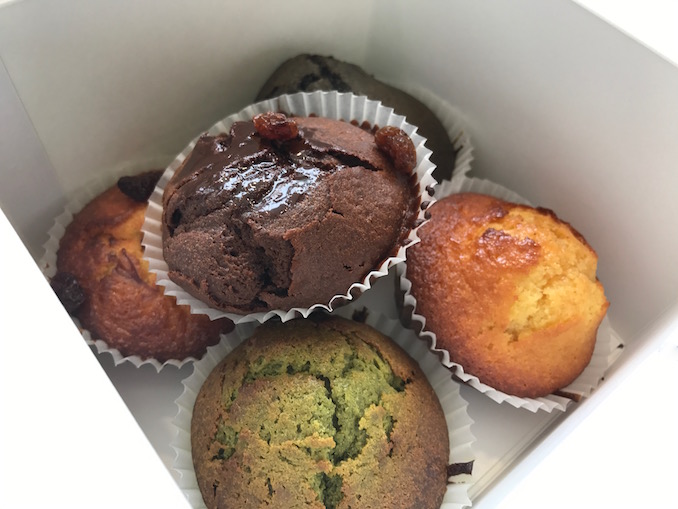 Menu changes according to seasonal availability of fruit. Also be on the look out for their special seasonal mochi – The pink Sakura mochi is a more grainy texture that is worth trying. Ice cream mochi is coming and this summer expect to see popular ice cream flavours available on waffle cones like ginger, black sesame, and coconut. Be sure to top of with pieces of toasted Uncle Tetsu cheesecake wafers.
HCafe Japanese Cafe is located at 4750 Yonge Street inside the Emerald Tower (Yonge and Sheppard) across from Whole Foods. Note: it's a take out rather than sit down cafe although there is public seating space in the main lobby area as well as the great food court down the hallway. Officially opens on July 1st.
Visit their website for more information.