Film lovers of the obscure, the outliers, and the outsiders films should take note of this upcoming one-day only Festival. On Saturday, June 24th, the Royal Cinema (608 College Street) will host a 7-hour marathon of short and feature films that goes beyond traditional and conventional genres.
Peter Kuplowsky, the new 'Midnight Madness' programmer for the Toronto International Film Festival spearheads the programming for this 3rd edition of the WHAT THE FILM FESTIVAL produced with The Royal Cinema's Laser Blast Film Society.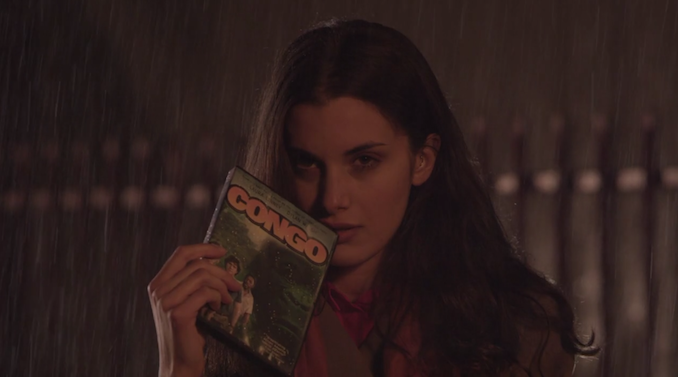 Pushing outside the boundaries, the film festival will include the following feature films:
BLOODY MUSCLE BODY BUILDER IN HELL: Directed by Shinichi Fukazawa (Japan), Canadian Premiere.
This Japanese remake of The Evil Dead took 20 years to recreate. First (and only) time writer/director/actor/editor/cinematographer/special effects creator Shinichi Fukazawa's deliriously named film is a winking homage to Sam Raimi's THE EVIL DEAD, transplanting the story of hapless folks getting besieged by anarchic evil spirits from a cabin in the woods to a traditional and claustrophobic Japanese home. Unfortunately for the vengeful ghosts, one of the hapless ain't so helpless, as they happen to be the titular BODY BUILDER (portrayed by the director himself), and have brought along some barbells to this spook-a-blast brawl. Shot on grimy Super 8 in 1995, but only completed and released in 2014, Fukazawa impressively distills his love supernatural splatter to a lean 62 minutes, while colliding a familiar barrage of low-fi gore, stop-motion monsters, and verbatim Evil Dead one-liners without ever feeling like a rehash. In era of remakes and reboots, it is the rare cover that remixes its source into something fresh and surprising; a treasure of a cult film that desperately deserves an audience so that it can swallow their souls.
SYLVIO: Directed by Kentucker Audley, Albert Birney (USA) Canadian Premiere.
A downtrodden debt collector named Sylvio Bernardi becomes an overnight celebrity after he trips and inadvertently smashes up the set of a public-access television show in the middle of a broadcast to the delight of its audience. Recognizing the audience's hunger to see more comical wanton destruction, the show's producer and host (Kentucker Audley) invites him to be a regular guest. Sylvio accepts the opportunity, but only in the hope that this platform will permit him to expose the world to his true passion: performing micro-narratives with a hand-puppet of a balding middle-aged man named Herbert Herpels. Oh, and Sylvio is a gorilla that wears sunglasses; did I not mention that? Based on a popular VINE channel that chronicled the banal struggle of a working-class primate across 814 six-second clips, SYLVIO conjures up an absurd, but legitimately heartwarming (and coherent) satire and idiosyncratic character study that remarkably transcends its humble social media origins.
SHE'S ALLERGIC TO CATS: Directed by Michael Reich (USA), Toronto Premiere.
When a dog groomer (Mike Pinkey) who aspires to be recognized in Hollywood for his avant-garde video art asks out the girl of his dreams (Sonja Kinski, granddaughter of Klaus) and she accepts, he panics at the thought of inviting her over to his rat infested apartment. His anxiety leads him to illicitly procure a cat to help rid his apartment of the vermin… but oh god… the title of this movie… THIS WILL NOT END WELL! Funded entirely by working as a body double for one of the DAFT PUNK robots, Michael Reich's incredible debut feature is a Linklater meet-cute soaked in an experimental VHS aesthetic that gradually escalates into a full-on Lynchian fever dream that dares to call out the disturbing nature of William Huyck's HOWARD THE DARK and make a DVD copy of Frank Marshall's CONGO look devastatingly sexy.
Short Films include:
THE CURE: Directed by Mike Olenik (USA), Canadian Premiere
A hypnotic sci-fi soap opera that collides the idiosyncratic private lives of both humans and aliens in a parade of sublime slow-zooms and kitschy feline totems.
CYBERTRONIC WARRIOR: Directed by Steven Kostanski (Canada), World Premiere
Director Steven Kostanski (The Void, Manborg) has partnered up with Transformers rockstars The Cybertronic Spree to lend his creative vision to their first original anthem, "Cybertronic Warrior." Taking inspiration from Japanese mecha anime, TV and video games such as Robotech, The Super Sentai series, and Cybernator, this video follows the band through a dangerous space fortress filled with evil cybernetic life forms hell-bent on their destruction. They'll have to load their courage files to make it through. But will they all survive?
LA TRISTESSE DURERA TOUJOURS: Directed by Vinny De Ghoulie, (USA), Canadian Premiere
Vinny De Ghoulie returns to WHAT THE FILM FEST with what may very well be his 8 ½ – a maddening deconstruction of his own process culled from the remnants of a feature film he mounted, but failed to to realize. As amusingly bemusing as it is devastating.
For ticket information visit WHAT THE FILM FESTIVAL website. Limited number of wristband tickets for the entire marathon ($25) includes entry to the post-festival party and festival poster. Individual tickets for each feature $10.