NXNE's 10-day annual music festival was opened loudly by Peaches at the Phoenix Concert Hall this week. Peaches and special guests, including Betti Forde, Hey! DW, and #ENTERTAINMENT, whipped the crowd into a frenzy with provocative costumes, dance performances, and drum beats.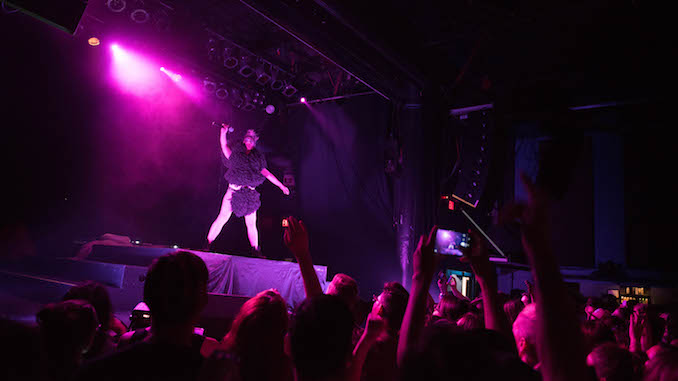 Peaches' show stayed true to what her fans love and worship about her; she played the part of rock goddess, punk rebel, and cabaret queen. Peaches deliberately sexualizes her show with raw sex imagery and movement, but holds on to the power, generously sharing her edgy energy with her audience. For instance, Peaches does her costume changes on stage in plain view, and she performs topless with the ease of someone tanning on a nude beach. Her bold confidence on stage is stimulating and challenging, just as her music; so much of what Peaches sings about is embodied in her performance. The show delivered classic Peaches nostalgia while still pushing contemporary boundaries.
"We've followed Peaches' amazing career since her earliest days in Toronto and we've been proud to have her perform and speak at NXNE over the years," says NXNE President and Managing Director, Michael Hollett. "NXNE is thrilled to have such an important and dynamic artist as Peaches launch the packed music programming at the festival." 
*** 
NXNE runs until June 25! Let's Party Toronto!
NXNE celebrates its 23rd year in 2017 and dominates Toronto with music showcases, panels, parties, installations, and more. NXNE includes a major three-day music festival that also features comedy, food, art installations and midway rides and games at NXNE's Port Lands festival site. NXNE Game Land will present Canada's largest-ever, free outdoor e-Sports competition at Yonge Dundas Square. NXNE takes over Toronto's best live music clubs to present must-see Club Land series of emerging music with extended last calls at your favourite club/bar/pop-up venue. 
What's New – NXNE 2017!
In addition to music this year, NXNE is delving into comedy! The Port Lands NXNE Comedy Tent will be stocked with comedy talent by Toronto's Comedy Bar. Take a break from the music to laugh along with some of Canada's best stand-up comics including: Laugh Sabbath, Deez Laughs, Comedy Uncovered, Comedy Records, Superstars of Comedy, Martha Chavez, Pat MacDonald, Sophie Kohn, Brian Ward, plus more!
NXNE only Toronto-area festival to offer chip enabled RFID wristbands. The NXNE RFID wristband gives you the option of going cashless for all three days of festival at Port Lands. Just enable a credit card when you sign-up with your wristband. Bonus! Up to two bands can be added to the same credit card. Register here: http://www.nxne.com/wristband.html
TTC adding buses from Pape Station and Union Station for Port Lands weekend shows!

Friday, June 23 to Sunday, June 25

You can go in-and-out of shows all weekend! Everyone at NXNE Port Lands has in-and-out site admission privileges
Port Lands Bonus! Beat the heat with limitless free water!
To view the Port Lands stage line-up for this weekend go to http://www.nxne.com/ and select schedule. Line-up includes: Cold Specks, Caveboy, Muna, Passion Pit, Lizzo, and many more acts!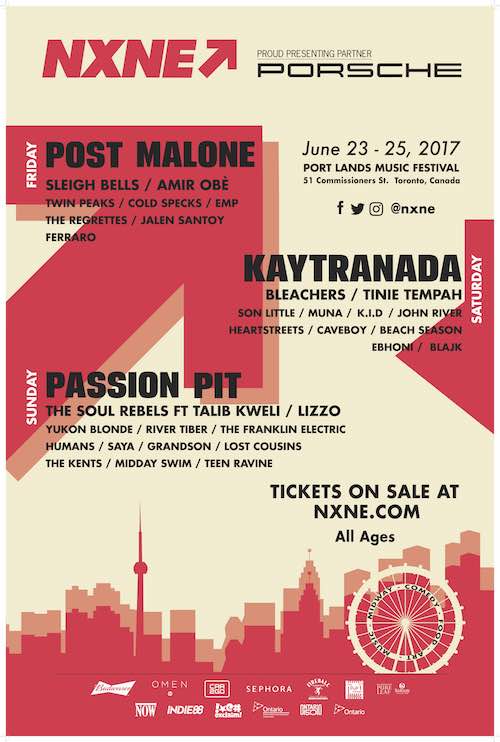 ***
The full Club Land schedule can be found on NXNE.com. Club Land wristbands are on sale now for $20.00 at nxne.com, and can be purchased in-person at all Club Land shows.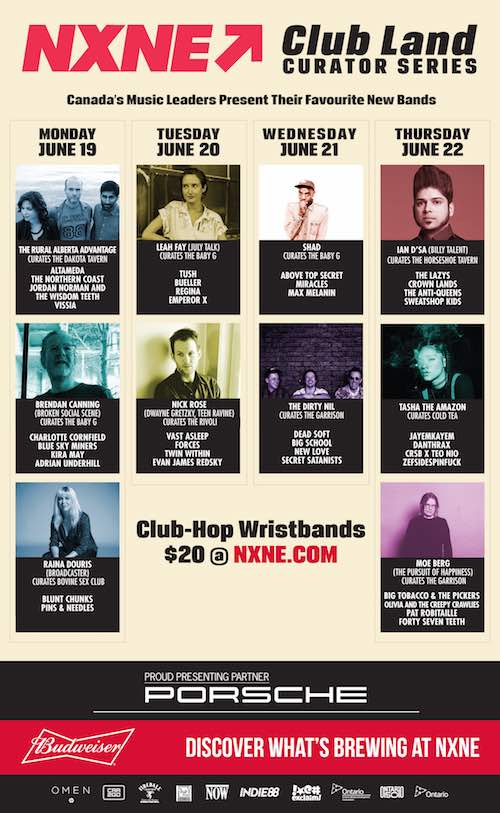 ***
NXNE
North By Northeast is a raging annual 10-day music festival and interactive conference featuring music, gaming, comedy, interactive spaces + more. The festival includes four main streams of programming including Club Land, Game Land, Future Land, and the Port Lands – a three-day outdoor music festival. NXNE utilizes over a dozen venues across Toronto including Yonge-Dundas Square, The Garrison, The Legendary Horseshoe Tavern and more. Partnered with SXSW, NXNE is the premier Canadian destination for bands, innovators, artists, industry insiders and fans.  https://instagram.com/nxne/  #NXNE  #ClubLand