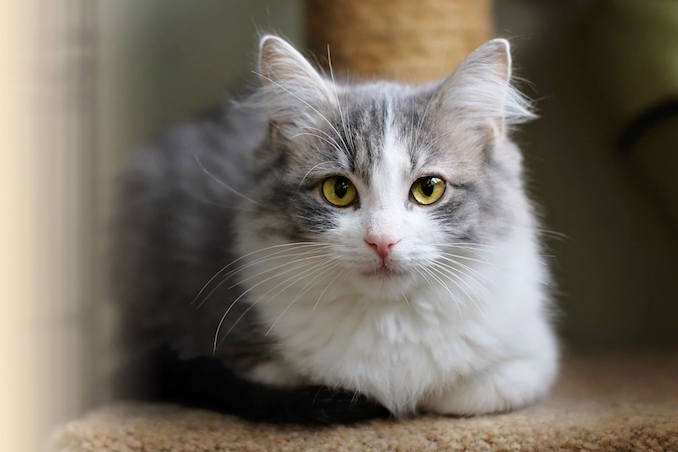 Name: Minou – Born: September 2016
Minou the cat was rescued as an orphaned kitten when she was found wandering alone in a backyard in the Richmond Hill area. A stunning little sweetie with her long soft white & grey tabby colored fur, cute pink button nose, adorable ear tuffs and mesmerizing amber eyes who has a gentle, timid, sweet nature. Minou is a little shy to start, but warms up quickly, with human touch and affection. She prefers to stay off to the side and watch what is going on around her from the security of a high perch, but when given one on one attention, she relaxes and she enjoys being petted and stroked. She is excellent with all her roommates and is often found snuggled up to one of them. Minou would love to be adopted as part of a pair or to join a family that already has a young friendly cat she can befriend and bond with. If you want to become her "furever" family and give her the "furever" home she has never known, please fill out an adoption application and contact us.
***
About North Toronto Cat Rescue
This column features Toronto pets available for adoption.
Our current features come from North Toronto Cat Rescue which is a no kill, no cage shelter in Markham, Ontario, Canada. They have saved over 2000 cats over the years from both the harsh environments of life on the streets and from kill shelters in Ontario and Québec. They care for both kittens and adult cats. I always like to promote getting an adult cat as it is a lot easier to pick the cat with the right temperament for you.
The NTCR shelter is run by volunteers with no government assistance. They currently have around 200 plus awesome cats that would love a good home. Go and visit them soon!
For more info, Visit the NTCR Website.
***
Fundraiser
On another Note, NTCR is in trouble as they are losing their home in 2016 for development of the area. If you can offer any help in finding a new home for the almost 200 cats at the shelter, that would be amazing.