For our recipe column we like to ask local Toronto, and sometimes Ontario, chefs to share with us some of their customers favourite dishes. This week, we got Miku Toronto to share their awesome sushi recipe for Aburi Maguro Sashimi. Yum!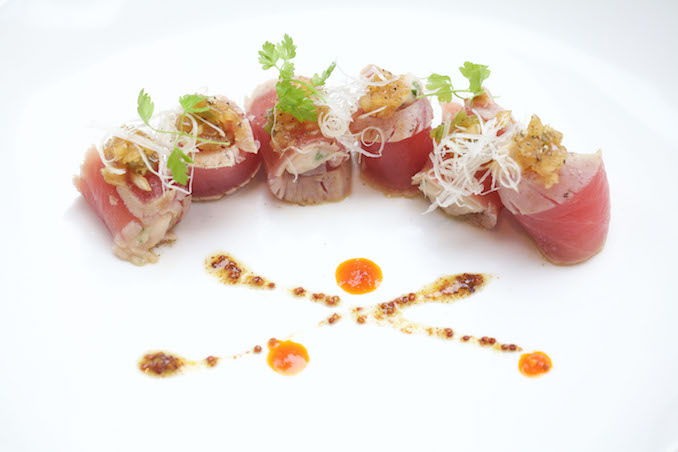 Aburi Maguro Sashimi – Sushi Recipe – Serves 1
Aburi means flame seared in Japanese. In the restaurant they use a torch with Japanese charcoal called Bincho- Tan. They have adapted the recipe for the home cook by searing it in a pan. Seared tuna is wrapped around tuna tartare and topped with a masatake sauce – a pickled sweet onion salsa. Enjoy!
INGREDIENTS
Seared Tuna
-4 oz sashimi grade tuna steak
-1 oz canola oil
Tuna Tartare
-3 oz sashimi grade tuna, chopped
-1 tbsp chopped green onion
-1 tbsp soy sauce
Masatake Sauce
-2 tbsp chopped onion
-1 tbsp soy sauce
-1 tbsp mirin
-1 tsp sugar
-1 tbsp rice vinegar
-1 tbsp sesame oil
GARNISHES
Dijon vinaigrette (optional garnish)
-1 tsp whole grain Dijon mustard
-1 tsp rice vinegar
-1 tsp olive oil
Chili pepper coulis (optional garnish)
-2 Roasted red jalapeños
-1 tbsp rice vinegar
-1 tbsp olive oil
Shiraga- julienned welsh onion soaked in water
-Chervil
-Fresh cracked black pepper
DIRECTIONS
-Prepare Masatake Sauce and marinate for one hour. For the Dijon vinaigrette, mix or blend all ingredients. For the chili pepper coulis, roast red jalapeños and remove skin and seeds. Blend all ingredients in a blender.
-Heat up a frying pan with canola oil. Sear tuna on each side for 10 seconds. Slice into 1/6" slices.
-Mix tuna tartare ingredients well in a small bowl. Divide tuna tartare into 6 portions and wrap seared tuna around it.
-Garnish with shiraga- julienned welsh onion soaked in water, chervil and cracked black pepper.
Learn more about Miku Toronto on their website.