Each week for our recipe column we like to ask local Toronto, and sometimes Ontario, chefs to share with us some of their customers favourite dishes. This week, we got the brand new restaurant Hopscotch to share with us their "Kimchi Kick" kimchi bowl. Delicious!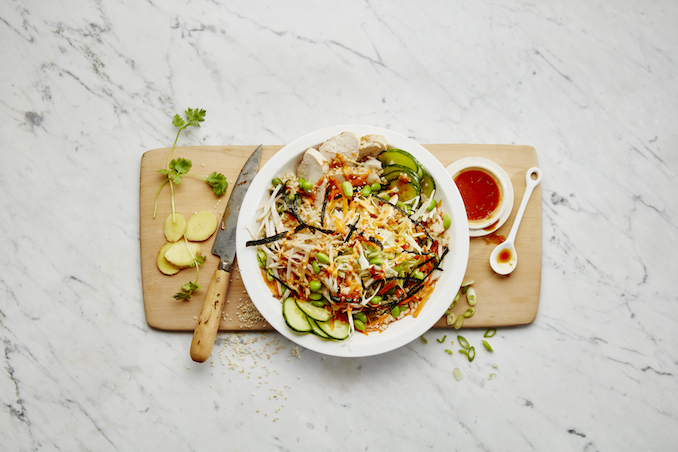 Kimchi Kick – Kimchi Recipe
Ingredients
-5 Oz – Brown Rice
-2 Oz – Bean Sprouts
-3 – Cabbage (shredded)
-2 Oz – Carrots (Shredded)
-2 Oz Cucumber (diced)
-1.5 Oz – Edamame peas
-1 Oz – Scallion
-1 Oz – Radish (julienned)
-3.5 Oz of Roasted Chicken or Pork
Toppings
-Cilantro
-Nori
-Sesame Ginger Dressing
-Gochujang Mayo
Preparation
-Cook Brown Rice
-Shred Cabbage
-Grate Carrots
-Dice Cucumber
-De-shell edamame
-Chop scallion – 1/8" pieces
-Julienne Radish
-Cube chicken or pork
-Pick Cilantro off stems
-Cut Nori sheets into thin long pieces
Directions
1. Add Brown Rice to bowl
2. Add bean sprouts, cabbage, carrots, cucumber, edamame, scallions, radish and chicken
or pork to bowl
3. Toss with Sesame- Ginger dressing
4. Top with cilantro, and nori to taste
5. Slowly drizzle Gochujang Mayo overtop.
Gochujang Mayo Recipe
-100 ML – Mayo
-25 ML – Gochujang
-10 ML – Sirachi Sauce
-Whisk ingredients together until there are no lumps.
***
To learn more about Hopscotch, please visit their website.