Our city is full of food lovers and the options are endless with new restaurants opening up every month in our neighbourhoods. For many, there is also a strong interest in learning about how our food lands on our tables as well as whose lives are affected. The Planet in Focus Environmental Film Festival (Toronto) caught our attention with a number of documentaries that tell us those stories. The festival runs October 18 to 23, 2016 at various theatres.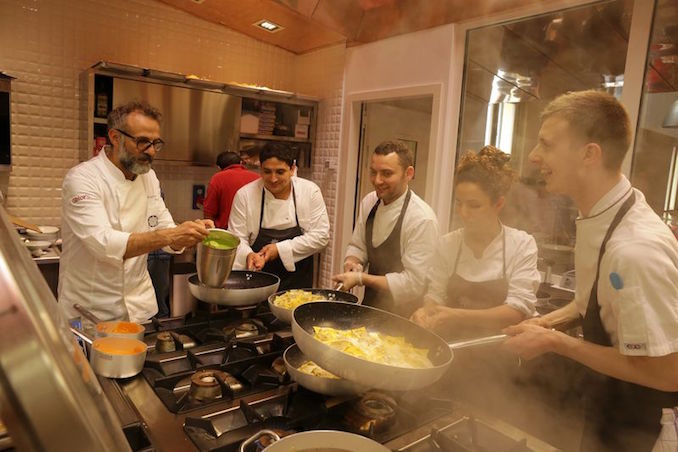 Here are some films that are more than visual feasts but also food for the soul…
THEATER OF LIFE directed by Peter Svatek (Canada, 2016). World renowned chef Massimo Bottura, of famed Italian restaurant Osteria Francescana, created a soup kitchen out of the eye-opening wasted food during Milan's World Fair in 2015 to feed refugees and homeless people. The documentary follows Bottura and sixty of the greatest chefs in the world on their mission to feed the hungry while discovering the stories of the people they fed. This is also the opening night film.
10 BILLION: WHAT'S ON YOUR PLATE directed by Valentin Thurn (Germany, 2015). The global population will soon surprise 10 billion humans. It's astounding but can the current methods of agriculture keep up to feed the world? This documentary follows Thurn around the world as he speaks with farmers all the way to industry producers in search of the options.
BUGS directed by Andreas Johnsen (Denmark, 2016). Insects are rich in protein and the most discerning foodies in the world are getting a taste. This documentary follows a globetrotting trio of gastronomic scientists of the Nordic Food Lab (Offshoot of the world-renowned Noma restaurant) as they forage, farm and cook to "explore deliciousness" in insects like termites and maggots — are they the new superfood? Perhaps, but the thought is enough to make my skin crawl. I'd need a lot of hot sauce.
KUBO'S CRICKETS directed by Michael Alcock. (Canada, 2015. Short) Mississauga inventor Kubo Dzamba believe the solution a global food crisis is to embrace a cricket -based protein diet but can he convince other Canadians? This short film screens with the above feature film BUGS.
APPETITE FOR INVASIVES directed by Emily Driscoll, Nancy Rosenthal, Gaelin Rosenwaks (US, 2016. Short). Gene Rurka is an exotic food specialist that explores the species not commonly considered as food sources. A fascinating look at how invasive creatures, like Asian Carp, have foodies taking note.
SUGAR SHACK TALES directed by Nicolas Paquet (Canada, 2015. Short) goes deep in the traditional methods of maple syrup tapping with a Quebec family while reflecting on the commercialization of the process. This short documentary is followed yay the feature film The Anthropologist.
For more information see the complete film schedule at planetinfocus.org